Excerpts from CGS-CIMB report

Analysts: Kenneth Tan & Ong Khang Chuen, CFA

Solid start to the year
■ 1Q22 net profit of Rmb201m (-5% qoq, +123% yoy) was above expectations. Interim DPS of 0.75 Scts proposed (+114% yoy) represents 8% yield.


Jiutian Chemical

Share price:
9.0 c

Target:
17 c
■ Barring significant worsening of Covid-19 situation in China, Jiutian expects continued smooth operations and stable product prices for the rest of FY22F.

■ Reiterate Add on continued favourable industry cycle and strong net cash position (80% market cap).
Reiterate Add with higher TP of S$0.17.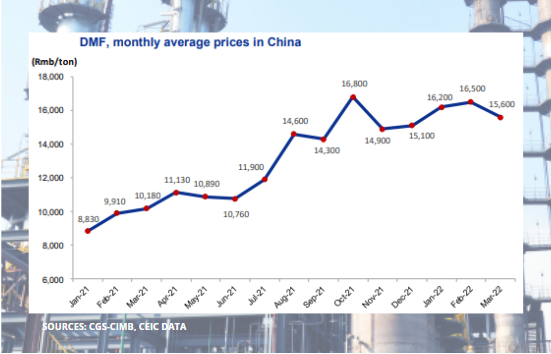 1Q22: very strong set of results despite weaker sales volumes
1Q22 net profit came in above expectations at Rmb201m (-5% qoq, +123% yoy), forming 71% of our full-year forecast. The beat was mainly due to continued strength in ASPs of both dimethylformamide (DMF, +73% yoy) and methylamine (MA, +116% yoy).

Despite sales volumes being impacted by 1) Anyang Covid-19 disruptions, and 2) Chinese New Year holidays, Jiutian achieved revenue growth of 76% yoy.

Gross margin expanded to 35.0% (1Q21: 31.5%), helped by stronger ASPs while raw material costs trended lower.

0.75 scts interim DPS proposed, FY22F div yield expected at 11%
Jiutian proposed an interim dividend of 0.75 Scts (vs. FY21 interim DPS of 0.35 scts), in line with our expectations as we had expected a front-loaded FY22F DPS issuance based on profits made by its Chinese subsidiary in FY21 (dividends can only be distributed to Singapore listco after approval in AGM).

We continue to expect FY22F DPS (interim + final) of 1.1 scts, assuming a payout ratio of 20%, indicating an attractive dividend yield of 11%.

Near-term profit spread should still be strong despite ASP declines

Favourable still
• DMF prices have pulled back slightly since late-Mar 2022.



• Input costs have also come off their peaks in Mar.



DMF prices have pulled back slightly since late-Mar 2022, with prices currently stabilising at c.Rmb13k/tonne over the past two weeks (vs. c.Rmb16k/tonne in Mar), according to oilchem.net.

We believe this has factored in the ongoing Covid-19 disruptions in China.

Barring any significant worsening of Covid-19 resurgence in China, Jiutian anticipates its production operations to remain smooth, and product prices to remain stable for the remainder of FY22F.

We note that input costs have also came off its peak in Mar: methanol at Rmb2.3k/tonne (-10% mom) and coal at Rmb1.2k/tonne (-25% mom), and hence believe near-term profit spreads should still be favourable for Jiutian.

With higher DMF/MA ASP assumptions, we raise our FY22-24F EPS by 7.4-41.9%.


Net cash at 80% of market cap; reiterate Add with higher S$0.17 TP
Reiterate Add as Jiutian continues to benefit from the favourable industry cycle.

Jiutian has significant net cash of Rmb718m (c.80% of its current market cap) as at end-1Q22, which should support higher FY22F dividends and potentially share buybacks, in our view.

With our EPS assumptions, our TP rises to S$0.17, still pegged to 5.7x CY23F P/E (20% discount to SGX-listed peer China Sunsine).

Potential re-rating catalysts include stronger DMF and MA ASPs, and commencement of share buybacks.

Downside risks include production disruptions and a sharp correction in DMF prices.

Full report here