KGI report: Jiutian Chemical Group Limited (C8R SP):

Raise TP to S$0.245 and expect to see another record year in FY22

RE-ITERATE BUY Entry – 0.100 Target – 0.110 Stop Loss – 0.095

Jiutian Chemical

Share price:
10.7 c

Target:
24.5 c
Jiutian is the second largest Dimethylformamide (DMF) producer in China, with a total annual capacity of 150,000 tons of DMF and methylamine (MA). Both these chemicals are important ingredients in industries as diverse as consumer goods, petrochemicals, electronics, pharmaceuticals and fertilisers. In addition, it now produces chemicals for fast growing sectors such as batteries that are used in electric vehicles.

Strong 1Q22 rests despite a surge in COVID cases.
1Q22 revenue jumped by 76% YoY to RMB772mn. Net profit jumped by 123% YoY to RMB201mn.

The sales volumes could be less than last year during the same period as China started to adopt certain restriction measures to contain COVID-19 spreads in March, affecting logistics.

However, the average DMF prices ranged from RMB15,000/tonne to RMB16,000/tonne in 1Q22 compared to RMB9,000/tonne to RMB11,000/tonne in 1Q21. The cash and cash equivalents arrived at a record high of RMB1.02bn.

Meanwhile, the company proposed an interim dividend of 0.75 SG cents (A dividend yield of 7.7% as of the closing price of S$0.097).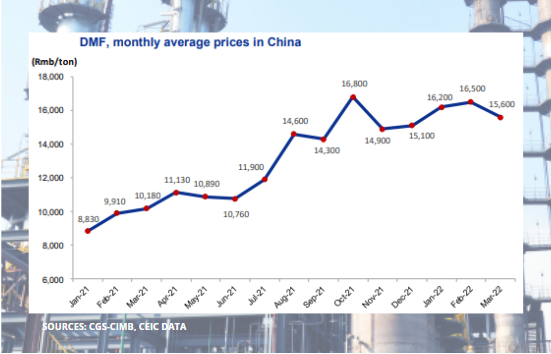 2H22 outlook to remain stable.
In the near term, China will continue to persist in its zero-covid policy which stifles economic growth. However, China started to carry out the counter-cycle monetary policies by lowering the loan prime rate and required rate of reserve in 1Q22.

Meanwhile, the National Development and Reform Commission is drafting a US$2.3tn infrastructure plan. Moving forward, the expansionary fiscal and monetary policies will uphold the rebound of the domestic economy in 2H22.


Technical TP of S$0.110; fundamental TP of S$0.245.
While we have a Technical TP of S$0.110 based on short-term technical factors, we raised our fundamentals-based TP of S$0.245.

Our fundamental TP is based on the upbeat outlook of its earnings and the average of peers' PE multiples.

Read the full results updates report here.

See also The Edge Singapore report: Jiutian to benefit from elevated prices, set to last till 2023: analysts