Jiutian Chemical, after the stock market closed on Friday, said it expected to report a significant y-o-y increase in net profit for 1H2021.
Jiutian Chemical

Share price:
9.2 c

Target:
14.5 c
Source: KGI
The growth is mainly due to an increase in both average selling price and sales volume of its main products, Dimethylformamide ("DMF") and methylamine.
"As China's post Covid-19 economic recovery gathered momentum, we continued to experience strong demand for our main products from the start of 2021," said the Singapore-listed company.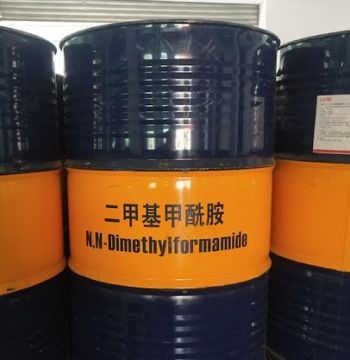 Photo: https://www.sinochlorine.com/The primary use of DMF is as a solvent. DMF is used in the production of acrylic fibers and plastics. It is also used as a solvent in the production of pharmaceuticals, in the development and production of pesticides, and in the manufacture of adhesives, synthetic leathers, fibers, films, and surface coating.

The chart below shows how DMF selling prices in China have surged in 1H2021 versus 1H2020. This is due to a boom in industrial activity along with an economic recovery.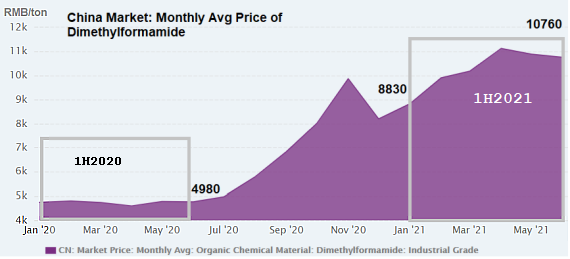 Source: https://www.ceicdata.com

The main raw material for DMF production is methanol, whose price has been relatively stable: Methanol price ranged RMB1,600-2,200 per tonne in 1H2020 and RMB2,300-2,600 in 1H2021.

What all this adds up to is ballooning profit for Jiutian. In 1Q2021, Jiutian reported net profit of RMB90.3 million (S$18.9 million) compared to RMB2.9 million in 1Q2020.

Considering that DMF prices rose further in 2Q2021, and the fact that in 1Q, production ceased during the Chinese New Year period, chances are Jiutian's 2Q profit would be sharply higher q-o-q.


Cheap valuation -- if ASPs stay at this level
In 3Q2021 so far, DMF selling prices not only stayed elevated but pushed higher, recently crossing the RMB13,000 per tonne level.

Let's look at Jiutian's current valuation -- which is cheap.

If we annualise 1Q2021 profit, we get S$76 million for the year, translating into a PE ratio of about 2.4 based on the last traded stock price of 9.2 cents -- which looks pretty attractive.

Jiutian's upside profit potential has been flagged in previous articles, the latest being: JIUTIAN CHEMICAL: Fantastic chemistry, target 14.5 cts