Golden Energy & Resources' (GEAR) share price has surged more than 100% year-to-date -- from 16 cents to 34 cents -- on strong coal prices.
The chart below shows ICI4 futures which reflect the price trend of the coal grade produced by the mines of GEAR's subsidiary in Indonesia.

Singapore-listed GEAR owns 62.5% of PT Golden Energy Mines.

Note the huge difference in the selling price per tonne of coal in 1H2021 and 1H2020, mainly driven by demand from China.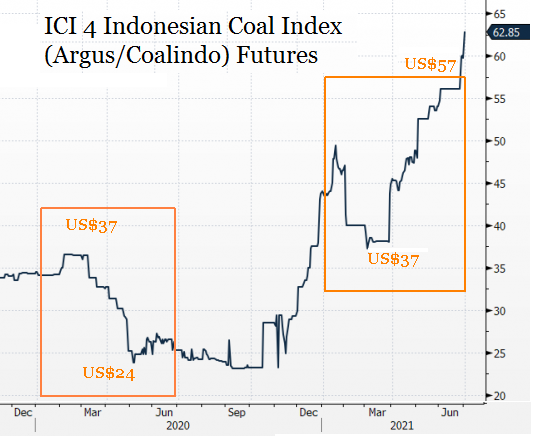 "China has increased coal imports from Russia, Mongolia and Indonesia after Beijing stopped allowing any coal cargos from Australia to pass customs clearance in the fourth quarter last year. Relations between Beijing and Canberra have come under increasing strain amid a series of disputes."
-- Reuters


Below is KGI Research's note on 2 July 2021:


Golden Energy & Resources (GER SP): A hidden GEM
BUY Entry – 0.30 Target – 0.43 Stop Loss – 0.26


GER owns and operates thermal coal mines in Indonesia (through 63% owned PT Golden Energy Mines), and metallurgical coal (60% owned Stanmore Resources) and gold mining (50% owned Ravenswood Gold) in Australia. Stanmore has coal resources estimates of 1.7 billion tonnes, marketable coal reserves estimates of 130.0 million tonnes and a coal handling preparation plant capacity of up to 3.5 million tonnes per annum.

PT Golden Energy Mines (GEMS) has more than 2.9 billion tonnes of energy coal resources and more than 1 billion tonnes of coal reserves. Meanwhile, Ravenswood Gold has 3.9 million ounces of gold resources and 2.6 million ounces of gold reserves, and a gold processing facility of up to 5.0 million tonnes per annum.




Record production; long-life assets. The company has ramped up production significantly over the past 10 years. For its Indonesian operations, production increased from 1.8mt in 2010 to 33.5mn in 2020. Meanwhile, its assets in Australia are made up of high quality met coal mines and sizable gold reserves and resources. Post expansion, GER's Ravenswood Gold is expected to be one of the largest gold producers in Queensland, Australia.


Coal prices are near their highest in a decade, as a combination of natural gas shortfall, rebounding electricity usage and limited rainfall in China have lifted demand for thermal coal. Thermal coal prices have almost doubled from last year, and we expect prices to remain firm going into the second half of 2021. While global demand for coal peaked in 2014, the dearth of new supplies combined with the surge in electricity demand could lead to even higher prices.


GER's share price should be around 34-48 cents based on the previous time that coal prices were trading at these levels in 2017-2018. In fact, current coal prices are more than 30% higher than the previous cycle peak in 2018.