Excerpts from UOB KH report

Analyst: Clement Ho
Strong Turnaround From Product ASP Spike
Jiutian, which is currently the world's second-largest DMF manufacturer, is greatly benefitting from an upswing in ASPs.


Jiutian Chemical

Share price:
9.7 c

Target:
16 c
Additionally, depressed costs of methanol, its major raw material, will likely remain low on the back of a weak oil price environment, providing a significant boost to earnings.

We believe investors may have overlooked Jiutian's earnings potential.

Initiate coverage with BUY and target price of S$0.16.

• Strong earnings turnaround since 2Q20. Jiutian Chemical Group's (Jiutian) earnings hit an inflection point when it reported a strong set of earnings in 2Q20.

Net profit turned around from a loss of Rmb7.0m in 2Q19 to Rmb32.7m (1Q20: Rmb2.9m profit), mainly from the lower price of methanol, its primary raw material.

Gross profit surged 140% yoy to Rmb53.5m, despite a 6% slip in revenue to Rmb276.3m due to lower sales volume of dimethylformamide (DMF).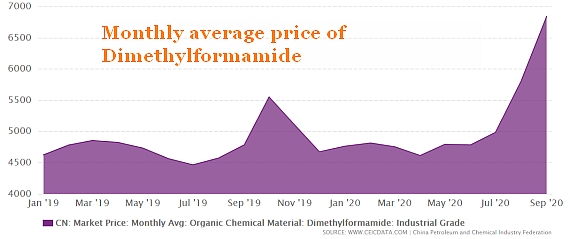 • DMF's ASP seeing spike. There has been exceptional demand for DMF, on the back of the strong industrial recovery in China following pandemic lockdowns.

The fine chemical has a diversified range of applications, being a feedstock in the production of polyurethane, pharmaceutical and agro chemical products, as well as a universal industrial solvent that can be used as an absorbing agent.

DMF's ASP rose from Rmb4,512/tonne in 2Q20 (1Q20: Rmb4,725/tonne) to Rmb5,927/tonne in 3Q20.

As at3 Nov 20, spot price for DMF is hovering at Rmb11,950/tonne.

• Demand and selling prices looks to be sustainable. The demand for industrial products manufactured in China looks to be able to continue as other manufacturing nations are still suffering from COVID-19.

Additionally, Zhejiang Jiangshan Chemical, the second-largest DMF producer in the world, shut its production facility in May 20, pulling out 180,000 tonnes of annual capacity.

This resulted in a supply shortage for DMF and catapulted Jiutian into the second top spot with its annual capacity of 150,000 tonnes ofDMF.


• Initiate coverage with BUY and target price of S$0.16, pegged to 5x 2021F PE, or-1SD of its historical 13-year average.

We have marked the valuation peg below the historical average at 20x, given that the cyclical recovery is still at the onset.

Jiutian currently trades at an attractive 3x 2021F PE, based on a DMF ASP of Rmb7,000/tonne.

Full report here.