I've bought stocks of quite a number of companies lately and thought that this small cap HK-listed stock is worth sharing: Zengame Technology (HK:2660).

Its market cap is around HKD$824.80m.

I've did much more digging to analyse this company but will not bore you with the details, just on the highlights.

My holding period is at least 3 years. I'm not expecting the stock to fly in a few days or weeks' time.

Do note that the transaction volume is low, similar to a GEM (my opinion) that's unknown to many.

Business / Story:

Due to technological advancement of mobile devices, mobile gaming has gone mainstream. Mobile Esports is on the rise.

Back in 2015, I bought Tencent at HKD$133.30. Tencent has gone on to become the world's largest video gaming company, rewarding me with more than 300% returns.

Of course, gaming revenue isn't the only reason that Tencent stock price shot up so much. This is one of the companies that I did not sell prior to the COVID-19 market crash.




Zengame is the 5th largest China company in the card & board mobile games sector by revenue in 2017.

In terms of average MAU (monthly active users), their flagship game Tiantian Fight ranked 3rd amongst all Fight the Landlord games domestically.

The company has won awards by Tencent such as "Most Competitive Advertisement Agent in 2019" and "Outstanding Media of the Gaming Industry".

At the end of 2019, Zengame had over 700 million cumulative registered users.

In addition, they have strengthened the cooperation on advertising monetization with Tencent and ByteDance (owner of Tik Tok). As of Dec 2019, the company has 61 games publications in total.


Management / Founder:

The company was co-founded by the co-founder of Tencent, Jason Zeng.

The management led by Ye Sheng (CEO) & Yang Min (CTO) were directors of Tencent's QQ Game products division.

They have a wealth of experience and likely to bring over their vast business networks and best practices. They are more likely to know what they are doing without having to "trial & error" or to go through the "hard knocks" before succeeding.

Financials:

High margins
» Its operating margin and net profit margin stands at a high 26.89% and 24.24%, respectively.

» What's more? The company's annual dividend yield is around 10% based on the current price! For more info on the company's dividend, you can check it out here."
-- EngineerInvest.com
The company generates revenue from sales of virtual items and in-game information service.

On average, for the past 3 years, its revenue was growing at 25.3% and operating profits was increasing at 63.8%.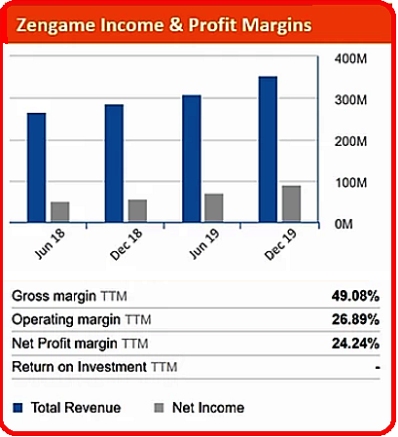 While many small cap companies are usually loss making or have a high gearing ratio, this isn't the case for Zengame.

Zengame's current ratio stands at 5.07 with a low total debt to equity of 1.1%.

These stable financials signal the company is unlikely to go game over.


Verdict

It is rare to find small caps with stable financials, growing revenues, good operating profit margins and a high dividend. And in the hands of experienced management from former staff of an established company?

While the company lacks strong business competitive advantage, this is typical of most small caps. The value of the company is in its growing financials and management. Hence my purchase decision.


Do note that there are higher risks involved when investing in small caps. Proper diversification and a balanced asset allocation are required. My current asset allocation for small caps is 10%, buying multiple small cap companies using this "10%".

There is no fixed formula on the best allocation as it all depends on your personal investing style and risk profile.

For example, if my dad decided to buy stocks, I would advise him to hold 70% high dividend defensive stocks. This allows for higher cash flows to cover his expenses for retirement.

For new investors, I would suggest they read up on asset allocation and diversification so as not to put all your eggs in one basket. Will probably share more on asset allocation in future articles.

Since I'm not working anymore, my daily routine is to scan through 20 to 30 companies a day. Till date, I have scanned through hundreds of companies, mostly small caps.

Hopefully to find GEMS in various markets (US, SG, HK, China, Malaysia).

I do this without subscribing to any paid newsletter / market screener / any related platforms.

Only my laptop and a good Wi-Fi connection. The ideas are original and come naturally while in the bathroom or in the middle of the night where I will quickly wake up and pen down my thoughts. All the stocks that I share in my blog, I have bought them personally, having skin in the game.

Disclaimer: Just sharing from experience as I have put my own money into the stock market over the period of 17 years. I am not a Chartered Financial Analyst (CFA) Charterholder and do not have any finance-related qualifications.


This article was first published in EngineerInvest.com and is republished with permission.