Golden Energy & Resources (GEAR) produced a record 8.1 million tonnes of thermal coal from its Indonesian mines in 3Q19.

That's up 17.7% y-o-y, but the average selling price -- over which it has little control -- fell 16.9% to US$34.30 per tonne.

As a result, revenue from the mining division was largely unchanged y-o-y at US$248.2 million.
(US$'000

9M2019

9M2018

Change
(%)

Revenue

765,565

768,304

(0.4)

Gross profit

254,610

290,955

(12.5)

Net profit

32,720

83,302

(60.7)

Net profit attributable to GEAR shareholders

16,641

49,726

(66.5)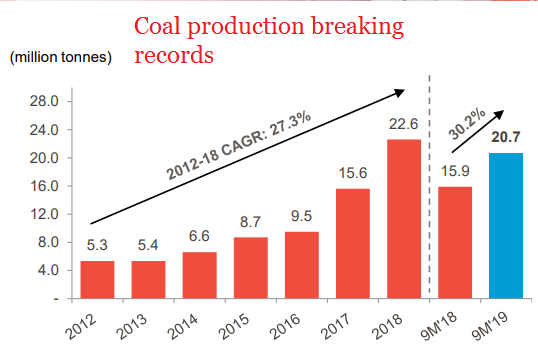 GEAR's rising production will help meet Southeast Asian demand for coal, which remains robust. Demand is expected to double to nearly 400 million tonnes of coal equivalent by 2040 at an annual average growth rate of 3%. Source: GEAR
The rising production volume -- totalling 21 million tonnes in 9M19 -- is set to take GEAR past its 25-million target for 2019.

This is made possible by expanded infrastructure: a 25-km haul road from its BIB mine to the Bunati port, which houses facilities to crush, screen, stock pile and barge load for export.

(BIB accounts for practically all of the coal produced by GEAR).

Right now, GEAR is good to produce and sell 40 million tonnes of coal a year, and is expected to seek government approval for a production quota for 2020 that is higher than this year's.

This production readiness is a fact that may not look very relevant currently when selling prices are low, but it will dramatically swing GEAR's profitability with any uptick in selling prices.

(Coal pricing is, after all, cyclical.)

This 2017 short video gives you an idea of the port operations -->



Another notable thing about GEAR, beyond its profit weakness (down 72% y-o-y to US$4.2 million) in 3Q19, is that its equity stakes in two Aussie listcos are doing well.

They provide more depth for valuing GEAR beyond being a coal producer.


Company
(ASX listed)

Key resource

No. of Shares

% stake

Westgold Resources

Gold

36 m


10.09%

Stanmore Coal

Coking
coal

72.8 m


28.42%
Consider, in particular, its 28.4% stake in Stanmore Coal, which mainly produces coking coal for the making of steel.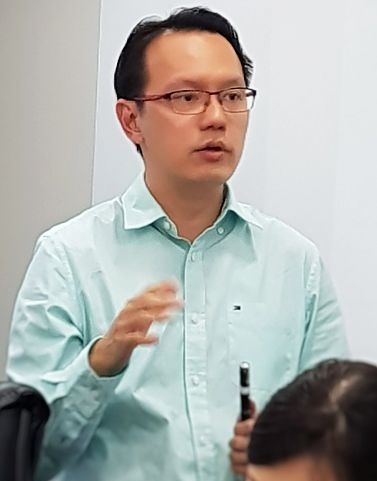 Mark Zhou, senior head of investments, GEAR. NextInsight file photoAccounting-wise, being above the 20% threshold, that stake puts Stanmore in a position to be recognised as an associate, whose profitability would boost GEAR's profit & loss statement.

Stanmore reported A$91.6 million net profit for FY19 ended June 2019.

The October 2019 appointment of Jimmy Lim, GEAR's nominee, as a non-executive director on Stanmore's board, takes the case further for GEAR to recognise Stanmore as an associate.

Currently, instead of equity accounting the profit, GEAR has been treating Stanmore and Westgold as investment holdings, so the value of its stakes has been marked to market.

In 3Q19, Stanmore and Westgold accounted for US$8.5 million of "other comprehensive income".

For 9M19, it was US$52.8 million.

Big numbers indeed.


With two successful acquisitions under its belt, GEAR continues to seek to diversify its business, including possibly buying into companies producing minerals used in the making of batteries for electric vehicles.


3Q19 Powerpoint presentation material is here.