Excerpts from RHB Research report

Analyst: Vijay Natarajan


• Initiate coverage with BUY and SGD0.81 TP, 16% upside plus 9% yield. EC World REIT's seven logistics assets in China cater to a thriving ecommerce, logistics, and supply chain segment that is expected to remain resilient despite trade tensions.


EC World REIT

Share price:
70 c

Target:
81 c
70% of income is backed by its sponsor's master leases, which we expect will continue beyond the current term ending 2020.

With low gearing levels presenting debt headroom, the next leg of growth could come from the acquisition of YCH's South-East Asia's logistics assets – potentially transforming EC World into a pan-Asian logistics play.

• Proxy to China's e-commerce and logistics growth. With booming ecommerce growth (last three years: 30-40% pa) and limited good quality logistics assets in China, we believe the REIT's assets are well-positioned in future growth segments.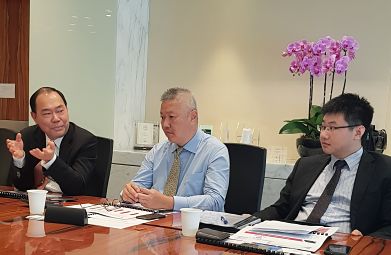 L-R: Goh Toh Sim, CEO | Johnnie Tng, CFO | Li Jinbo, Head of Investments, Asset Management and Investor Relations. NextInsight file photo As its properties largely cater for domestic consumption, we see minimal impact from the US-China trade war and could potentially benefit from the Government's push to boost domestic growth.

• Strong sponsor support with 44% stake. Sponsor Forchn has a >25-year track record with interests across diversified real estate and e-commerce sectors. Additionally, the latter's wholly-owned RuiYiCang subsidiary is a leading China-based omni-channel e-commerce service provider that operates 35 warehouses in 23 cities.

It is also one of the founding shareholders of smart logistics provider Cainiao Network, along with Alibaba and other key logistics players. With the sponsor holding a majority stake and being the master lessee of three key assets, we believe there is an alignment of interest from Forchn to ensure the REIT's success.

• One of the key overhangs on the share price is EC World's reliance on sponsor master leases and potential impact upon the end-2020 expiry. Our recent site visit showed that master lease assets are steadily ramping up, with Forchn likely to extend them for another term. We also understand that total income from underlying leases is above the lease payments. Our forecasts assume these leases to be extended in similar terms beyond 2020.

• Forchn signed a framework agreement in Apr 2018 with YCH that gives it the option to acquire the latter's 13 logistics assets across South-East Asia and China when available. As both regions are touted to be the world's fastest-growing e-commerce and logistic markets, this represents attractive future growth opportunities. EC World's gearing is low at 30.5%, presenting good c.SGD250m debt headroom, assuming 40% as comfortable.

• Cheapest logistics S-REIT: 9% yield, 0.8x P/BV. FY19F yields are a good 230bps and 300bps above the industrial REIT and S-REIT averages. Our TP is based on a 5-Year DDM model. Non-renewal of sponsor master leases, FX fluctuations, and adverse regulatory/policy changes are key risks.

Full report here.

See also: EC WORLD REIT: Unit price at its most attractive in 2 years

EC WORLD REIT: Trading at 8.8% annualised yield