Excerpts from KGI report

Analyst: Amirah Yusoff
• Reiterate OUTPERFORM with 12M TP of S$0.73. We do Reiterate OUTPERFORM with 12M TP of S$0.73.

We do not believe that the investigation into Mr Li Jinbo has any relation to the REIT or its Manager, and thus will not have any effect, operationally or otherwise, on the REIT's performance.


EC World

Share price:
$0.605

Target:
$0.73
CAD has made clear that neither the REIT nor its Manager is under investigation. However, we will continue to monitor the situation closely, and provide further updates as they arise.
•

Operationally steady. All tenants are back to pre-Covid operation levels. The second wave of outbreak in Beijing has not affected any of the assets or tenants, and there has been no cases reported in Hangzhou.

Lease renewal for Hengde Logistics, expiring in October 2020, is on track and in progress, although rental reversions are likely to be flat.

Joint investigation by CAD and MAS into Chief Investment Officer (CIO) Mr Li Jinbo. As per the announcement published on SGX on 2 July 2020, ECW has been required to provide certain information, documents and electronic devices (presumably items such as laptops) in relation to an investigation into Mr Li Jinbo.


The investigation relates to an alleged offence under the Securities and Futures Act, Chapter 289, which refers to "the regulation of activities and institutions in the securities and derivatives industry, including leveraged foreign exchange trading, of financial benchmarks and of clearing facilities, and for matters connected therewith."
We highlight that the CAD has indicated that ECW and its Manager are not under investigation, and have also received no further information or details regarding the investigation into Mr Li Jinbo.

We further note that should Mr Li have been involved in any unauthorised or illegal transactions in relation to any of the REIT's properties, the REIT and its Manager would have likely been included in the investigations by CAD.

CAD's request for the provision of company documents and items relating to Mr Li's work is a common part of any investigation procedure relating to an individual. As a result, unless implicated by Mr Li, and pending further information by CAD, MAS or ECW, we remain doubtful that the investigation has any relation to the REIT or any of its properties.

Management has also been forthcoming and proactive in communicating that they do not believe that the investigation is related to the REIT's activities and assets.

Mr Li joined the ECW in January 2017, and has been involved in investment, asset management, as well as investor relation matters since.

Prior to this, Mr Li worked as an investment banker with Deutsche Bank and Standard Chartered. During his corporate advisory career, he advised clients across different industries on a multitude of capital raising and M&A transactions with a focus on real estate and REITs sector.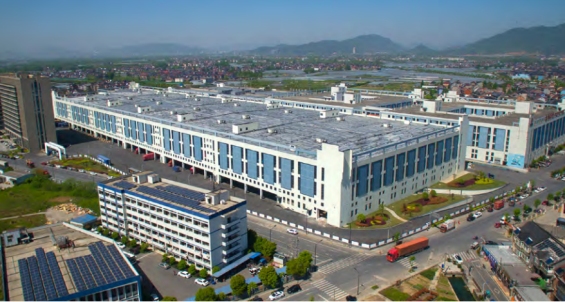 Fuzhou E-Commerce, an e-commerce logistics property in Hangzhou, is among the assets held by EC World REIT. Photo: Company

Business as usual. We understand that Mr Li's absence at this time will have no effect on the REIT's operations, nor negotiations for renewal of Hengde Logistics' lease with state-owned enterprise (SOE) China Tobacco Zhejiang Industrial Co., Ltd, as Mr Goh Toh Sim, CEO, as well as Mr Teo Kah Ming, VP for Investment and Asset Management, are more than able to take on Mr Li's responsibilities.

The lease renewal negotiations are on track and is currently in the process of undergoing government checks and approvals (as the lessee is a SOE), and there are also no pending acquisitions or investments that require Mr Li's contribution.

All of ECW's assets are also 100% operational, and the second wave of outbreak in Beijing has been well-contained, according to management.

There has been no cases reported in Hangzhou yet.


Valuation & Action: Maintain OUTPERFORM based on fair value of S$0.73.

We remain optimistic but conservative, due to the less than optimal macro outlook for China.

We have factored a slower reversion rate and a slightly higher cost of capital into our valuations, and our TP represents a total upside of 25.7% (incl. FY20F div. yield of 8.7%).


Risks: Second wave of infections in China; fall-through of lease renewal of upcoming lease expiry with China Tobacco Zhejiang Industrial Co., Ltd. (Hengde Logistics – specialized logistics asset); CNY/SGD currency fluctuations.