The share price of Golden Energy & Resources (GEAR) reacted positively to a 50% jump in 3Q18 net profit and a surprise (or some would say, overdue) dividend.

Closing at 24.5 cents prior to the release of the 3Q results on Tuesday evening, the stock closed at 27 cents on the Singapore Exchange on Friday. It trade

s x-dividend tomorrow (Monday, 19 Nov)

.


| | | |
| --- | --- | --- |
| Period | Dividend | Payout ratio |
| 3Q18 | 1.39 c | 49% (9M18) |
| 4Q17 | 1.0 c | 56% (FY17) |
| 3Q17 | 0.21 c | |
| 2Q17 | 0.8 c | |
GEAR declared a 1.39 cent dividend, after disappointing the market by not declaring any 2Q dividend.

The 3Q dividend more than makes up for the delay: In absolute terms, it is higher than the dividend paid over 9M2017 of 1.01 cents (see table).

Dividends are expected from GEAR by investors as the business has strong earnings growth -- and ought to find a balance between paying dividends and using earnings for M&A.

GEAR is in a net debt position: It had cash of US$168.1 million at end-3Q18 versus US$33.3 million in short-term borrowings and US$221.8 million in long-term debt.

The latter is mainly attributable to the company's issue in Feb 2018 of US$150 million senior secured notes due in 2023 at a coupon of 9% per annum.

Gearing remains low at 0.49 times.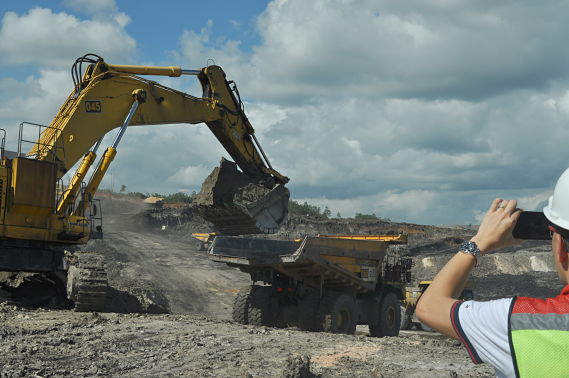 GEAR has the fourth largest coal reserve, of more than 1 billion tonnes, in Indonesia. NextInsight file photo.
GEAR achieved total revenue of US$286.7 million in 3Q 2018, an increase of 59.9% y-o-y, mainly due to an increase in revenue contribution from the Coal Mining and Coal Trading divisions.


Stock price

27 c

52-week range

23–48 c

PE (ttm)

6.4

Market cap

S$634 m

Shares outstanding

2.35 b

Dividend
yield (ttm)

5.2%

1-year return

-30%

Source: Bloomberg
That led to a a 32.1% increase in net profit to US$24.8 million. The profit attributable to shareholders was US$14.9 million, a 50.2% jump y-o-y.

Average selling prices remained steady at US$40.80 per metric ton in 3Q 2018, compared with US$41.41 per metric ton in 3Q 2017, but lower than the US$42.17 per ton recorded in 2Q18.

For 3Q 2018, GEAR's cost of sales increased substantially, by US$85.0 million, from US$105.6 million in 3Q 2017 to US$190.6 million mainly as a result of higher volumes.

The cost of sales comprises mainly mining services, overheads, freight and fuel. The cost of sales was impacted by higher fuel cost and overburden.

GEAR said, after producing 15.9 million tonnes in 9M18, it is on track to achieve its 20 million target for 2018, with export demand staying strong in 4Q on robust demand from China, the world's largest coal importer.


Successful acquisition of BSL

In 3Q18, GEAR completed the acquisition of PT Barasentosa Lestari ("BSL") whose concession had estimated coal resources of 393 million tonnes and reserves of 194.6 million tonnes and was valued at US$258.5 million as at 31 December 2017, based on independent reports.

As a result, GEAR's increased quantity of higher calorific value coal will provide an opportunity for GEAR to service domestic demand as BSL mines are close to the Perusahaan Listrik Negara's (PLN) planned coal power plants in the South Sumatra region.

"With this acquisition, the Group's 2P(2) reserves increased to more than 1 billion tonnes, enabling GEAR to be the fourth largest coal reserve player in Indonesia," said Mr Fuganto Widjaja, Executive Director and Group CEO of GEAR.

"Our strong operating cashflows is testament to the fundamentals of our business and we will continue to focus on capitalising our leading position in the industry to maximise value for all our stakeholders."


For more info, see press release here.