SooChow CSSD Capital Markets (Asia) Pte Ltd (SCCM) initiated coverage of Oxley Holdings on Wednesday. We published excerpts: OXLEY: Emerging Giant with Impeccable Track Record
Below is an excerpt of another section of the 25-page report.

SCCM is a full service investment bank that specialises in Emerging Growth Companies across Asia and Japanese equities. SCCM's parent company is SooChow Securities Co Ltd, a state-owned financial services firm which is listed on the Shanghai Stock Exchange. Headquartered in Singapore, SCCM is the vehicle for SooChow Securities Co Ltd Group's investment banking business in ASEAN and South Asia.
Singapore – Strategic return back to home turf
Oxley

Share price:
45 c

Target:
63 c
• One of the main catalysts for the stock is Oxley's strategic focus returning to Singapore in a big way and evolving to be a major Singapore player.

After a series of home runs with a stellar record of differentiated products and focus on overseas markets, we see Oxley's track record to continue with its shrewd early reading of green shoots in the Singapore market by acquiring a series of en-bloc sites.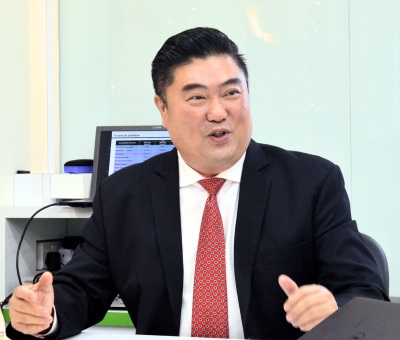 Oxley executive chairman Ching Chiat Kwong. NextInsight file photo• Having led two separate consortiums in the en-bloc deals purchasing two former HUDC sites Rio Casa for S$575m and Serangoon Ville for S$499m, Oxley has been very active in land banking deals in 2017.

This includes acquisitions of Mayfair Gardens for $311m and 231 Pasir Panjang Road for $121m, as well as all eight units of the Apartment 8 freehold development in Potong Pasir for $21.53m and Vista Park for S$418m.

Oxley's "strategic return to Singapore" is certainly no slouch as Oxley now emerges as one of the biggest residential developers in Singapore with a pipeline of approximately 3,800 units (estimated GDV of ~S$5bn).

• We see Oxley as early mover of land bank accumulation in the Singapore residential market is already paying off.

With earlier acquisitions of i) Rio Casa, (JV with Lian Beng, KSH Holdings, and Apricot Capital – private investment firm linked to Super Group's Teo family);
ii) Serangoon Ville (JV with Lian Beng, KSH Holdings, Heeton Holdings and Apricot Capital); and
iii) Mayfair Gardens, Oxley is already benefiting from uplift in land values as subsequent land acquisitions in the nearby area by other developers were acquired at higher land prices (overall +31% for these 3 projects).


Land Prices Comparison
| | | | | | |
| --- | --- | --- | --- | --- | --- |
| | Location | Acquisition Price (psf) | Comparable Land Price (psf) | Land Value Uplift ($m) | % Uplift |
| Rio Casa | Hougang Ave 7 | 669 | 842 | 68.5 | 25.9 |
| Serangoon Ville | Serangoon North Ave 1 | 835 | 965 | 38.5 | 15.7 |
| Mayfair Gardens | Rifle Range Road | 1,244 | 1,800 | 115.9 | 44.7 |
| Total | | | | 222.9 | 31.3 |

• As we speak, Oxley is already launching its project at Pasir Panjang, The Verandah Residences, with c.170 units for ASP c.S$1,850psf against a break-even of S$1,451psf (EBITDA margin of 21.6%). Over the next few months, we expect Oxley to launch more of its Singapore residential pipeline, which would support earnings over the next 2-3 years.


• We estimate Oxley to record an overall 15-20% EBITDA margin on its pipeline projects. We believe this is achievable given:
1) Oxley is an early mover, acquiring land bank at less inflated costs (~25-30% lower than comparable site land prices); and
2) the residential market is still in an upswing, which assures that Oxley would be able to price their ASP more favorably in the near-to-medium term. Based on current selling prices of nearby projects, our 15-20% EBITDA margin assumption is quite conservative, in our view. Oxley has maintained disciplined to sell units that are $2,000psf and below to capture the broad-based market recovery.

• In addition, we notice Oxley's fast turnaround time from land acquisition to product launching, as well as its focus (from 2010) to develop projects with smaller sizes (faster sales and construction period).

Taking The Verandah, as an example, Oxley acquired the land bank in Jul 17 and now is able to launch the project in Apr 18 (8 month). A similar project by another developer, Harbour View Gardens, the land was acquired in Jun 16 but the project was just recently launched, a distant 18mo turnaround period.

• We estimate if all Oxley's projects were executed within ~9 months, ~3 months ahead of average incubation period for other developers, Oxley is able to save approximately 0.8% on EBT margin (savings on interest cost, assuming 70% LTV). This saving could expand by additional 1.0% on margin if the construction period is also on average, shorter by ~3 months than other developers.
The Verandah breakeven PSF Sensitivity to rate of completion
| | | | |
| --- | --- | --- | --- |
| | ~12 Months | ~9 Months | ~6 Months |
| Breakeven Cost (psf) | 1,464 | 1,451 | 1,433 |
| EBT Margins | 20.8% | 21.6% | 22.6% |
Source: Company, SCCM Research