Excerpts from RHB report

Analyst: Jarick Seet


Still On Track For a Positive FY20; BUY
• Maintain BUY, new SGD0.42 TP from SGD0.43, 24% upside with c.9% FY20F (Jun) yield.
Oxley

Share price:
34 c

Target:
42 c
Oxley's sales softened in 2QFY20, mainly due to the lumpy recognition of projects, higher consultancy fees incurred for overseas developments, the inclusion of 3-month expenses from the new Australian subsidiary, and higher finance costs.

We still expect it to record a solid performance in FY20, on catalysts like closing the Chevron House sale, while it may fork out a special dividend as well.
"Near-term catalysts to lead to a further stock re-rating. Management hopes to close the sale of Chevron House by the end of March. The earnings recognition should boost Oxley's 2H20F numbers. In addition, the interest cost savings from the repayment of its retail bonds will likely also result in lower financing costs – which helps to strengthen profitability."

-- RHB report
• Portfolio units selling at a good pace. Its UK and overseas projects are mostly sold, except for projects in China and Malaysia.

Its Singapore residential portfolio is also selling at a healthy pace, with 69% of the units across its portfolio sold, which are worth about SGD3.02bn.

Management aims to finish selling the majority of the remaining units by December.

Its Gaobeidian project is facing some hiccups, mainly due to the novel coronavirus outbreak, which has cooled down property sales in China.

Going forward, management is bullish on opportunities in Vietnam, the UK and Myanmar – and will likely invest in projects in these countries.

• Record FY20F numbers, coupled with a potential special dividend.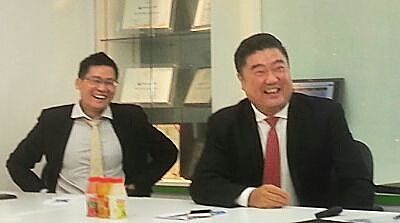 L-R: Deputy CEO Eric Low | executive chairman Ching Chiat Kwong. NextInsight file photoManagement guided that excess cash – after paring down gearing – will be used to reward shareholders with a special dividend, if there are no suitable opportunities at that time.

It hopes to lower gearing to 1.5x and under, by end-FY20.

The counter is trading at a deep 56% discount to our RNAV of SGD0.77 (adjusted slightly lower from SGD0.79, due to the removal of certain overseas projects).

This, together with a 8.8% FY20F dividend yield, strong insider buying, as well as a record FY20 anticipated, compels us to maintain our BUY call for Oxley. The stock is one of our top small-mid cap picks for Singapore.


Forecasts and Valuation

Jun-18

Jun-19

Jun-20F

Jun-21F

Total turnover (SGDm)

1,189

686

2,799

1,395

Recurring net profit (SGDm)

285.0

146.3

331

219

Recurring
P/E (x)

4.5

8.7

4.28

6.58

P/BV (x)

0.9

0.8

0.84

0.77

Dividend Yield (%)

4.9

3.3

8.8

4.4

Source: Company data, RHB

• Key risks include further cooling measures affecting the property market, and rising interest rates.


Full report here.