Coal prices have been good for coal miners in 2016 and 2017 -- and are looking great going into 2018.

When combined with a rise in production, their impact on a miner's profitability is magnified.

You can see that in the case of Golden Energy & Resources (GEAR) with its near 3-fold jump in 2017 net profit attributable to shareholders:
Year

2016

2017

2018F

Net profit attributable to shareholders

US$21.8 m

US$63.0 m

?

Coal production

9.5 m
tonnes

15.6 m
tonnes

>20 m
tonnes

Weighted average selling price

US$33.8
/tonne

US$42.3
/tonne

?

Cash cost per tonne

US$19.5

US$23.1

forecast: US$23-24

Another important factor for profitability is the cash cost of production. In the case of GEAR, it has been stable and is said to be one of the lowest in the industry.

A small rise year-on-year was seen in 2016 and 2017, not surprising as it reflected factors such as higher oil price. And contractors were contractually able to charge more with higher coal prices.

Key takeaways from FY17 results briefing: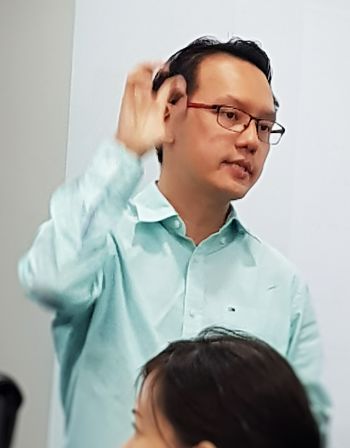 @ FY17 results briefing: Mark Zhou, head of investments at Golden Energy & Resources. Photo: Leong Chan Teik1. Production volume: GEAR is gearing up for production in excess of 20 million tonnes in 2018, subject to approval by the relevant authority in Indonesia.

That translates into an increase of about 30% y-o-y.

Given the continued favourable price of coal, the profitability of GEAR this year is well-supported. Phillip Securities has a profit forecast of US$82 million, up 30%.

"Even post-Chinese New Year, we are still seeing buoyant prices with the ICI4 (an Indonesia coal index) close to US$50, so we continue to see coal demand being fuelled primarily by China and India," noted Mark Zhou, head of investments at GEAR, at a recent FY17 results briefing.

2. Logistics/infrastructure: Higher production volumes require logistics and infrastucture to enable efficient movement of coal to ships.

Stock price

39 c

52-week range

36 c – 54 c

PE (ttm)

13.5

Market cap

S$918 m

Shares outstanding

2.35 billion

Dividend
yield (ttm)

5.2%*

1-year return

-25%

Source: Bloomberg
* 2.01 c dividend for FY2017
GEAR's current set-up is already good enough to support more than 20 million tonnes of production.

This is reflected in the 5.5 million tonnes produced in 4Q2017 which translates into 22 million tonnes on an annual basis.

GEAR's 4Q17 production volume was a record quarterly achievement, reflecting the competitive advantage it has in owning the infrastructure, including roads and a port, supporting the operations.

"Some peers reported lower 4Q17 production because of not just the weather but also logistics issues but we own the entire chain save for some of the dedicated haul roads which are co-owned by third parties," noted Mark.

3. Export markets: About 70% of GEAR's coal went to overseas markets, as they pay top dollar, including new markets South Korea and Spain, which reduces GEAR's reliance on China.

About 30% went to domestic market, down from 58% in 2016.


For an idea of the operations at GEAR's Bunati Port, where coal is transferred to barges, watch this video -->



4. Capex: GEAR is budgeting US$40 million in capex this year (FY2017: US$14) to expand its infrastructure to enable it to produce and deliver its target of 40 million tonnes of coal in 2021.

The capex will cover areas such as increasing, at its Bunati Port, the conveyor belt capacity from 3,000 tonnes an hour to 8,400 tonnes an hour in 2018/2019.
The money will also go to buying equipment, increasing the area for stockpiling at the jetty, and widening roads for 170-tonne dump trucks.

The capex is expected to drop in 2019 to about US$30 million. The use of the infrastructure will extend far into the future, as GEAR's coal reserves -- largely from the BIB mine -- stand at 828 million tonnes. That makes it one of the top 5 in Indonesia.


5. One-offs: GEAR incurred professional fees and expenses of nearly US$10 million, part of which can be capitalised, in relation to its bond issue in 1Q18.

GEAR raised US$150 million by issuing 5-year bonds with a coupon rate of 9%.