It's been three months since we unveiled the Dim Sum Portfolio at the start of July 2017 (see story: DIM SUM PORTFOLIO has 12 stock ideas ... Will it turn out delicious?) , and the 12 stock picks have returned a modest gain of 1.72% while the ST Index, -0.2% in the same period.

The 12 stock ideas came from 10 investors, hence it's a "dim sum" meal made up of various risk profiles, various return potential, etc.

But all are supposed to be "tasty" for some reason or other, and a few hold the promise of sizzling returns.

Here's a detailed breakdown of the stocks' performance:


Buy price ($)

Dividend
($)

29 Sept '17
share price ($)

% gain

Alliance Mineral Assets

0.32

0.3

-6.3

Cityneon

0.97

1.14

17.5

CNMC

0.26

0.29

11.5

Del Monte

0.32

0.0061

0.3

-4.3

DISA

0.013

0.012

-7.7

GSS Energy

0.164

0.16

-2.4

HL Global

0.41

0.435

6.1

InnoTek

0.38

0.29

-23.7

Mandarin Oriental

2.06

0.015

2.18

6.6

Nordic

0.38

0.00653

0.515

37.2

Singapura Finance

1.03

1.01

-1.9

SunMoon

0.108

0.095

-12.0

Sum

20.6

Average

1.72
For simplicity, the average gain was based on each stock's end-Sept price and entry price, and dividends received, if any. And each stock had equal weightage in the portfolio.

Some highlights:

1. Nordic, at 51.5 cents, is just off the all-time high of 52 cents which was reached last Tuesday (26 Sept).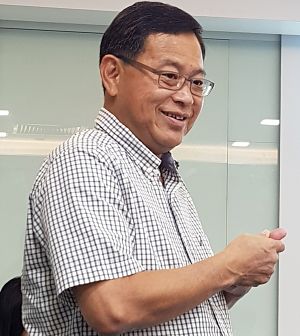 Chang Yeh Hong, executive chairman of Nordic Group, now owns 53.93% of the company. His stake is currently worth $109 million. NextInsight file photoTwo days later (28 Sept), executive chairman Chang Yeh Hong bought 1,304,500 shares for S$652,250, or 50 cents a share. What does that imply about Nordic's business outlook?

Nordic, by the way, is sitting on a record order book.

2. The stock picker who chose Singapura Finance is exiting the stock, and has replaced it with Tawana Resources (24 cents).

Tawana is Australian-listed and is a 50-50 JV partner of Alliance Mineral Assets (also a dim sum pick) in the development of a rich lithium mine.

3. An 11th stock picker has proferred United Global to the portfolio (at 35 cents). Thus, its performance will be tracked in 4Q this year.

4. Cityneon recently had an exciting development: It acquired full global rights to Jurassic World Exhibition for US$25 million, allowing it to make full use of the exhibition's intellectual property rights.

5. Positive news is imminent for:
♦ GSS Energy -- striking first oil in its Indonesian concession, and
♦ Alliance Mineral Assets & Tawana Resources -- an announcement in Oct 2017 of a significant upgrade in its resources after several months of drilling.

Hopefully, they will boost the porfolio gains in our next update.

And hopefully, the longer-term performance -- barring any crazy moves by Trump and Kim -- will be as good as the predecessor Nasi Lemak portfolio, which had an impressive trajectory over two years that led to a 143% gain. That portfolio has ceased in order to make way for brand new stock ideas.
(See: NASI LEMAK PORTFOLIO: After two years .... )


Note: The dim sum portfolio reflects the diverse investment interests and perspectives of 10 investors and are not a recommendation for any reader's investment. Your risk profile and investment objectives could differ, and are likely to differ from theirs.