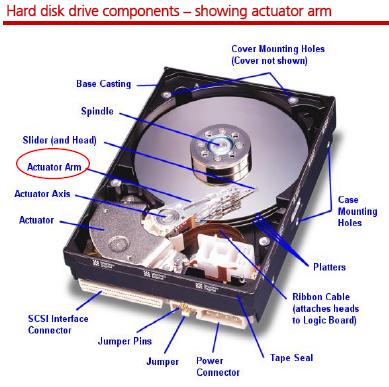 Broadway produces actuator arms for HDDs. An actuator arm pulls data off magnetic disks or writes new data on them.Broadway Industrial has reported losses for three consecutive years now.

It has been declining with the downtrend in the adoption of hard disk drives. Broadway is one of the top three suppliers of actuator arms and related assembled parts for the hard disk drive industry.

A long-time Broadway insider, however, has a positive view of the business outlook, going by his purchases of the stock.

Chua Aik Loon, 47, was appointed executive director of the group in Jan 2017. This is his background:


In the past 10 years ….

Jan 2017 – Present

Executive director, Broadway Industrial Group

Jan 2015 - Jan 2017

Executive VP (HardDisk Drive Division) Compart Asia, Pte Ltd (wholly-owned subsidiary of the Company)

Aug 2014 - Jan 2015

Senior MD (HardDisk Drive Division), Compart Asia Pte Ltd (wholly-owned subsidiary of the Company)

Aug 2008 - Aug 2014

MD (HardDisk Drive Division, Hookup Operations), Compart Asia Pte Ltd (wholly-owned subsidiary of the Company)

Feb 2006 - Aug 2008

MD, Compart Precision Components Manufacturing (Wuxi) Co., Ltd (wholly-owned subsidiary of the Company)

Source: SGX website

Prior to being appointed executive director, Mr Chuah held 1.4 million shares of Broadway. He has since enlarged his stake, as follows:


18 Jan 2017
(appointment date)

Shares held: 1,401,750

Date

Shares added

Price

20 Mar 2017

400,000

12.0 c

5 May 2017

16,250

(vesting of share award)

12 May 2017

500,000

13.2 c

2 June 2017

7,500

(vesting of share award)

16 June 2017

1,000,000

13.15 c

Total stake

3,325,500

Regarding the outlook, here's what Broadway said in its 1Q2017 results statement:


"Looking forward, the management expects the oncoming quarter to be equally challenging with typically lower volumes than the first quarter. However, based on historical trend, we expect reprieve to come in the later quarters when HDD makers ramp-up for seasonal year end."


Stock price

13.3 c

52-week range

9.8 – 24.5 c

PE (ttm)

-

Market cap

S$63 m

Shares outstanding

471 million

NAV

21.8 c

Source: Bloomberg
The annual report 2016 has a more upbeat message jointly from the non-executive chairman Lew Syn Pau, executive director Ng Ah Hoy and executive director Chuah Aik Loon.

"First of all, let us say that although the HDD volume is declining, it is still at a very high shipment volume of more than 400 million units per annum. We will maintain the Group's operational profitability on a positive core EBITDA basis, as we continue to optimize our operations and improve our efficiency and productivity through further operations consolidation, cost optimisation and right-sizing.

"Secondly, after the disposal of the FPS and FCD businesses in 2016, we have strengthened our balance sheet significantly by reducing our gearing to a much more manageable level.

"Thirdly, while we continue to be on the lookout for new businesses and customers, we will exercise extreme caution, especially if major new capital investments are required and/or result in exposure to unacceptable risks.

"Finally, we will also continue to explore new opportunities to further unlock shareholder's value."