What an overwhelming sight from afar -- the height and depth, and the length and breadth of the mining ground.

After that long-distance viewing, we were driven on winding roads to descend to the bowels of the mine where coal was being excavated, and where overburden was being hauled away.

These were sights and sounds and experience that tourist dollars cannot buy.

Thinking about the big picture took our breath away: Massive as it was, what our eyes could take in was just a fraction of the entire mine of Borneo Indobara (BIB).

Located in South Kalimantan, the mine spans 24,100 hectares: That's about a third the size of Singapore!

SGX-listed Golden Energy & Resources has a significant interest as it owns 67% of Jakarta-listed PT Golden Energy Mines Tbk which, in turn, owns the BIB mine.

Check out our video (2 min 9 seconds) -->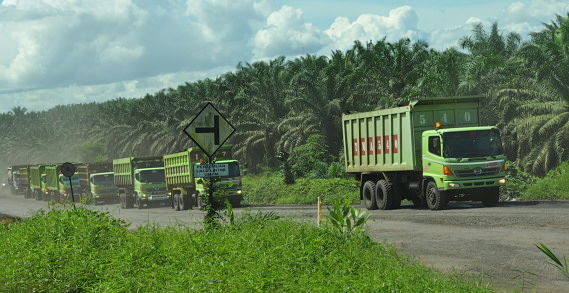 To get to the mine, we drove four hours from our hotel in Banjarmasin, which is two hours by flight from Jakarta.

Approaching the mine in the early afternoon, we encountered a procession of trucks heading in the opposite direction, hauling coal from various mines, including Sungai Danau Jaya which is owned by another SGX-listco, Geo Energy Resources.

Then we turned off into BIB's own road leading to its mine from which about 12 million tonnes of coal are planned to be excavated this year (2016: 7.5 million tonnes).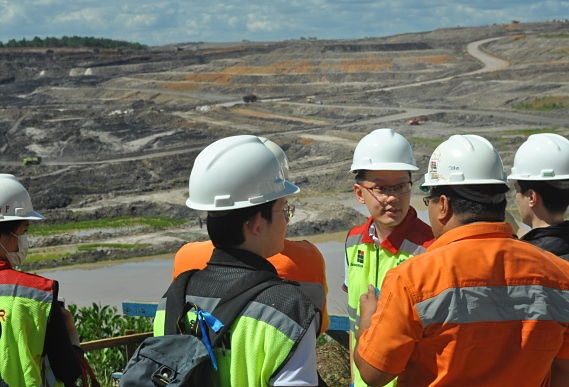 Mark Zhou (facing camera), head of investment at Golden Energy, with analysts and media at BIB's mine. At that rate, it would take more than 50 years to deliver all the 650 million coal reserves that experts currently estimate BIB possesses.

And what solid profit BIB will also deliver -- if coal prices stay, for example, at current levels.

At the US$40-45 per tonne selling price in 1Q17, every one million tonnes of coal of 4,000-4,200 GAR grade reaps US$20-25 million in gross profit.

This assumes a cash cost of production of US$20 per tonne (which is slightly above last year's figure, as guided by Golden Energy & Resources).

In addition to BIB, there is a second producing mine (Kuansing Inti Makmur in Sumatra) that Golden Energy & Resources has an interest in and which is expected to produce 2.7 million tonnes of coal this year.

Aside from large reserves, BIB owns a port about half an hour's drive away (or 25 km on average) which is equipped to rapidly transport coal to mother vessels out at sea.

Check out our video (1 min 16 seconds) -->
A BIB-owned road links the mine to a jetty with a conveyor belt (capacity: 15 million tonnes a year) that stretches 800 metres out at sea.

Crushed coal from a stockpile at the port is speedily transferred to large barges waiting at the end of the jetty. They then ferry the coal to mother ships at anchor about four hours away, which deliver the coal to countries such as China and India where it is used in power plants.

In contrast, many coal-mining companies unload coal from trucks into barges by the riverside (a slower process) and the barges (relatively small ones) traverse rivers (are subject to tides and river traffic) to reach mother ships.

BIB's port infrastructure is largely sufficient for the production planned for this year (12 million tonnes) and next (16 million tonnes).


Golden Energy & Resources

Share price:
46.5 c

Target: 96 c
Source: KGI
But it needs to be expanded, and capex incurred, to cope with far higher production volumes that are envisaged from 2019.

And yes, plans are being drawn up for that. BIB seeks to produce as much coal (and profits) as possible before its concession expires about 18 years from now in 2036 and to meet Indonesian power plants' surging demand.