Excerpts from analysts' report
Deutsche Bank analysts: Joel Liew, CFA; Joy Wang, Joshua Lee, CFA
We sense an increased interest among investors for dividend-yielding names in Singapore, given the tumultuous equity market since the start of the year. The decline in the 10-year government bond yield by 25bps over the last month to 2.36% at present has also been a catalyst.

Naturally, REITs immediately come to mind. Among the top-ten dividend-yielding names we cover in Singapore, we have Buy recommendations for HPH Trust, Mapletree Logistics Trust, M1, Keppel DC REIT and CapitaLand Commercial Trust. They yield over 6.8% in 2016E and 7% in 2017E.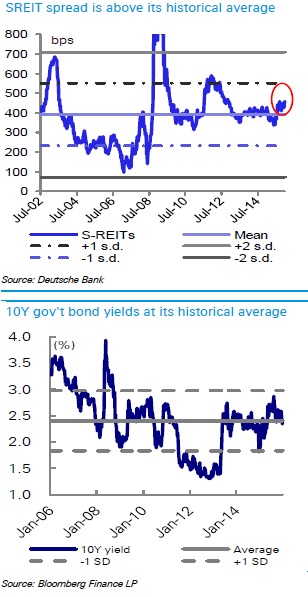 Wider-than-average SREIT spread more than offsets potential rate increases
Sector spreads are currently at 460bps, c.70bps wider than its 390bps average. In comparison, Singapore 10-year government bond yield of 2.36% is c.50bps lower than Deutsche Bank's year-end forecast.

Assuming that spreads and rates normalize to their mean, yields would be 20bps lower than average.

Our economist has forecast 0.8% inflation for 2016, with risks to the downside. If inflation trends lower, the 10-year yield could end up lower than the Deutsche Bank forecast.


Our top-yield 'Buy' recommendations

HPH Trust: At more than 9% yield for 2016E, the stock has the highest yield in our coverage. Its 2016/17E FCF yields of 15.2%/14.7% should support its semiannual dividend payout (mid-February ex-date).

Mapletree Logistics Trust: Strong FYMar17/18E FCF yield of 8.2%/8.5%, as well as positive earnings growth from active capital recycling and accretive acquisitions, should support quarterly DPU (1 Feb ex-date). Active capital recycling and accretive acquisitions, coupled with its 0.8x PB (below its longterm average of 1.1x), are positive catalysts for the stock.

M1: The stock declined 14% after its recent decision to cut dividend payout to 80%. At 7.7% yield in 2016E, it remains one of the top yielders in Singapore. Its semi-annual DPS (ex-date mid-April) is ably supported by stable earnings over the next two years. We think the stock has been oversold on the fourth telco operator concerns.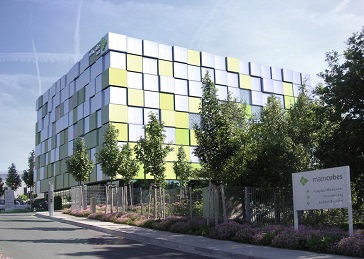 In October 2015, Keppel DC REIT forayed into Germany with its first data centre there. Known as mainCubes, the asset is about 10 km away from Frankfurt, sited on 5,596 sqm of freehold land and will have a total lettable area of about 11,780 sqm upon completion in 2018. Photo: CompanyKeppel DC REIT: 2016/17E FCF yields of 8.4%/8.6%, coupled with positive earnings growth from data centre demand, as well as potential T27 acquisition should be supportive of semi-annual DPU (July ex-date).

A strong portfolio with rental escalations should drive FY16 DPU growth and act as potential for additional inorganic growth via acquisitions.

CapitaLand Commercial Trust: We think that strong office rental growth from TMT, law firms and regional banks will continue to gather momentum in the next 12-15 months. Its 2016/17E FCF yield of 7.4%/7.6% would continue to support its semi-annual DPU (July ex-date).