Excerpts from anaysts' report

Deutsche Bank analysts: Yuxiao Peng, CFA, & Michael Tong

Clear waters ahead; initiating on SIIC and CEW with Buy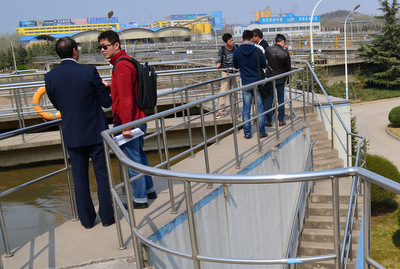 @ China Everbright Water's facility in Jinan's Licheng district: This is a reusable water project and a Build-Own-Operate investment with daily wastewater treatment capacity of 42,000 cubic meters. NextInsight file photo.Positive view reaffirmed; top picks: SIIC and CEW
The newly-announced Water Pollution Control Plan and the unprecedented government focus on environmental protection reaffirm our positive view on the water industry. Large-cap SOE stocks have been traded strongly, we now see more upside for smaller SOE players. They have a higher growth rate, more potential to surprise and beat market expectations, and a more attractive valuation. We initiate coverage on SIIC Environment (SIIC) and China Everbright Water (CEW) with Buy and designate them as our sector top picks.

Pollution control plan unveiled; over RMB1.9tr investment needed by 2020
The Water Pollution Control Plan released in April will lead to over RMB1.9tr of total investment in the water industry by 2020, as estimated by the Ministry of Environmental Protection. More detailed implementation plans and the 13th five-year plans will be announced by central and local governments in 2H15- 2016, unveiling tightening discharge rules, paving the way for water tariff hikes, and promoting the involvement of specialist operators.

Strong growth upholds premium valuation, leading SOEs to gain market share
New project wins should remain strong over the next few years, supporting premium valuations for the sector. Leading SOEs can gain market share in the currently scattered municipal water industry, leveraging on their better relationship with local governments and access to cheap financing. Management with a commercially-driven mindset, good employee incentive plans, and a wider footprint also help. BEWG (Beijing Enterprises Water Group), as the role model for the new SOE, has proven to be successful. We believe SIIC and CEW can emulate BEWG's strong growth and emerge as leading SOE players in the sector.

Smaller players still under-researched; initiating SIIC and CEW with Buy
We see greater upside potential for SIIC and CEW. These smaller players are under-researched, and the market (including us) has relatively conservative expectations for them while the track record is still being built. Compared to BEWG and CEI (China Everbright International), SIIC offers higher earnings growth but is trading at over a 10% discount on 2015E EV/EBIT.

A potential dual listing in Hong Kong and an asset injection could also be positive share price catalysts. Valuation multiples for CEW appear high in 2015, as adjusted earnings growth could be temporarily affected by the reverse takeover of HanKore. However, the strong growth will resume from 2016, with a 43% adjusted earnings CAGR in 2015-17E, the highest among peers. CEW could gain from the good reputation and synergy of its parent CEI in getting new projects. It may also consider listing in Hong Kong to improve its trading liquidity. Please see individual company sections for valuation/risks.