Excerpts from analyst's report

Deutsche Bank analyst: Kevin Chong




Our key pick as the Chinese shipbuilding industry further consolidates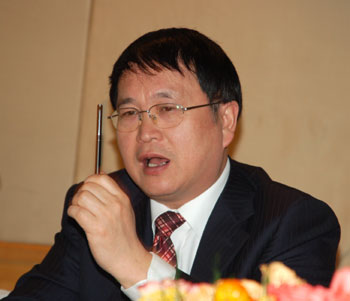 Ren Yuanlin, executive chairman of Yangzijiang. NextInsight file photo.As the shipbuilding industry consolidates further in China, weaker yards will become marginalized and a select group of larger/stronger yards will remain.

YZJ will be one of the winners as the industry evolves to look more like the landscape in South Korea where only a few major yards dominate. Recent order wins for LNG vessels have been announced and YZJ is close to containership new orders, reinforcing its established position.

We have upgraded our earnings forecasts for YZJ by 20-38% after raising new orders by 7-20%. This implies an RoE of 13% supporting a 1.5x P/BV valuation, and we have raised our target price from S$1.40 to a street-high S$1.90. Maintain Buy.
Stock price drivers ahead (I)

Stock price drivers to note: (1) The group has been in discussion with several potential parties on 14k TEU containerships and we expect some of these to be secured within the next few months.

(2) YZJ's recent win of two LNG vessels with an international customer is a breakthrough win in our view and paves the way for more related gas carrier orders in the coming months.

(3) Its intention to reduce non-core investments should lead to positive stock price re-rating and any developments on this front are positive in our view.

Stock price drivers ahead (II)

Stock price
(21 Apr 2015)

$1.415

52-week range

$0.995 – $1.43

PE (ttm)

7.1

Estimated P/E (12/2015)

8.2

Market cap

S$5.4 billion

Price/book

1.22

Dividend yield
Bloomberg data

3.87%
(4) Our shipping team expects aggressive vessel ordering in China, which should benefit state-owned yards. However, as capacity is not infinite, we feel any spillover orders would benefit YZJ.
(5) M&A potential; YZJ's yards are busy over the next two years and it is on the lookout for potential capacity to acquire if the price is right.
(6) The BDI is close to multi-decade lows and the market appears depressed in this segment. From these levels, any unexpected recovery may positively surprise the market in our view.
A significant laggard compared to Chinese listed yards; risks

Following the recent surge in China-listed shipyard stocks, YZJ appears to lag at 1.0x P/B (3.6-3.8x P/B for peers in China) and ROE of 13% (4-5% in China).

We expect this valuation gap to narrow as the market looks for related laggard names. Our target price is based on the Gordon Growth Model. Downside risks include poor execution and a tight credit market.