Tingkat delivery is one of the services offered by Tong Chiang Group, which has annual revenue of about $20 million.
Photo: CompanySERIAL SYSTEM has acquired a 21% stake in a food caterer, an investment that might look puzzling initially but becomes interesting in the light of the super performance of Jumbo Group's IPO this week.

And Neo Group's performance (about 145% return) since its IPO in 2012 has been no less sizzling.

Serial's CEO, Derek Goh, was quizzed on the investment into Tong Chiang Group for US$3.2 million at last week's 3Q results briefing.

He revealed that the Singapore-based food caterer planned to list in Singapore in, perhaps, about 1.5 years' time. The likelihood of a food business fetching double-digit PE valuation was enticing to Serial.

"The lady boss approached me, saying that I can help her business with my reputation and wide network -- by recommending her company for food catering at grassroots events," said Mr Goh.

Serial is the only other shareholder apart from Ms Lisa Zou, its MD, a Shanghainese who became a Singapore citizen in 2009. Four years earlier, she had started Tong Chiang, which Serial bought a stake in in August this year.

Operating out of five factories and three warehouses, Tong Chiang is mainly into home-meal catering, provision of meals in bento boxes to corporate customers, and catering for private and corporate events.

Its net profit margin is much higher than the 1.1% that Serial achieved in 1H this year from its current business. Serial has one of the largest distribution networks in Asia for electronic components.


Clean laundry being moved in suspended bags at South Pacific Laundry, in which Serial has a 20% stake. Photo: CompanyIn the past, Serial has taken stakes in other unrelated businesses -- for example, industrial laundry in Australia.

SPL Holdings, which Serial owns 20% of since last year, services hotels, resorts, hospitals, care centres and restaurants in cities such as Melbourne and Sydney.

SPL contributed profit of US$0.30 million in 3Q this year (up from US$0.25 million a year ago). In the first nine months of this year, Serial has recorded about US$0.56 million in profit from SPL.

3Q2015 revenue up 10%, gross margin shrinks

Serial System's group revenue in 3Q this year grew 10% y-o-y, driven by its electronic components distribution business in South Korea and Taiwan as well as its consumer products subsidiaries.

The Group generated total revenue of US$321.1 million in 3Q2015.

Lower contributions were seen from Hong Kong and China, owing to increased competition.

Swift-Value Business and Serial I-Tech group, the Group's wholly owned consumer products subsidiaries, generated total sales of US$50.2 million in 3Q2015 or 16% of Serial System's top line. This was 74% more than their US$28.9 million contribution in 2Q2015.

Swift-Value, which Serial System acquired in May 2015, is the authorised distributor for Hewlett-Packard, Epson and Canon, and the authorised reseller for major brands such as Fuji Xerox, Samsung and Panasonic.

Serial I-Tech group, which Serial System bought in December last year, distributes IT, mobile, timepieces and photographic products.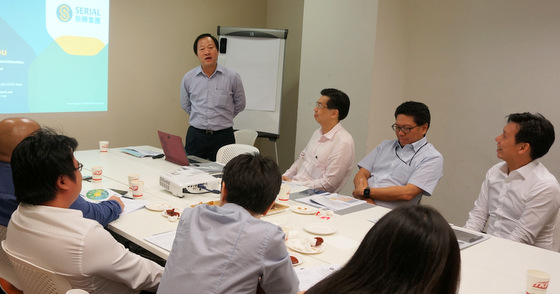 Serial System CEO Derek Goh at last week's 3Q briefing. Photo by Janine Yong
Serial System's gross profit margin in 3Q2015 slipped to 7.2% from 8.4% in 3Q2014.

Serial I-Tech Group and Swift-Value, with their lower-margin business, contributed to the decline.

The lower margins, together with increased losses from associated companies, resulted in a smaller 3Q2015 net profit of US$2.2 million, compared to US$4.3 million a year earlier.

Net profit for 9M this year declined 13% to US$10.0 million.

For the Powerpoint presentation, click here.