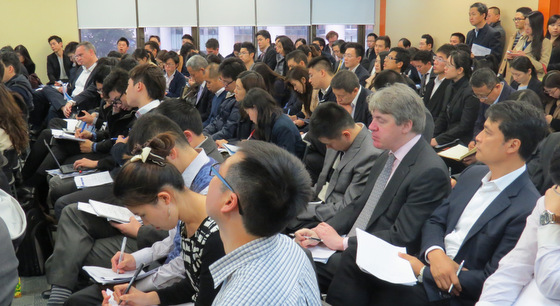 PAX Global's 2013 results briefing: The company has a China and global growth story to tell. Photo: Aries Consulting


PAX GLOBAL Technology Ltd (HK: 327), China's top Electronic Funds Transfer Point of Sale (EFT-POS) terminal solutions provider, saw its 2013 revenue rise 12% to nearly 1.5 billion hkd, helping the bottom line jump 24% to 227 million.

Management told investors in Hong Kong that speedy growth in China and active expansion overseas were the main earnings drivers last year.

"These past few years, we've proactively reacted to rapid market demand changes in the PRC.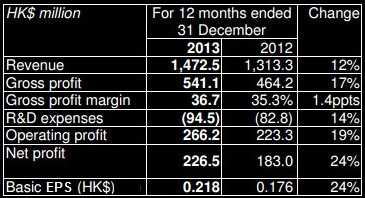 "Owners of a lot of new shops in China now think the first thing they should do after opening is to buy an EFT-POS system to make it easier for customers, knowing how important first impressions are for future business," said PAX Global Chairman Mr. Tiger Nie at a recent Aries Consulting-organized investor gathering.

Sales of the firm's EFT-POS terminals reached over 1.5 million in 2013 for the first time.

The ongoing trend toward cashless/wireless/paperless/contactless payment practices will only mean continued growth going forward.

Given the rapid changing technical landscape for non-traditional payment options, PAX invested 94.5 million hkd in R&D last year, up 14% compared to 2012.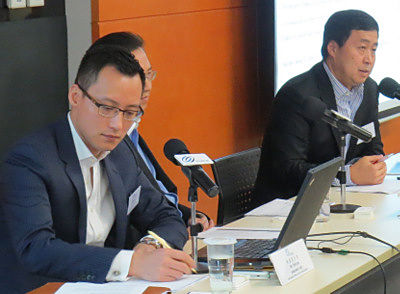 L-R: Group Financial Controller Chris Lee, Chairman Tiger Nie (partially hidden) and CEO Jack Lu. Photo: Aries Consulting"The investment was aimed at developing new products and optimizing existing products, as well as strengthening our R&D competitiveness, with our R&D staff rising 19% last year," Mr. Nie said.

Benefitting from cost optimization and new product launches, PAX's gross profit margin in 2013 rose 1.4 percentage points to 36.7%, with management expecting the gross margin to be maintained at a healthy level.

As at 31 December 2013, PAX had cash and short-term bank deposits of 1.7 billion hkd, with no borrowings outstanding.

"With sound financial standing backup, PAX will actively seek upstream and downstream M&A opportunities that would lead us a step closer to our goal of becoming a leading global market player."

In 2013, China sales contributed HK$1,046.1 million while overseas markets, HK$426.4 million.

Overseas markets are expected to enjoy double-digit growth, and revenue contribution may reach new heights due to new markets such as India, Brazil, Mr. Nie added.

Sales of EFT-POS terminals last year were up 17% at nearly 1.4 billion hkd thanks to strong sales revenue both overseas and in China, generating the majority of the total top line for PAX.

According to a Nilson Report published in October 2013, PAX ranked No.4 globally in terms of EFT-POS terminal shipments in 2012.

And among the top five worldwide EFT-POS terminal solutions providers, PAX achieved the fastest growth with an annual increase of 32%.

Management is confident that the global ranking of PAX will reach another new height going forward.

"There's still a big gap between us and the global Top Three, but there's also a big gap between us and No.5, and it's growing," Mr. Nie said.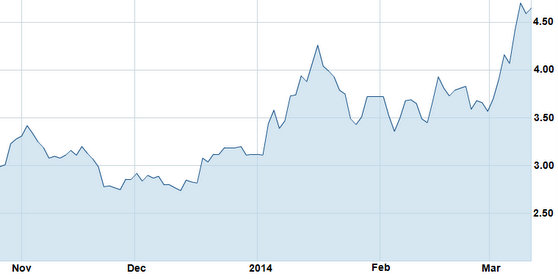 PAX Global, with a market cap of over five billion hkd, has seen its Hong Kong shares range between 1.45 – 4.97 hkd over the past 52-weeks, with a trailing P/E ratio of 21.9x.
Chart: Yahoo Finance

Mr. Jack Lu, CEO of PAX Global, said: "As an EFT-POS terminal solutions provider, PAX has enjoyed an irreplaceable competitive edge in payment solutions.

"Our long-term goal is to enhance our R&D capability, increase services income, consolidate our sales networks and carry forward both horizontal and vertical expansion of the payment value chain through M&As."

Pax Computer Technology (Shenzhen) Co Ltd, a wholly-owned subsidiary, was recognized as a Key Software Enterprise for 2013 and 2014 by the PRC government.

Upon further approval, PAX Computer will quite likely be entitled a 10% preferential corporate income tax rate for two consecutive years, from 15% currently (down from 18% in 2012).

And PAX is entrenching itself in both the hardware and software sides of the business.

"We are not Lenovo – we aren't just a hardware play and we own a lot of proprietary software technology rights," said PAX Global Group Financial Controller Mr. Chris Lee.

New product development along with a dedicated R&D strategy was key to PAX's growth.

"Diverse revenue streams and high industry barriers to entry are also very important for us.

"Looking ahead, our long-term R&D goal is to strengthen our software development ability and increase the existing proportion of software engineers from 70% to 80% so as to meet growing application needs, with a view to improving our software services targeting overseas customers -- particularly those of mature payment markets -- within two to three years."


The 2013 financial report of PAX can be downloaded from the HK Exchange website.

PAX was listed on Hong Kong's main board on 20 December 2010. To date, PAX has sold more than 5 million EFT-POS terminals in over 80 countries and regions. In a report issued by The Nilson Report in October 2013, PAX was ranked number 4 globally in terms of the volume of EFT-POS terminals shipped in 2012.

See also:

PAX GLOBAL Wins Key Honor Which Could Lead To Tax Savings