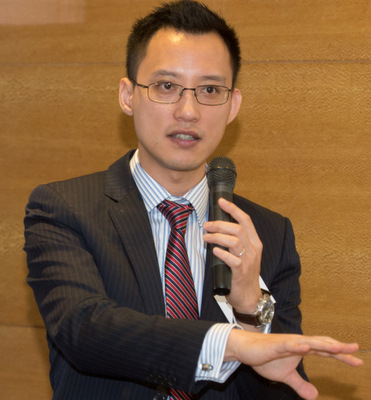 PAX Global's CFO, Chris Lee, speaking with investors in Shenzhen on Jan 10. Photo: Aries ConsultingPAYING BY CREDIT and debit cards is all the rage as shopping increasingly becomes both wireless and paperless.

And PAX Global Technology (HK 327) – an Electronic Funds Transfer Point of Sale (EFT-POS) terminal solutions provider -- is well-situated to maintain its No.1 market position in China and continue climbing higher from its No.4 global ranking, management told investors.

PAX Global Technology CFO Chris Lee said despite its market leading status in its home market, there was still plenty of room for PAX to grow in the PRC.

"The penetration rate of EFT-POS systems is very low in the PRC – less than 20% -- and in several overseas emerging markets where PAX is gaining a foothold, the rate is under 10%, which points to a very high growth potential for the sector," he said on January 10 in Shenzhen at the Aries Consulting-organized "3rd Scaling New Heights – Asia Investment Forum 2014."

He said the firm's recent share price surge – up 98.7% in calendar year 2013 – has also been buoyed by a major tieup with China Unionpay Merchant Services (UMS) earlier this month in which PAX became the major supplier for UMS' 2014 POS solutions.

On January 14, the firm's Hong Kong-listed shares hit a year-to-date high of 4.5 hkd, up over 44% from end-2013 levels -- but they have since corrected to 3.49 hkd.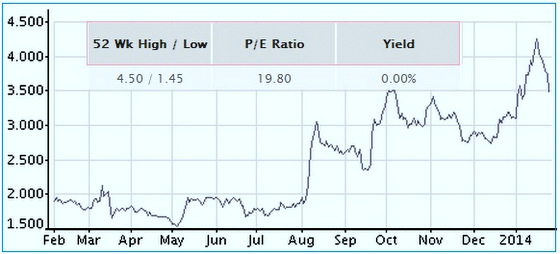 PAX stock started surging in Aug 2013 and ended the year up 99%.Chart by QPI.

The strong year-end showing and a recent spate of order announcements also prompted research house Oriental Patron to initiate coverage of PAX on Dec 23 with a "Buy" call and a 4.00 hkd target.

"We have earned ourselves solid brand recognition both in China and abroad with a substantial clientele base," said Mr Lee.

Though PAX Global always looked globally for sales opportunities, growth in its home market is still fastest, with PRC sales growing 37% in its most recent interim results while the overall top line grew by 19%.

In addition to its flagship EFT-POS products, PAX specializes in smart card readers and magnetic stripes or inbuilt contactless system readers and their after-sales services.

Among Few China Companies Going Global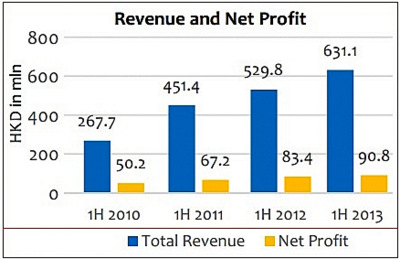 PAX is among a small group of domestic competitors qualified to sell overseas as they have the technological knowhow to export EFT-POS systems.

"Given the high technological entry barriers to the sector, long waiting periods for approval and strong demand, being authorized to begin operating in each country market is a major accomplishment and significant potential earnings driver," Mr. Lee said.

And although PAX is currently No.4 in the global EFT-POS market, the firm is ready to capture a bigger piece of the world market.

"Global EFT-POS peers Ingenico (ING: FP) and Verifone (PAY: US) have both been undergoing restructuring which affords PAX a huge opportunity to spread its business scope in overseas markets."

Also, the growing middle class and a push for increased domestic consumption in the face of a shaky global economic recovery were boosting demand for PAX's products in China.

And urbanization – an ongoing and historic demographic transformation which saw the PRC recently become for the first time in its 5,000-year-old history a majority urban state – is also boosting demand for EFT-POS solutions.

"PAX is a major beneficiary of the urbanization drive, and the electronic payment system market in the PRC is still at a very early stage of development with the possibility of huge growth in the future.

"Our growth strategy going forward will be to provide high-value products in mature markets while actively developing the emerging markets," Mr. Lee said.




Deals with ALL IN PAY, UMS and UniCredit (Italy)
China's ALL IN PAY has chosen PAX Computer Technology (Shenzhen) Co Ltd -- a wholly-owned subsidiary of PAX Global -- to power its POS network solutions in 2014.
PAX first established a long-term, stable business relationship with ALL IN PAY in 2009. ALL IN PAY is one of the largest third-party service providers in China, covering insurance, wholesalers, supermarkets, hotels, e-commerce logistics, B2C online shopping, etc.
PAX will offer ALL IN PAY payment devices, including the full range of countertop, portable, MIS PIN Pads, mobile and wireless terminals, which fully meet the highest international standards of secure payment PCI PTS 3.x, EMV certifications.
PAX will partner with ALL IN PAY to provide more convenient, secure and efficient payment services for consumers, as well as further enhance development of the electronic payment industry in China.
Just before this deal, PAX had established cooperative relationships with UMS in early 2014 as well as made inroads in Italy when UniCredit -- one of Europe's leading banks -- agreed to deploy its point of sale terminals to expand the acceptance network of UnionPay cards in Italy.
PAX Global is the first POS terminal vendor to receive UnionPay approval from UBIS, the technical payments division within UniCredit.
"The number of Chinese tourists traveling to Italy each year continues to rise, with over one million last year. As a result, the number of Italian retail merchants wishing to accept UnionPay cards also rises," said UniCredit Managing Director Mr. Federico Ghizzoni.

See also:

PAX GLOBAL, CHINA UNIONPAY Join Hands