RAFFLES EDUCATION, once a darling stock, has been buying back its shares noticeably since the middle of last month (May) and was preceded in March by substantial shareholder Oei Hong Leong who bought 8.337 million shares.

Raffles operates 34 colleges in 31 cities across 12 countries in Asia-Pacific. Its colleges offer a comprehensive range of internationally-recognised programmes leading to Diploma, Advanced Diploma, Degree and Masters qualifications.

Its 3.896-million share buyback since May 15, and accompanying share price rise (from 30 cents to 36.5 cents), happened although the balance sheet of Raffles looks weak.

The company had S$103.7 million cash against borrowings of S$294.6 million as at end of 3Q2014 (ended March 31).



There is another $93.2 million (equivalent to RMB450 million) to flow to Raffles from its divestment of 490 mu land and properties in Oriental University City (OUC) for RMB700 million.

In March,

Oei Hong Leong

bought 1.222 million shares at 27.5 cents apiece while his investment vehicle, Oei Hong Leong Museum, bought 8.337 million shares.

As a result, Mr Oei lifted his direct and deemed interest to 83.137 million shares, or a 8.11% stake in Raffles.

Back in Sept 2012, Mr Oei emerged as a substantial shareholder when his purchase of 11.5 million shares at 32.6 cents apiece vaulted his stake from 4.79% to 6.14%.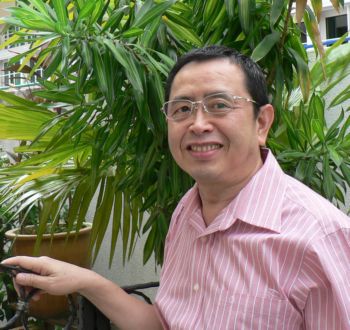 Seasoned investor Sebastian Chong (left) in a June 4 post on his website www.shareowl.com said: "REC's NTA is 0.42.5 cts which is well above share price. Education providers usually trade at several times NTA at least if they are renting most of their premises.

"But here, REC is asset heavy by virtue of the self-owned campuses in Singapore, China, Johor etc and the assets are revalued perdiodically and hence we can't expect share price to be several times NTA; at least not when operating results are break-even at best.

"I would expect TP to be close to NTA at best before American school and university in Iskandar become highly profitable and that will take at least a few more years. I also assume that China, currently loss making, will start to make small profits in maybe 2 years time.

"If China becomes quite profitable in 2 years, then that is quite a different story and that would justify a TP of 47 cts or higher. Another factor is the land value of the China campus as well as the Iskandar campuses. If they appreciate a lot in the next 2 years, then the NTA could climb very high and that could impact on the share price too.

"But ultimately the multibagger status of REC would depend on the Raffles brand name and the growth in the student population at Iskandar. The population of JB, Iskandar and Johor are much less than Singapore or Selangor and hence REC have to attract boarding students from Singapore, rest of Malaysia, Indonesia, China etc.

"All this takes time and so investing in REC is really a long term commitment. However, many investors are now beginning to see the long term potential of REC and that means they are buying now while it is cheap. By the time all geographical segments of REC become profitable, this stock will become quite expensive."

Previous story: Chan Kit Whye on...RAFFLES EDUCATION, ST ENGINEERING, CHINA MERCHANTS PACIFIC

A major contributor of cash inflow this financial year was the sale of investment properties of $41.6 million.