Suspended since Nov 2015, t

rading of shares of the former China Fibretech -- now renamed Raffles Infrastructure Holdings -- resumes at 1 pm tomorrow (Friday, 28 Sept) along with a stock split whereby every one share becomes two shares.

The enlarged issued share capital comprises 17,951,582 shares which is further massively boosted by 50,000,001 new shares placed to investors at an issue price of 60 cents each.

Using the placement price as a reference, the indicative market cap is about S$41 million (ie 67.95 m shares x 60 cents).

The bulk of the proceeds from the share placement will go towards investing in an infrastructure project together with Dingneng Group.

Raffles Infrastructure

will hold a 90.91% stake in the project.



This is a build-operate-transfer (BOT) rural road project awarded by the Yibin Municipal People's Government. Dingneng Group has completed 30% of the construction.

Renamed Raffles Infrastructure 10 years after its listing in Singapore, the company is transforming into an infrastructure-related play -- and is eyeing a number of projects (more on this later).

Its former core business as a fabric processing services provider in Fujian province suffered a huge setback in 2015.

In Nov 2015, three customers claimed substantial damages and financial losses due to the products processed by China Fibretech not meeting the specified requirements, resulting in de-colouring in their end-products.

In Oct 2017, Chinaman founder Wu Xinhua -- who had authorised the payment to the three claimants without board approval -- stepped down as executive chairman and relinquished his CEO role.

The Singapore Exchange has filed complaints with Chinese authorities against him in relation to alleged offences under the Chinese Penal Code.

Put simply, China Fibretech -- which listed on the Singapore Exchange in 2008 -- became yet another S-chip that ran aground amid questionable circumstances. A special audit by KPMG will start soon.


• Mr Eric Choo has more than two decades of experience in the field of finance, including working for global MNCs like Hewlett Packard and Apple Inc. and has extensive China experiences and network in the area of financial management, mergers and acquisitions, and corporate finance.
With a new Singapore-controlled board in place, Raffles Infrastructure is exploring opportunities for new drivers of growth and pursuing investment opportunities in the region.

Raffles Infrastructure executive director Eric Choo said it aims to diversify into infrastructure investments and capitalise on One Belt One Road initiatives in the region as part of a consortium.

Comprising China Railway Construction Corporation Limited-23 Bureau (中国铁建-23 局) and Tianfu Railtech Valley (天府轨谷) and Raffles Infrastructure, the consortium will bid for tourist railway projects in the PRC.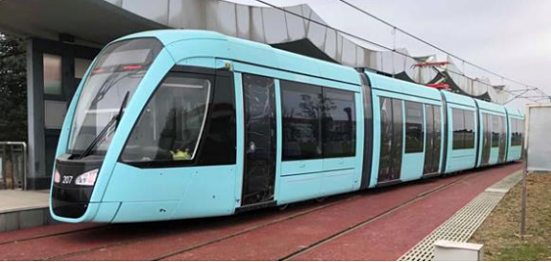 Environment-friendly tourist rail track system developed by Tianfu Railtech Valley: Safety in stronger materials, lower cost, shorter construction time, less maintenance needed (no major maintenance needed for rail track for 10 years). Photo: Company.
Mr Choo said the consortium is in advanced negotiations for projects including (1) BASHAN RAILWAY (巴山大峡谷) with a RMB280 million contract value; and (2) MEISHAN RAILWAY (眉山), with a RMB600 million contract value.

See: CHINA FIBRETECH: Heads off in new business direction