Mano Sabnani (left) is the Chairman and CEO of Rafflesia Holdings, a company he founded in 2008 to pursue opportunities in the media and financial sectors. He was the Chief Editor of Singapore's Business Times from 1986 to 1992. From May 1992 to the close of 1995, he was the Managing Editor of The Straits Times. From January 1996 to August 1997, Mano was the Director of Research at DBS Securities. He then moved on to be the MD for Investments at Individual Banking, DBS. Mano also served as the MD for Equity Capital Markets, DBS Bank from July 2000 to June 2001 when he left to join Corporate Brokers International as Executive Director. He was CEO and Editor-in-Chief of daily newspaper TODAY from April 2003. He had developed the paper into the second most read in Singapore by the time he left in Nov 2006.



The following are views and analysis which Mano shared recently on Facebook:

PEC AGM lively one yesterday (28 Oct)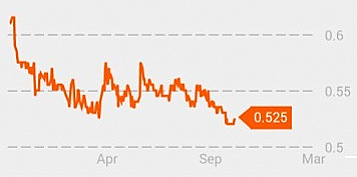 PEC (52.5 cents) has a 52-week trading range of 51.5 61.5 cents. Its market cap is S$134 million. Chart: Bloomberg.High costs an issue but co explained due to variation orders in O &G projects. ID says management is conservative.

Hubby and wife team took home $2m in remuneration; group made about $10m. Co is cash rich with $22m net of cash. Market cap $132M vs equity of $216m.

Shares at lowest point since IPO. Worth picking up in my view due to good reputation in market and strong balance sheet.

---

♦ Fiasco at Raffles Education AGM!! (27 Oct)

CEO lost his cool... calling shareholders "Oii.. you're ridiculous!!" and telling them to sell their shares if they not happy with company.

But how can they? Shares at 35c are one-fifth of price five years ago!

CEO Chew says co has three businesses now with two legs in property development and management.

Result: co has lost focus on education and survives on periodic sale of land!

Shareholders want better focus in education and recurrent earnings. It's not likely he will listen...Sigh.

Question that irritated CHS related to loss of focus and need to refocus in education. His point is the group has already diversified. So take it or leave it.

A lot of bad news is IN the price. Stock is trading at multi-year low. Student enrolment which has been declining past few years is stabilising now.

I would NOT be a seller at this point. Balance sheet has improved through land divestment and will improve further with flotation of OUC in China.
---

AusGroup: attended EGM just now (29 Oct)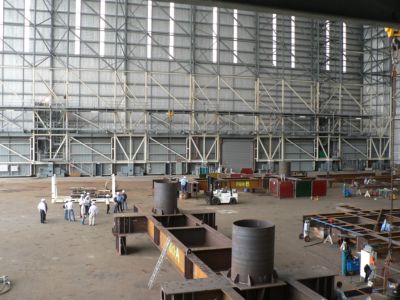 An AusGroup fabrication facility in Perth. NextInsight file photo.Deal with Ezion approved. They are paying $55m to acquire two Ezion companies with O & G beachhead in Darwin area.

Paying in cash and new shares. Result: Ezion will control AusGroup. Deal is very good for Ezion.. control of large listed group for a very low price!

AusGroup itself shoud turnaround with strong presence in L & G sector both onshore and offshore

AusGroup now trading at near 5 year low of 35c... close to NAV.

I am holding my shares. Currently at depressed levels. Problems of past mostly resolved; bad projects caused losses. Mining sector depressed; so they switch focus to growing LNG sector.

Recent story: @ AUSGROUP'S AGM: CEO says ship has turned around