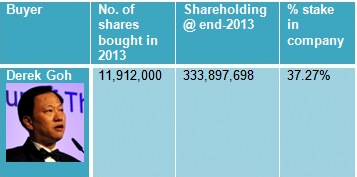 To his end-2013 holding (above), Derek Goh added 1.675 m shares on 2 Jan 2014. In recent years, Serial System's chairman and CEO, Derek Goh, has regularly bought shares of his company.

For 2013, we calculated that his purchases totalled 11.912 million shares.

For an idea of how much he had forked out for the shares, consider that the stock's daily closing price ranged between 10.9 cents and 13.3 cents in 2013, according to Bloomberg data.

Taking 12 cents as the average, Derek would have invested over $1.4 million in the share purchases in 2013.

Serial's net profit attributable to shareholders for the first 9 months of the year stood at US$8.15 million, up 35% year-on-year.

It's a nice result, especially in a year when Serial celebrated its 25th anniversary and gave big charitable donations to various organisations. (See SERIAL SYSTEM celebrates 25th anniversary with big charity donations)

According to Bloomberg data, Serial shares (12.5 cents recently) trade at a trailing PE of 9.2 and dividend yield of 4.3%.

As of end-3Q, Serial was within striking distance of reaching its target of S$1 billion in revenue in 2013. We have to wait for the FY13 results announcement to see if it hit the target. Stay tuned.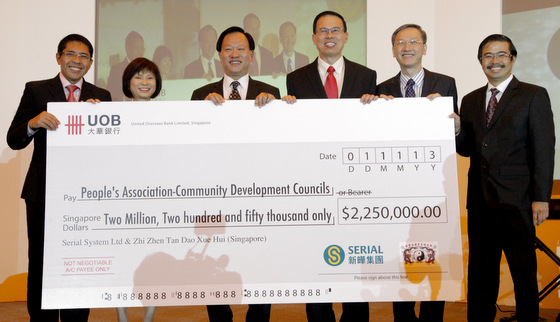 Serial System and Zhi Zhen Tan Dao Xue Hui – a Taoist charity organization founded by Derek Goh -- made a big donation to charity at the 25th anniversary celebration last year.
Photo: Company
---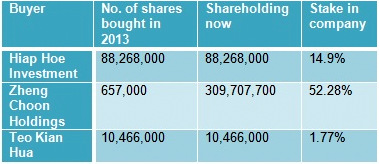 Ley Choon Group Holdings, an established one-stop underground utilities infrastructure service provider, was listed on the mainboard of the Singapore Exchange in August 2012 via a reverse takeover of Ultro Technologies.

The stock price, recently trading at 18 cents, is way below the 28 cents at which the RTO was transacted involving an issue of 392.9m new shares.

There was a compliance placement, as part of the RTO exercise, involving an additional issue of 57.6m new shares and sale of 23.4m vendor shares at $0.22.

There has since been a spate of big share purchases, as shown in the table at the top.

A placement of new shares in Aug 2013 at 16.42 cents was taken up by Hiap Hoe Investment, a subsidiary of property developer Hiap Hoe Limited, and Mr Teo Kian Huat, a private investor and a partner at a fund management company in Singapore.

Meanwhile, the other key buyer was Zheng Choon Holding, the investment vehicle of the controlling shareholders (the Toh family) of Ley Choon, which bought back shares from the open market at various times of the year.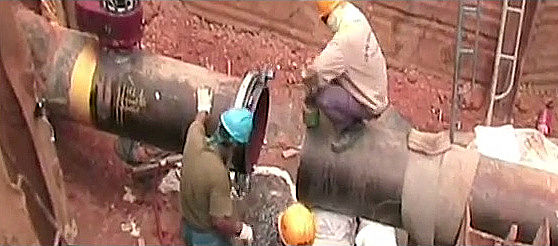 Ley Choon workers involved in an underground gas pipe project. Image: YouTube

In a report on Nov 4, Voyage Research estimated that Ley Choon Group will achieve $12.2 million (or 2.1 cents a share) in net earnings in 2013, which means the stock (18 cents) is currently trading at 8.6X earnings.

However, on 13 Nov, the group reported that in the first nine months of 2013, it had already achieved $19.0 million in net profit. This was boosted by a $11.1 million gain recognized on disposal of a building at Senoko Drive.

No dividend was declared for 2012 but in its annual report 2012, chairman Toh Choo Huat said the board would recommend a final dividend of not less than 30% of the net profit attributable to shareholders for FY 2013.


Recent story: RIVERSTONE is 'a gem', LEY CHOON has growth prospects