Bocom: 2013 Top Picks Sport 20.6% ROI

Bocom International's 2013 Top 10 Picks basket of Hong Kong-listed stocks has returned 20.6% since its launch on Dec 18, 2012.

This compares favorably with the Hang Seng Index which has recovered to positive territory with a 2.03% return over the same period, generating an outperformance of 1855 bps for Bocom's basket.

"The basket's cumulative return was driven by existing holdings such as SMIC (HK: 981; up 70% since inclusion) and Hengan (HK: 1044; up 32% since added), on top of legacy holdings like Kingsoft (HK: 3888; up 121%)," Bocom said.

The research house added to the basket Goodbaby (HK: 1086), Minsheng Bank (HK: 1988) and Baoxin (HK: 1293).

Key stocks that contributed incrementally since the last update on July 17, 2013 include Agile (HK: 3383; up 18.4%), Lenovo (HK: 992; up 14.0%) and Hengan (up 13.6%), which fared better than the Index (up 7.7% during the same timeframe).

"Added to our Top 10 list is Goodbaby, a market leader in strollers and children's car seats.

"Given the favorable demographic patterns, potential policies to loosen the one-child limitation and mandate the use of children's car seats, coupled with company-specific drivers to improve sales mix and pursue accretive acquisitions, we think the stock has yet to factor in these positives."



Goodbaby is to replace Intime (HK: 1833), having generated a positive return following its positive earnings surprise.

"Ahead of the September economic data releases, we switch out of Sanjiang (HK: 2198) into Minsheng Bank (HK: 1988) which we expect to further its strengths in intermediary and small/micro businesses against a stabilized macroeconomic backdrop, followed by its recent formation of a strategic cooperation with Alibaba.

"In light of the valuation at around 4.6x 2014 P/E and 0.9x 2014E P/B, Mingsheng's stock looks attractive with a dividend yield of 4.6%," the research house added.

Bocom said it is also adding Baoxin, a luxury automobile dealership in China, on anticipation of better pricing trends, more store openings in 2H13, and margin expansion resulting from a) accelerating growth of after-sales services and b) improved operating efficiency as it continues to consolidate operations.


---

Hani Keeps 'Buy' Call on CHU KONG SHIPPING

Hani Securities is reiterating its "Buy" recommendation on cargo, passenger ferry and port logistics play Chu Kong Shipping (HK: 560).

The target price is 2.76 hkd, with resistance at 2.61 and support seen at 2.1.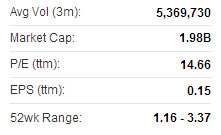 Chu Kong recently 2.20 hkd"Measuring from the recent low, Chu Kong's share price stays in a typical correction.

"However, it is poised to resume an upward trend after the recent consolidation and it is heading north as it jumps over the 10-day moving average," Hani said.

Chu Kong Shipping Enterprises (Group) Co Ltd. (HK: 560) is held by Chu Kong Shipping Enterprises (Holdings) Co Ltd with a strategic orientation of being "based in Hong Kong, backed by the mainland and facing the world." CKS is principally engaged in port-based navigation logistics, high-speed waterway passenger transportation and tourist business between Hong Kong, Macau, the Pearl River Delta Region (PRD) and coastal areas. After 15 years of development, CKS owns equity shares of 20 PRD inland barge terminals and operates more than 35 container barge routes, as well as 18 bulk freight routes between Hong Kong and PRD inland terminals. CKS operates a total of 18 passenger routes with 16 passenger destinations in Hong Kong, Macau and Guangdong Province. CKS is a market leader in the PRD waterway logistics and high-speed waterway passenger transport markets.


---

See also:

CHU KONG SHIPPING A 'Buy'