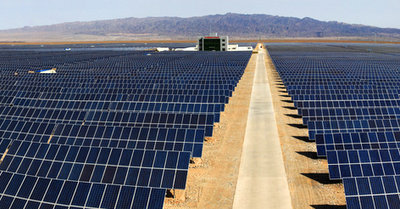 Hong Kong-listed Goldpoly recently signed a deal to add 400 MW to its solar energy capacity. Photo: GoldpolyGOLDPOLY boosts H1 revenue 32.1%

Solar cell, module and power station play Goldpoly New Energy Hldgs Ltd (HK: 686) saw its interim top line jump 32.1% year-on-year to 156.7 million hkd.

However, due to 1.4 billion hkd in costs associated with the acquisition of China Solar Power Group Ltd (CSPG, formerly known as China Merchants New Energy), Goldpoly's first half net loss increased nearly 980% to 1.06 billion hkd.

On June 10, 2013, Goldpoly completed the acquisition of a 92.17% equity interest in CSPG, via the issuance of 959.5 million Goldpoly consideration shares and convertible notes worth 1.16 billion hkd.

"Since the fair value of the total consideration transferred at the completion date of approximately 3.56 billion hkd was significantly higher than recoverable amount of the underlying business, goodwill recognized of approximately 1.37 billion was considered to be immediately impaired by the management," said Goldpoly Executive Director Mr. Lam Ho Fai.

Net loss for the solar energy business for the January-June period shrunk to 49.3 million hkd versus a net loss of 64.5 million in the year-earlier period.

"The solar cell market continued to be weak and the group has continued to work vigorously to improve efficiency of solar cells and keep up with customer needs.

"During the period, we completed construction of an on-grid photovoltaic project in Quanzhou, Fujian Province, and the electricity generated has been used for our manufacturing business and offices, with the surplus sold to the State Grid," Mr. Lam said.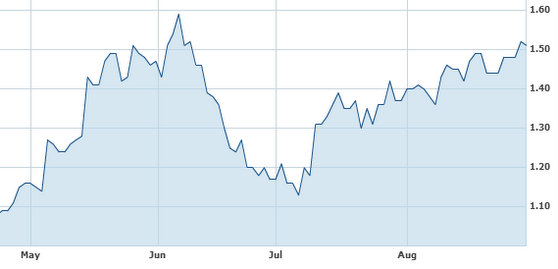 Goldpoly's Hong Kong shares recent performance Source: Yahoo Finance

He added that Goldpoly is looking for opportunities to expand its business downstream, which is growing and capable of providing a stable source of income.

"In the first half we achieved important strides in our solar power plant business."

Examples include Goldpoly's Gansu Jiayuguan 100 MW solar power plant receiving confirmation that it has achieved on-grid status in June 2013 with revenue on sale of electricity expected in the second half of 2013.

"Currently, Goldpoly has two business units: the manufacturing and sale of the solar silicon cells and solar modules as well as a focus on the development, investment, operation and management of solar power plants.

"Since the solar cell is an important component for the solar power plants, Goldpoly anticipates a synergy effect of these two business units will be achieved by the vertical integration of our solar energy business," Mr. Lam added.

With continuous support from Beijing for the solar energy industry, the expected installed capacity of solar power in China was recently revised upward to 35GW in China by 2015, compared with the previous estimate of 21GW.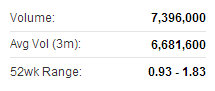 Goldpoly recently 1.51 hkdA more recent acquisition by Goldpoly came just last week when the firm announced it had signed a conditional deal with Singyes Solar (HK: 750) for the purchase of 100MW of roof-top solar power plants.

At the time of the signing, Goldpoly Executive Director and CEO Mr. Alan Li said: "Both parties will strategically cooperate on roof-top and ground-based solar power plants, micro-grid projects, green energy-saving buildings, application of low-carbon new energy in the PRC as well as the development of green, intelligent low-carbon, satellite cities in China."

Goldpoly also recently signed a deal with six PRC enterprises for 400MW in solar facilities in Inner Mongolia.

Goldpoly New Energy is engaged in the investment, development and operation of solar power stations in the PRC, and has a polysilicon solar cell factory in Quanzhou, Fujian Province, PRC. On June 10, 2013, Goldpoly completed the acquisition of China Merchants New Energy Hldgs Ltd, a company focused on the investment, development and operation of solar power stations. Following the acquisition, China Merchants New Energy Hldgs Ltd became a wholly-owned subsidiary of Goldpoly. Goldpoly turned a new page of development since then, and commenced to fully integrate its solar power stations business to create a leading global operations platform for photovoltaic power stations.

---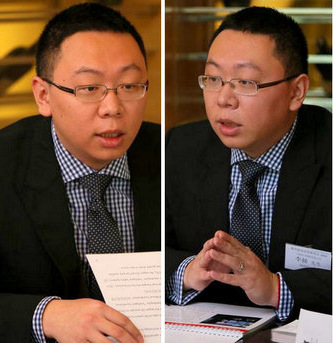 Anxin-China Senior VP Mr. Gordon Li told investors earlier this year the company was seeing tremendous growth potential from China's ongoing urbanization drive.
Aries Consulting file photoANXIN-CHINA enjoys 42% H1 profit surge

Anxin-China (HK: 1149) boosted its first half revenue by 30% year-on-year to 526 million hkd, helping its bottom line surge 42% to 422 million.

The maker of electronic work safety and security monitoring systems and equipment reported interim basic EPS of 14.74 HK cents (1H2012: 11.05 HK cents).

First half net cash inflow generated from operations surged to 342 million hkd versus 212 million in the year-earlier period.

The Board declared an interim dividend of 1.4 HK cents per share for the six months ended 30 June 2013.

"Anxin-China will deepen its roots in industrial safety monitoring and focus on public safety industry as the ultimate goal," said Anxin-China Chairman and CEO Mr. Liu Zhongkui.

Anxin-China has two reportable segments and is managed separately as each business requires different business strategies.

ISD segment

ISD (Intelligent Surveillance, Disaster Alert and Rescue Coordination) involves the setting up of a dedicated communications platform using Internet-of-things technologies, through which industrial safety parameters, such as gas levels in a coal mine, oil pressure in an oil depot, etc, are transmitted from industrial enterprises to local government monitoring centers.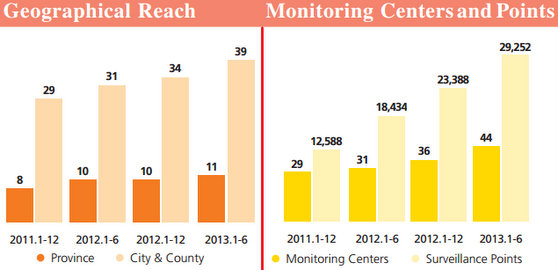 Anxin-China's safety and surveillance monitoring equipment is growing with PRC urbanization. Source: Anxin-China

Anxin-China's revenue from this segment is primarily derived from local government authorities or subcontractors of local government authorities as well as service charges received for ongoing systems maintenance services.

First half revenue contribution from the ISD system business segment was primarily derived from one-off installation fees from sales of surveillance points and continuing management fee for ongoing system management and maintenance.

"Some 83% of the segment's revenue, or 425.1 million hkd, was generated by one-off sales of surveillance points, while 88.6 million was generated from continuing management fees indicating that the ISD system business of Anxin-China is undergoing a rapid growth stage which means great potential to develop new surveillance points," said Mr. Liu.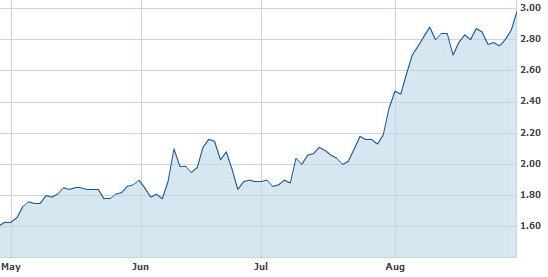 Anxin's Hong Kong shares have enjoyed a late-summer surge. Source: Yahoo Finance

ISS segment

ISS (Intelligent Safety Systems) revenue is primarily derived from sales of software, hardware and equipment, primary hardware and equipment, such as surveillance cameras, CCTV products and sensors to enterprises/governments for the purpose of ensuring industrial/public safety.

During the period, Anxin-China added eight monitoring centers and 5,864 surveillance points which brings the total to 44 monitoring centers and 29,252 surveillance points, respectively, as at 30 June 2013.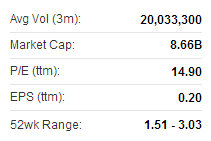 Anxin recently 2.98 hkdAnxin-China has now expanded its geographical reach to 11 provinces and 39 cities/counties across China.

The firm has shifted its focus to tap into new provinces/cities in an effort to maximize its presence in local markets.

The strategy explains the fact that 4,879 out of 5,864 newly-added surveillance points are contributed by new monitoring centers while the remaining 985 are secured from existing monitoring centers.

"Backed by its mature business model as well as innovative product offerings, Anxin-China is well-positioned to outperform its peers and ride the wave of 'Smart Cities' construction to realize the corporate vision of 'Anxin-China, Your Safety is Our Business'," Mr. Liu said.

He added that Anxin-China will continue to put more emphasis on R&D for upgrading systematic structures, improving operational efficiency and diversifying features.

"In the meantime, we will devote more effort to designing the next-generation of ISD system/ISS and further penetrate the market with an integrated system that couples a unique touch interface with the capabilities of processing ultra-large-scale data."

---

See also:

GOLDPOLY Buys 400MW Solar Assets

ANXIN-CHINA 'Overweight'