Morgan Stanley keeps 'Overweight' call on CHOW SANG SANG

Morgan Stanley said it is keeping its "Overweight" recommendation on Chinese jewelry and gold retailer Chow Sang Sang Holdings Intl (HK:116) due to strong expected first-half earnings.

Morgan Stanley has a 24.5 hkd target price on Chow Sang Sang (recent share price 21.35).

"We believe the share price will rise relative to the country index over the next 45 days as we expect strong 1H13 results and strong current sales momentum to drive share price performance," Morgan Stanley said.

The research house is 3% above consensus for Chow Sang Sang's 2013E net profit and 9% for 2014E.



"The P/E of 9.3x is 7% below its historical mean (10x) and 44% below its historical peak P/E (17x).

"We estimate that there is about a 70% to 80% or 'very likely' probability for the (share price rise) scenario," Morgan Stanley added.

Morgan Stanley has an "Attractive" view on China's watch and jewelry industry.


---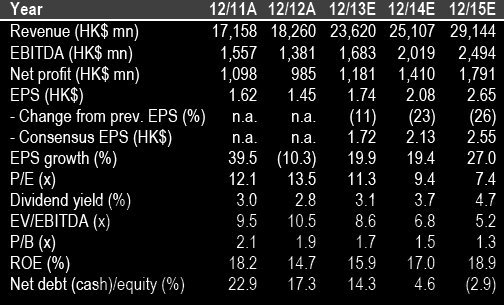 Credit Suisse has an 'Outperform' call on Chow Sang Sang.    Source: Credit Suisse

Credit Suisse maintains 'Outperform' call on CHOW SANG SANG

Credit Suisse said it is maintaining its "Outperform" call on Chow Sang Sang Holdings Ltd (HK: 116) with a target price of 22.91 hkd (recent share price 21.35).

"We expect the gold rush since 2Q13 to drive robust jewelry sales growth of 41% y-o-y to 10.3 billion hkd in 1H13, with gross margin declining by 1.9 p.p. to 15.7% due to significant shift of sales mix towards lower-margin gold product and wholesale of precious metals.

"Overall, we expect interim net profit to increase by 20% y-o-y to 526 million hkd," Credit Suisse said.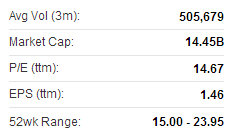 Chow Sang Sang recently 21.35 hkdThe Swiss research house added that the rental cycle in Hong Kong seems to have peaked and the impact of the gold rush extended into July, which is positive for jewelers in Hong Kong.

"However, we remain cautious on the outlook in 2H13 when the impact of the gold rush moderates.

"We continue to like Chow Sang Sang the most in the sector, given its conservative cost control and moderate hedging level on gold price but similar exposure to the benefits from the gold rush."


---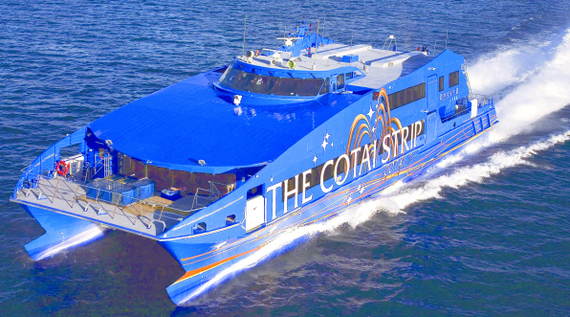 Chu Kong High-Speed Ferry tied up with Cotai Ferry in 2012 to shuttle passengers to and from gambling mecca Macau.    Photo: Chu Kong Shipping

UOBKH: Initiates coverage of CHU KONG SHIPPING with 'Buy' call

UOBKayHian said it is initiating coverage of leading South China shipping, passenger ferry and port logistics powerhouse Chu Kong Shipping Enterprises (HK: 560) with a "Buy" recommendation and a target price of 3.92 hkd (recent share price 3.10).

UOBKH's valuation implies a 17x 2014F PE and 1.6x 2014F P/B.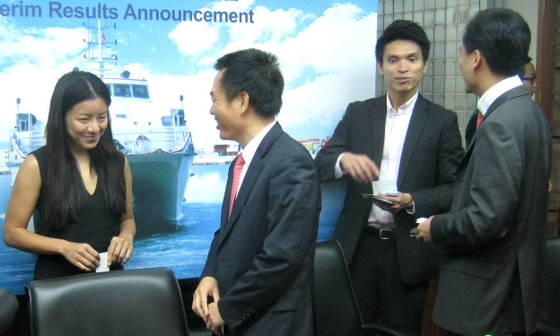 CKS Enterprises (Group) Vice GM Mr. Huang Shuping (second from left) replies to an investor query in Hong Kong earlier this summer, while Chu Kong Passenger Transport Director and GM Mr. Luo Jian (far right) chats with another investor.      NextInsight file photo

"CKS is a shipping company but is set apart from competitors by its asset-light business model and highly visible earnings growth in the years ahead.

"While most shipping companies are trading at 0.5-1.2x 2014F P/B, we think CKS deserves a valuation premium to other shipping companies," UOBKH said.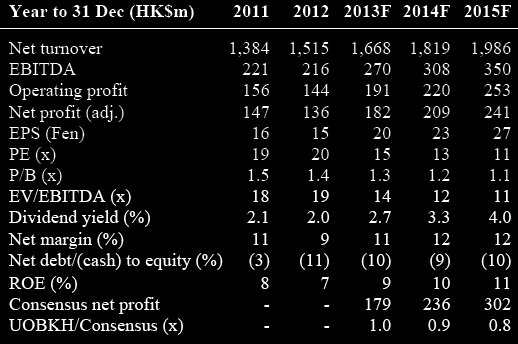 UOBKH has begun coverage of Chu Kong Shipping with a 'Buy' call.   Source: UOBKH

Chu Kong Shipping Enterprises (CKS) was established by Chu Kong Shipping Development (CKSD) in 2006 to take over the latter's cargo transport business, including shipping agency, river cargo direct shipment and transshipment, wharf cargo handling (including mid-stream operations), cargo consolidation and go-down storage, and container hauling and trucking in Hong Kong.

Integrated logistic services provider in PRD

Focusing on the Pearl River Delta (PRD), CKS's strong forwarding agency network in the PRD has given the company steady cargo volumes over the years and network expansion has been driving growth despite a slowdown in exports in the PRD since 2011.

CKS has a stake in 24 river terminals in the PRD and its throughput growth has been outpacing that of major port operators in the PRD such as China Merchants Intl and Hutchison Ports Hldgs.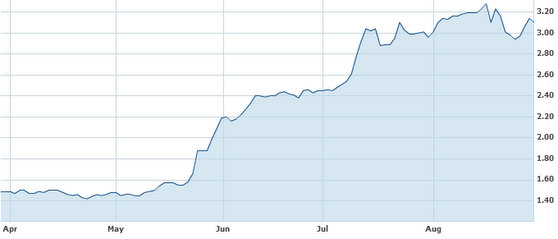 Chu Kong Shipping's Hong Kong shares have enjoyed a summer surge.  Source: Yahoo Finance

Passenger transport continues to be growth engine

CKS is the largest passenger carrier in the PRD with a presence in Guangdong Province, Macau and Hong Kong.

"Its passenger ferries in the PRD have been contributing steady margins and ticket price hikes are highly possible given less competition there.

"Management services for Cotai signed in 2012 led to a 42.5% y-o-y surge in passenger transport revenue in 1H13, and substantially increased CKS's market share in PRD passenger transport," UOBKH said.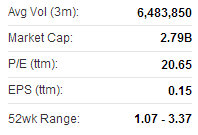 Chu Kong recently 3.10 hkdPotential asset injections to boost earnings

CKS's controlling shareholder, CKSE, has promised to inject other shipping-related assets into CKS, with near-term targets including Yuet Hing Marine Supplies, China-Hong Kong-Macau Duty Free and Sun Kong Petroleum.

"The three entities could contribute a combined net income of 45 million hkd in 2013, or 25% of CKS's 2013 earnings.

"In the long run, Nansha Logistics Park is likely to be injected when it is fully developed," UOBKH added.
 
---

See also:

CHOW SANG SANG A 'Buy'

CHU KONG SHIPPING Stock Up >100% In 3 Months