BY THE second half of next year, Lorenzo International could be producing 150% more furniture sets from its China factory, said its Finance Director, Mr Lee Fut Hua, in an interview with NextInsight.

The new S$14-million factory, which started operations in August this year, can deliver a maximum of 200 containers of furniture a month, up from 80 containers at the previous facility which Lorenzo has since vacated.

At full capacity, the new factory which is located in Dianshan Lake Town on the outskirts of Shanghai will account for more than 70% of the Lorenzo group's production. The remaining 30% will come out of its factory in Malaysia.

The Singapore-listed group retails its own products in 60 stores in Malaysia, Singapore, Taiwan and China, and exports its "LORENZO" branded products to more than 50 countries around the world.

Lorenzo is also an original design manufacturer (ODM) for leather sofas under its customers' own brands, and an original equipment manufacturer (OEM) to manufacture furniture based on customers' designs.

Mr Lee said land for the new factory, which is located about 40 minutes' drive from the old one, was bought at the end of 2005. Construction of the factory that sits on 40,978 sq m of land began in Q3 of 2007.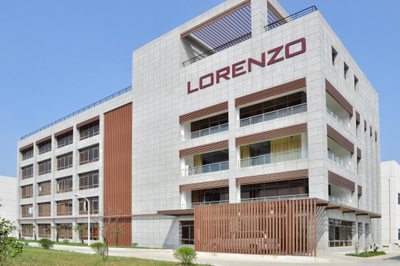 Lorenzo's new factory is rushing production for Christmas orders.Key savings

Mr Lee said the new facility will bring about savings for Lorenzo in two key ways:

a) Lorenzo no longer has to pay rental for its factory, as it did for the previous one.

b) The old factory consisted of three buildings, some of which were located a few streets away from each other. There were administration costs, which are now eliminated, such as hiring of guards for the various sites.

The new factory will enable Lorenzo to meet a rise in orders.

"We are seeing more orders from Asia-Pacific, including Indonesia and Australia. They are for our mid-and-above range of furniture," said Mr Lee. "Whatever we produce is to meet orders on hand. We have no time to produce for inventory."

The orders are flowing to manufacturers like Lorenzo following the collapse of a number of manufacturers in the West during the recent economic recession.


Because of its move to the new factory, Lorenzo had to start with a fresh workforce – and it is hiring as fast as it can in a tight labour market, said Mr Lee. Now, the factory has about 200 workers, down from 500-600 previously.

However, the new factory will have more extensive use of technology to save on labour, such as conveyor belts to move products around.

Lorenzo had to compensate the workers who stayed behind. Total one-off provisions in the first half of this year amounted to S$2.2 million for:
(a) compensation and relocation of the factory,
(b) provision for the closure of a retail outlet in Australia, and
(c) additional tax liabilities in Malaysia.

LORENZO INTERNATIONAL

Recent stock price

15 cents

Market cap

S$25 million

Dividend yield

3.33%

Historical PE ratio

6.4
The provisions contributed to the $2.0 million net loss in the first half. But Lorenzo's directors have said that they expect the Group to return to profitability in the second half.

Indeed, Lorenzo is busily raking in sales. It has to outsource some of its production in order to meet the timeline of its customers.

"Q4 will be the peak period," said Mr Lee. "That's always our peak period, because the export market needs the furniture for the Christmas and New Year sales."

Recent story: LORENZO: A chat with the chairman at China fair