PUNTERS ARE betting that significant corporate action is going to follow share placements given to high networth investors, especially Bobby Lim.

Furniture manufacturer Lorenzo's share price has doubled in two days to close at 26 cents today. A price surge of this magnitude is indeed a rarity.

Perhaps market players had caught on that prominent investors had invested as much as 16.4% in Lorenzo.

Trading in its shares was halted last Wed afternoon for the announcement of a placement of 33 million new shares at 11 cents apiece to more than 10 investors, including Tai Sin Electric managing director Bobby Lim.
| | |
| --- | --- |
| Lorenzo | |
| Recent stock price | 21 cts |
| Market cap | $$35.3 m |
| 52-week high/low | 28.5 / 9.28 cts |
| Historical PE | 21.8 X |
| Operating margin | 6.0% |
| Price to book | 1.3 X |
| Price to cash | 6.7 X |
Punters traded up Lorenzo on heavy volume of over 30 million shares on Mon when trading resumed, amid speculation that the fund raising exercise augured an M&A deal.

After all, the company was already sitting on S$12.1 million of cash as at 30 Jun.

The furniture maker has 56 furniture retail stores in Malaysia, Taiwan, Singapore and China. It posted net earnings of S$2.6 million for 1H2010, reversing a loss in the previous period.
Last week's placement raised net proceeds of some S$3.5 million. More punters jumped in this afternoon after the rumor was confirmed in an official statement, with 45 million shares changing hands today.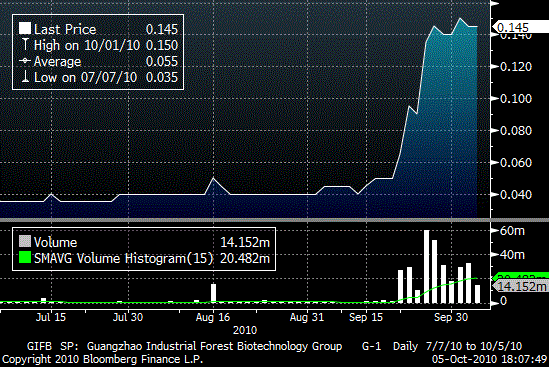 | | |
| --- | --- |
| Guangzhao | |
| Tue stock price | 14.5 cts |
| Market cap | $$91.4 m |
| 52-week high/low | 16.5 / 3 cts |
| Price to book | 1.3 X |
| EPS | -Rmb 0.04 |
Mr Lim's share buying spree of late has now extended to another stock. Last Thu, he also invested in 30 million new shares (5.6%) of Guangzhao Industrial Forest Biotechnology.

Since the proposed placement to Mr Lim was announced on 21 Sep, the poplar timber supplier's stock price has shot up from 5 cents to 14.5 cents currently.

That makes Guangzhao a triple-bagger in 2 weeks, again in heavy market transaction volumes daily.

You may ask: What other stocks does Mr Lim own? Answer: logistics player Sky One, satellite communications solutions provider Addvalue as well as customised precision components maker HLN Tech, just to name a handful.

Mr Lim is a non-executive director of HLN Tech which, incidentally, announced on Oct 1 a proposed placement of 24.6 million shares at 26.1 cents a share. The placement exercise is still ongoing.