Time for the second update on the Nasi Lemak Portfolio (The first update was: Nasi Lemak Portfolio: Spicy and nice with 21.5% gain in 3 months)

To recap, six investors, after a hearty meal of nasi lemak and mee rebus somewhere in MacPherson, responded to a spontaneous question by one of them: "What is your best stock idea(s) currently?"

Thus the Nasi Lemak Portfolio came into being. Now, let's see how the stocks have done: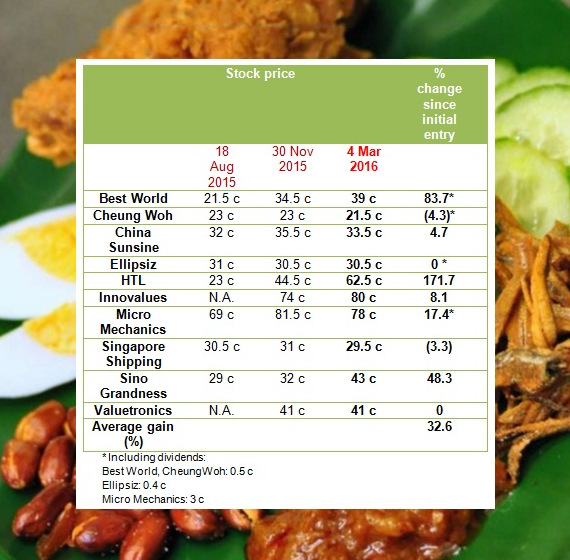 The top two performers in the past three months were HTL and Sino Grandness.

HTL has swung up after becoming the subject of a possible takeover by a Chinese company. Sino Grandness sprang to life in recent weeks after several events pointed to the imminent listing of its beverage subsidiary -- and investors found greater confidence in the reported profits of this superfast-growing beverage wonder in China.

On a six-month basis, HTL is joined by Best World International as the top two gainers.

Best World has performed well on account of its strong FY15 profits, its high cashflow, and, most interestingly, the impending receipt of a direct-selling licence in China.

As for the rest of the stocks, notably, none suffered a beating during the bear market of 2016.

For simplicity, assuming equal allocation to each stock pick, the portfolio has gained 32.6% in six months. After taking into account a 10.4% loss on Vietnam-listed Vina Sun Taxi, which was yanked out of the portfolio in Nov, the net gain is about 31.6%.

We feel especially good that the gain is far and away superior to the Straits Times Index which lost 7% in that period.

We hope for more good times with the portfolio addition, from today, of Trendlines Group (22 cents), an Israeli company that incubates start-ups developing innnovative medical devices and agri-technology.

We will update the performance of the portfolio in three months' time -- ie, early June.

Note: The above portfolio reflects the diverse investment interests and perspectives of 7 investors and analysts and are not a recommendation for investment by any reader. Your risk profile and investment objectives could differ, and are likely to differ, from those investors.


15 March 2016 note: Stock pickers have added the following into the Nasi Lemak Portfolio: New Toyo @ 23.5 cents, Global Testing Corporation @ $1.02, and Dutech Holdings @31.5 cents.