Best World International has reported a 149% jump in FY15 net profit to S$10.1 million, and proposed a final dividend of 1.5 cents a share (FY14: 0.5 cent). And the story could get real hot -- when the company reaches its goal of becoming a licensed direct-selling company in China.


1. CHINA IS POISED to become the No.1 contributor to Best World International after it is granted a direct-selling licence.

When the licence will be issued is uncertain but it has been about two years since Best World applied for it. The company's FY15 results statement said it is "moving closer" and we understand it may be the 2H of this year.

Currently, there are two key ways by which Best World operates there.

First, it owns a factory which manufactures health supplements for sale to about 100 wholesalers in China, who distribute to about 10,000 drug stores in 29 provinces.

Second, its agent in China imports another range of Best World products (skincare and functional food) to sell to domestic consumers.

It's a traditional retailing business model and it has done great in 2015: Best World's "export sales" amounted to $14.4 million in 2015, up from S$7.9 m in 2014 and S$4.0 million in 2013.

No breakdown by country was given but we know that "exports" went to just two countries -- China and Myanmar, the latter experiencing a decline in 2015.

In China, among the Best World consumers who buy its skincare and functional foods would be those whom the company will identify and encourage to be its leaders/distributors right after it is granted a direct selling licence.

There's a pool who will transform into motivated distributors.

"The Chinese people have the will and drive to be their own bosses and become very successful," notes Huang Ban Chin, an executive director of Best World, at the FY15 results briefing last Friday (26 Feb).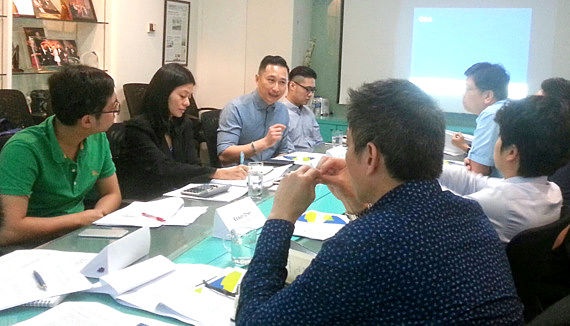 Executive director Huang Ban Chin at FY15 results briefing. To his right is Koh Hui, Best World senior group financial controller, while to his left is Benjamin Soh, Best World financial analyst (Financial Planning & Analysis).
NextInsight photo.
2. China contributed 19.4% of Best World's revenue in 2015, or S$19.8 million, a 52.3% jump y-o-y.

That's just "the tip of the iceberg," says Mr Huang. "We have not been very aggressive in our export segment as we have been keeping a low profile while pursuing the direct-selling licence."

3. China granted more than 20 direct-selling licences in 2015 -- it is a spike in the number of approvals.

"The direct-selling licence will lead us to our next phase of growth."
--
Huang Ban Chin, executive director,
Best World International
Direct selling is regulated because, among other reasons, the authorities are concerned about social unrest as direct-selling companies can exert significant influence over large numbers of people (distributors).

There are now about 70 direct selling companies in China, which is relatively small for a market of that size.

The ultimate companies holding such licences could fetch hundred of millions of renminbi, even if they do not yet have an operating business. Such is the value of the licence.

4. Taiwan was the largest market in 2015 with revenue soaring 148% to $56.4 million in 2015.

"We have good distributors who work very well with management, and they have a very good understanding of our products."


DR's Secret productsDR's Secret's line of skincare is a hot seller.

With several years of experience working for Best World, many distributors are also very independent in their operation.

5. Distributor morale is high and Best World has just opened its third regional centre -- in Kaoshiung. Revenue is expected to be even higher this year as Best World now has coverage of the north, central and south of Taiwan.

Best World targets to be among Taiwan's Top 10 direct-sellers this year, up from probably the No. 12-14 range in 2015 and No. 20-24 in 2014, says Mr Huang.

6. Indonesia offers a large potential. Last year, Best World attracted a number of "motivated leader distributors" with its new compensation scheme.

Revenue soared 125% to $6.5 million, with weight management products being the main seller.

7. Philippines market tanked (but might come back). Unlike the slow pick-up that gathered a powerful momentum in Taiwan, it was boom and bust in the Philippines.

Sales surged 609% in 2014 and then crashed 85% in 2015 to $2.8 million.

Best World's top distributors were swept away by various gold investment schemes that caught many people's fancy. Some of these were Ponzi scams that subsequently entrapped many victims.

Best World has hired new management in the country and will strive to revive its business there this year.

(Aside from Philippines, other markets that declined -- although a lot less precipitously -- were Thailand, HK, Vietnam and Myanmar).

8. Best World is looking to manufacture its skincare products. This is in order to ensure quality control and to meet an expected surge in demand when it secures a direct-selling licence in China. "The direct-selling licence will lead us to our next phase of growth," says Mr Huang.


Stock price

38 cents

52-week range

18 – 40.5 cents

PE (ttm)

8.28

Market cap

S$82.9 million

Shares outstanding

220.18 million

Dividend yield
(2 cents/share for FY15)

5.3%

Net asset value/share

28.93 cents
9. New product launches? Sure, Best World has several a year -- but the key lies in what distributors like and what they would tend to promote. Often, they like to stick to the tried-and-tested.

Thus, Best World's growth is not correlated to the new products it launches. Whether a new product takes off lies as much with how it is shared on social media as with its efficacy.

10. Beyond Asia: Best World has set up a regional centre in Dubai with the aim of reaching out to the massive Indian and Filipino communities who work in the Gulf region.

See also:

BEST WORLD: Profitability to rise if China direct-selling licence obtained
BEST WORLD: Takeaways from discussion on direct-selling prospects in China