Excerpts from analysts' reports...

CIMB maintains 'Outperform' call on Yangzijiang Shipbuilding, target price S$1.25

Analysts: Lim Siew Khee and Yeo Zhi Bin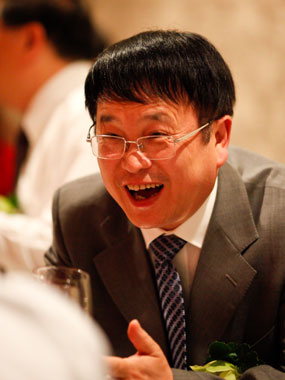 Yangzijiang executive chairman Ren Yuanlin. Company photo
On 25 September, Yangzijiang Shipbuilding (YZJ) launched its 10,000 TEU containership for Seaspan, which has 11 identical orders with YZJ for a total order of US$1.06bn. The 11 vessels are scheduled for delivery in 2014-15 (six in 2014, five in 2015). In addition, Seaspan has another 14 options of 10,000 TEU containerships with YZJ.

YZJ's management is in final talks with the ship owner and expects to announce some contracts before end-2013 (possibly more than five units at US$85m-90m/vessel). There could be scope for YZJ to secure even larger containership orders as it proves itself and moves up the value chain. Its YTD order win (US$1.2bn) is about 50% of our FY13 order target of US$2.5bn.

We expect its order book to grow by 16% yoy to US$3.5bn by end-2013 (2012: US$3bn). We were also impressed by the hive of activity at YZJ's new Xinfu yard. Spanning 150ha with 5,000 employees, the yard is now occupied with the construction of three 10,000 TEU containerships in its dry dock – one of the largest in China.

In the industry shakeout, YZJ is our clear-cut preference among Chinese shipbuilders. It is trading at 1.2x P/BV, cheaper than Cosco's 1.4x but with much superior returns (20% ROE vs. Cosco's 4%). We maintain our Outperform rating and target price of S$1.25 – still based on 1.4x CY13 P/BV, 1 s.d. below its 5-year mean.

---

Deutsche Bank raises Yangzijiang target price to S$1.30

Analyst: Kevin Chong

YZJ is currently discussing with potential customers for vessel deliveries in 2017. While the group is asking and hoping for higher prices for future orders, it has not seen a fall in enquiries.
CFO Liu Hua. NextInsight file photo
They believe this sustained interest is due to customer preference for stronger yards that can deliver and survive the consolidation. As many Chinese yards are weak, potential customers appear to have fewer choices if they are interested in placing an order and eventually receiving the final product.

YZJ has observed the withholding of payments from customers to weaker yards in China and due to weak cash flows at those yards. It believes the industry may be compelled to consolidate. Across the sector in China, YZJ has seen weak performances from the state-owned shipyards and very few private ones are profitable.

51 options worth US$2.9bn

YZJ appears confident that a number of its 51 contract options issued will be exercised in the coming quarters, which should add to its order book. YTD, the group has secured US$1.2bn worth of contracts and appears on track to reach our FY13E shipbuilding new order estimate of US$2.1bn. YZJ's last reported order book as at Jun-13 was US$3.2bn (US$2bn for 29 containerships and US$1.2bn for 42 bulk carriers).
Earnings and target price raised
We have raised our net earnings for FY14E-15E by 9% to 10% as we believe our previous margin estimates were too conservative and some of its higher priced Seaspan-ordered containerships should lend margin support in future. Further, any higher priced orders won from now may add to earnings from FY15E. Accordingly, our target price has been raised from S$1.15 to S$1.30. At our target price, YZJ would trade at 9.2x FY13E PER, below its historical average of 9.7x due largely to the challenging operating environment and its exposure to micro-financing and held-to-maturity investments.


---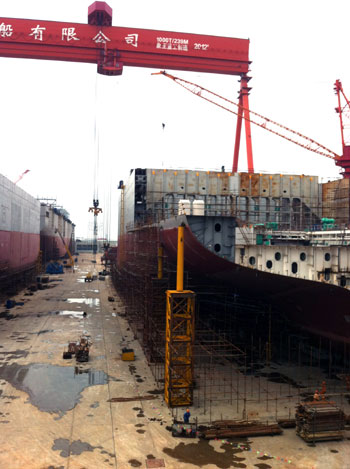 10k TEU vessel under construction at Xinfu shipyard. Photo by Irene Kee
UOB Kay Hian has $1.32 target for Yangzijiang

Analyst: Lawrence Li

We visited Yangzijiang's (YZJ) New Yangzi and Xinfu yards and attended the launch ceremony of its first 10,000TEU containership.

We believe it is a milestone for YZJ who has the potential to build larger containerships and compete with leading Korean yards.

Its 2013 order target of US$2.5b is well achievable and the recent pick-up in newbuild prices is positive for YZJ.

Valuation/Recommendation

An upcycle in newbuild orders is confirmed. Despite the earnings cycle trending down on lower margins for orders secured since 2012, we believe the newbuild order cycle has bottomed out, which is more correlated to share prices than to the earnings cycle.

YZJ remains our only BUY within the Chinese shipyard sector with a target price of S$1.32, based on 1.3x 2014F PB.

We expect a midcycle valuation to be applicable to YZJ. Current valuation of 1.1x 2014F PB is still attractive despite recent share price rally.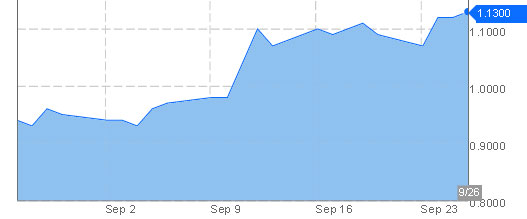 Yangzijiang's share price surged more than 20% to $1.13 after it announced in early September that options for 4 vessels have been exercised. Bloomberg data


Recent story: HANKORE, YANGZIJIANG Singled Out In Respective Industries