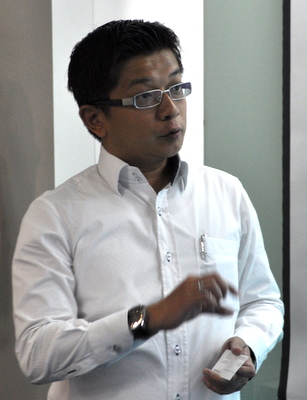 Executive director Sam Chua. NextInsight file photoXMH HOLDINGS' revenue is driven by demand for vessels that transport Indonesia's coal, but the distributor of imported diesel engines, propulsion and power generating solutions is unaffected by soft coal prices and the Indonesian rupiah's recent weakness.
"Our main product is the main engine used in tugs and workboats transporting coal. China's import demand for Indonesian coal remains strong," said executive director Sam Chua during a recent 1Q2014 results briefing.

"The weakening of the yen against the USD is good for us because we pay our key principal, Mitsubishi, in yen," said Mr Chua.

"However, customers in Indonesia may delay their orders in the hope that a revaluation of the rupiah will lower their cost," he added.
Mr Chua explained that XMH's gross profit margin for 1Q2014 came down by 3.4 percentage points to 24.9% because the company focused on capturing market share for smaller tugboat engines.

However, its 1Q profit attributable to shareholders was up 22.7% at S$2.7 million.
"Coalmine owners need tugs and barges to transport coal from inland mines. Smaller engines are in demand because only small tugs are able to sail inland," he said.
The good news is: Mr Chua expects group margin to recover in the coming quarters because now that the company has gained a foothold in the small engine market, it will focus on other products with better margins.
He also cited healthy enquiries from new markets such as India and Vietnam.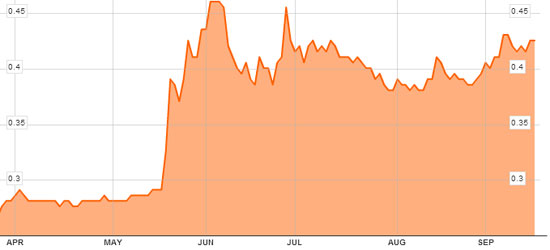 From below 30 cts during the first half of this year, XMH has since enjoyed a good run up and stayed firmly above 40 cts. Bloomberg data

XMH reached a historic milestone on 7 Sep, when it entered into a deal to acquie Mech-Power Generator (MPG), which manufactures, assembles, sells and services diesel powered generator sets. (See: XMH acquires Mech-Power Generator for $17.4 m in earnings-accretive deal)

Unlike XMH, which supplies mainly to the marine industry, MPG's generator sets are used in multiple industries, ranging from industrial to commercial to marine and the military.
Thus, the gensets can be sold to shipyards and ports, hospitals, education centres, data centres, airports, hotels and resorts and infrastructure projects (roads, bridges, underground tunnels, waste treatment plants etc).
MPG also fabricates, manufactures and customises all supporting equipment such as acoustic silencers and attenuators, and bulk fuel tanks.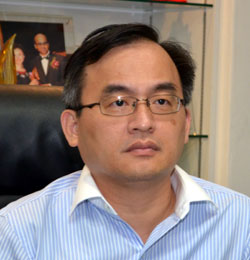 Financial controller Johnson Yap. NextInsight file photoBelow is a summary of questions raised at the results briefing and the replies given by Mr Chua and financial controller Johnson Yap.

Q: Who are your competitors?

Engines are our main product. There are few engine distributors like us. We also distribute propellers, which are the main product of Mencast.
Q: What is the typical value of your product?
The most common order is for the 1,000-horse-power (hp) engine and gearbox with a value of about US$180,000. Each vessel needs two sets for its main engine. The smallest engine we carry is about 50 hp. The biggest one is about 18,000 hp, which is for handy-sized vessels.
Q: How is your recently acquired company, Mech-Power Generator, synergistic to your business?

Mech-Power provides OEM project engineering and management service while ours is a distribution business with after-sales support. They supply gensets and provide installation services. They have double our manpower even though our revenue is much higher.
Mech-Power carries many brands but we only carry our agency brands.

Q: Are you affected by the drop in coal prices?

Some of the new low-calorie coalmines are facing problems, such as an inability to obtain operating licenses. Our customers are mostly shipping companies that can serve coalmines, both big and small. The shipping companies are not as much affected as coalmine contractors.

Q: Do your customers have minimum contract values to ship for coal companies?

Yes, some of our customers have long-term charter contracts. The big coal companies are financially stable because they made a lot of money in the past when coal price was high.


Recent story: Target For XMH Is 56 Cents; DMX Secures HK Govt Contract Again