XMH Holdings' stock has been languishing at 29 cents or so, which is about half its net asset value of 61.34 cents a share.



Investors are looking out for signs of recovery in its businesses which have been impacted by the marine and oil & gas industry downturn.





One hopeful new revenue stream could come from Myanmar.



As announced recently, XMH has a MOU with a Myanmar company to, among other things, manufacture and/or assemble and sell generator sets and related power solution products there.

The JV company will also provide aftersales and maintenance services relating to such products.

For now, the challenging 3QFY17 (ended 31 Jan 2017) suggests that the near-term outlook is muted.

3QFY16 revenue decreased 27.5% y-o-y to S$19.5 million.


Revenue
9MFY2017

EBITDA

Net Profit

$64.4 m

(-16.3%)

$6.7 m
(-14.3%)

$1.1 m

(-77.0%)
The "project" business segment (involving subsidiaries ZPA Automation and Mech-Power) was affected by weak market sentiment and smaller contract value awarded.

But ZPA is targeting onshore contracts while Mech-Power is still the market leader in providing standby generator sets to data centres and other big clients.

Sales in the "distribution" business segment improved. Things could brighten further if the surge in coal prices leads to newbuilds of tugs and barges in Indonesia, leading to demand for the engines that XMH distributes.

EBITDA rose 11.7% to $2,739, reflecting tighter cost control.

Other income jumped from $397,000 to $1,508,000 thanks to a gain on disposal of fixed assets of approximately S$ 1.1 million and rental income of S$354,000.

Net profit after tax was $766,000 against $998,000 in the previous corresponding quarter.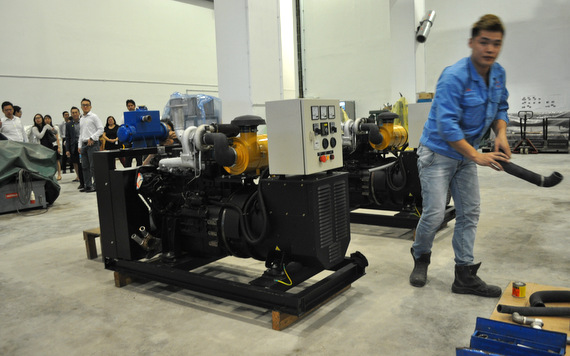 Standby generator sets being assembled in XMH's factory in Tuas, which it moved into in early 2016. NextInsight file photo. Other metrics:
Trade and other receivables: Decreased by S$16.8 million, from S$33.5 million as at 30 April 2016 to S$16.7 million as at 31 January 2017 was mainly due to improved collections during the financial period.

Contract work-in-progress: Increased from S$14.6 million as at 30 April 2016 to S$17.1 million as at 31 January 2017 due to commencement of contracts.

Loans and borrowings: Stood at approximately S$70.5 million as at 31 January 2017, an increase of approximately S$8.7 million, from S$61.8 million as at 30 April 2016. The increase was mainly due to drawdown of short-term revolving credit for operation use which was partially offset by the repayment of loan instalment due.


Cash and short-term fixed deposits: Stood at $18,983,000 as at 31 January 2017 versus $12,843,000 as at end-April 2016.