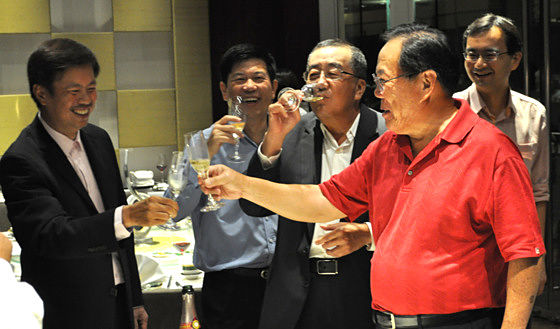 @ Singapore Island Country Club on Friday evening: (L-R) Elvin Tan, chairman of XMH, being toasted by Seow Kiat Wang (Credence Capital, substantial shareholder), Cliff Loke, MD, Mech-Power, Hong Pian Tee, independent director, and Ng Sey Min, independent director.
Photo by Leong Chan Teik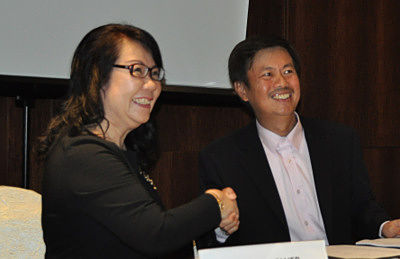 Mrs Corrine Loke, controlling shareholder of Mech-Power, with Elvin Tan, chairman of XMH. Mrs Loke and her husband, Cliff, will stay on to run Mech-Power. Photo by Leong Chan TeikTrading of shares of XMH Holdings was halted throughout Friday (Sept 6) for a happy event that the pictures on this page depict.

On Friday evening, XMH signed an agreement to acquire 100% of Mech-Power Generator for $17.425 million.

Half of the consideration will be paid in cash and the other half in new XMH shares priced at 39.6 cents (which is the volume-weighted average trading price over 10 market days prior to the trading halt)

The acquisition is significant: It comes with a warranty from Mech-Power that its net profit shall not be less than $6.9 million over FY2014 and FY2015.

In other words, on average, it would be $3.45 million a year, which would be a sizeable contribution to XMH considering that the latter recorded $11.4 million profit in FY2013 (ended April).

It would also represent a sharp 100% jump over Mech-Power's net profit in FY13 of $1.7 million.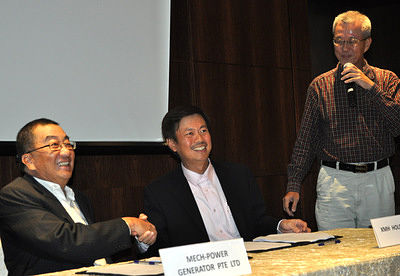 Cliff Loke, MD and co-owner of Mech-Power, with Elvin Tan, chairman of XMH, and Alphonsus Chia, deputy CEO of XMH. Photo by Leong Chan Teik Huge market for gensets

"Mech-Power will contribute at least 20% to our topline and bottomline," said Mr Elvin Tan, executive chairman and CEO of XMH Holdings, in a briefing for the media and analysts.

There would also be operational synergies and increased capabilities for XMH, and would lead to wider product and service offerings, added Mr Tan.

One of the biggest players in its industry in Singapore, Mech-Power manufactures, assembles, sells and services diesel-powered generator sets. These are are primarily used as standby generators to ensure business continuity during a power black-out.

They are widely installed in buildings in Singapore and Mech-Power has customised a number of products for military needs as well. (See its past projects here.)

"By law, every building of 4 storeys and above in Singapore must have standby generator sets. You'd be surprised to know that it's a huge market which includes the MRT network, hospitals, our airport, etc., said Mr Cliff Loke, MD of Mech-Power.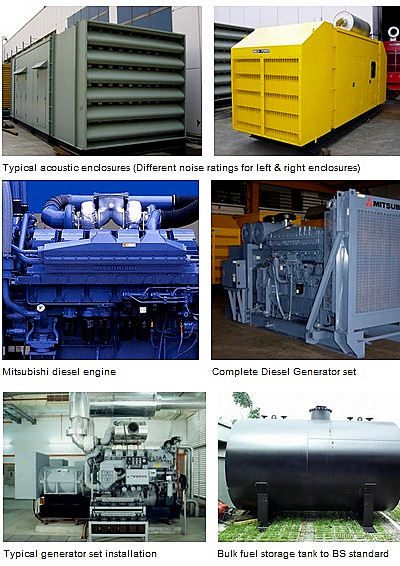 Montage: Mech-Power"In the next few years, we reckon the market size will be at least $100 million a year, especially with the growth of data centres in Singapore as they require gensets."

Currently, one of the biggest projects for Mech-Power is a $40-million multi-year contract for generator sets for a data centre which is under construction. This is also one of the biggest deals that Mech-Power has ever clinched, said Mr Loke.

That project is expected to help boost Mech-Power's revenue to the $30-40 million range in the current financial year from the $22.95 million achieved in FY13 (ended March).

There is more to it than the potential profit from Mech-Power's current strong orderbook which, by the way, has visibility of 12-18 months.

Just as important, Mech-Power will have the financial support of XMH (which had net cash of over $43 million as at end FY2013) to take on more business than it previously could with its relatively highly-geared balance sheet.

It could look to go regional with XMH, which is largely in the business of distributing diesel engines for vessels.

XMH is the largest distributor of Mitsubishi marine diesel engines in the world. It has a small business in industrial generator sets.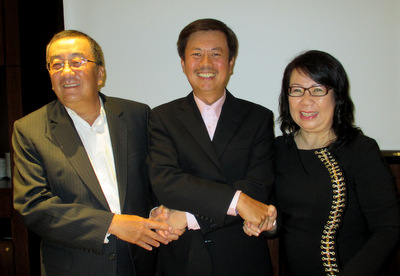 Cliff Loke and Elvin Tan have been playing golf together for several years. Mrs Loke oversees administration in Mech-Power. Photo by Johnson Yap.The acquisition looks set to be fruitful because of the social ties that the top management of XMH has long had with their counterparts at Mech-Power.

"We are friends and have been playing golf regularly together at SICC," said Mr Loke, who is a co-owner of Mech-Power along with his wife, Corrine. The couple started the business some 30 years ago, It has been profitable in most years except for two owing to the Asian Financial Crisis

Mech-Power has about 120 staff, with half of them deployed at its headquarters in Aljunied Road and the other half at its factory on 140,000 sq ft of land in Iskandar in Johor, which it bought in 2011.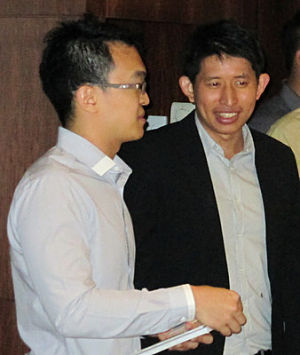 Analysts Lee Yue Jer of OSK-DMG and Joel Ng of NRA Capital.
Photo by Johnson Yap.XMH's acquisition of Mech-Power is the first M&A milestone since its IPO in 2011 and since Credence Capital subscribed to 36 million new XMH shares at 27.74 cents in May 2013 to become its first institutional investor.

Subsequently, in August, Credence exercised options to buy a further 47.6 million shares at 31.5 cents apiece from the substantial shareholding Tan family, thus raising its stake to 19.87%.

Well-known corporate honcho Koh Boon Hwee is one of the founders of Credence Partners which manages Credence Capital.

Trading of XMH shares will resume tomorrow (Sept 9). The stock last traded at 41 cents, up 128% since the start of the year.

XMH is trading at a trailing PE of 13X and has a market cap of about $173 million.


---
For more information on the Mech-Power deal, see XMH's announcement and press release posted on SGX.

Recent story: XMH: Strong product pipeline to maintain record FY2013 profitability