After sliding in 1H2023 and then languishing at 22 cents or so, Geo Energy's share price has boomed in the last 2 weeks, reaching 30 cents yesterday.

A likely key catalyst is an approximate 20% spike, or about US$10 per tonne, in thermal coal futures for the next 6 months or so. (Reference: SGX website)



Back of the envelope calculation: Assume Geo Energy produces (and sells) 4.1 million tonnes in 2H2023 -- thereby achieving the full-year production quota of 8 million tonnes approved by the Indonesian authorities. That potentially brings in an extra US$41 million in revenue.

The cash cost of production Geo Energy pays to its contractor will rise with the selling price of coal per se but not in commensurate terms.



Thus there will be a significant uplift in Geo Energy's profitability in 4Q2023 -- a

ssuming coal futures stay steady at the US$62++ level or higher, and assuming other factors such as the mining strip ratio stay unchanged.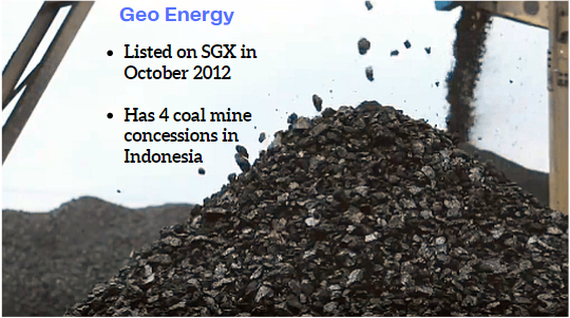 Briefly, as background, coal prices hit record highs in 2022 following the Russian invasion of Ukraine, increasing demand for non-Russian coal.


Stock price

30 c

52-wk range

21 – 42 c

PE

3.5

Market cap

$417 m

Shares outstanding

1.39 b

Dividend
yield (ttm)

15.9 %

1-yr change

-22.7%

P/B

0.76

Source: Yahoo!
Prices then normalised in 1H2023 as an inventory overstocking in 2022 was unwound.

But as global economies recover post-Covid, and ahead of a northern hemisphere winter, demand is picking up again.

Another positive for Geo Energy is that on Sept 22, it announced it secured US$220 million term loan facilities to fuel its growth plans and become one of the top players in the Indonesia coal mining industry.

Two points about the financing from Bank Mandiri, one of the largest banks in Indonesia:


• It's a sizeable loan, which suggests that the

bank is confident of Geo Energy's investment in its announced M&A plan and its general prospects.



• Currently at 8.5%, the annual interest rate is lower than the double-digits expected for coal mine projects in emerging markets as tbe world moves towards cleaner energy.




Geo Energy, the only thermal coal play on the SGX after the recent delisting of Golden Energy & Resources, plans to:


• A

cquire an initial stake of 58.65% in Jakarta-listed

PT Golden Eagle Energy Tbk

, whose key mine asset Triaryani has 2P (Proved and Probable) reserves of almost 300 million tonnes.



• R

amp up Triaryani's production levels and fund the mining and infrastructure development required to support and achieve the mine's targeted production volume of 25 million tonnes annually.

In the past, Geo Energy was seen as a constrained miner with its assets having 7-8 years of remaining life.
Their output was not sizeable either. In recent years, those mines produced roughly 10 million tonnes of coal a year.

The US$220 million facilities, together with Geo Energy's cash reserves of approximately US$150 million as at end-June 2023, will not only drive its growth plans -- especially the Triaryani project -- but also provide a healthy balance sheet and strong working capital and liquidity, said Geo in a statement.

The growth story will of course take plenty of time to execute fully (See: GEO ENERGY: Once a small player, now reaching for scale, and even investing in EV venture).

An EGM is scheduled for 13 Oct where Geo Energy shareholders will vote on the M&A plans.


See also:
» Geo Energy's 1H2023 presentation deck here.