Geo Energy Resources is embarking on coal-related acquisitions totalling nearly US$200 million in cash, which will transform it into one of the top coal producers in Indonesia with over 20 years of mining life.

After alluding to a possible M&A since last year, the Singapore-listed coal producer yesterday finally announced not one but two deals. It has agreed to acquire:


• 58.65% of PT Golden Eagle Energy Tbk, an Indonesian coal mining group listed on the Indonesia Stock Exchange, and


•

33.00% of PT Marga Bara Jaya, a private developer and operator of

coal logistics infrastructure, with a project involving Golden Eagle Energy's logistics.

Of the two acquisitions, Golden Eagle Energy accounts for the lion's share at US$154.1 million. Geo Energy plans to cough up a further US$43 million to raise its equity stake to 75% via an offer to shareholders.

The seller of the 58.65% stake is the Rajawali Group, a conglomerate with diverse businesses in hospitality, media, infrastructure, mining and resources.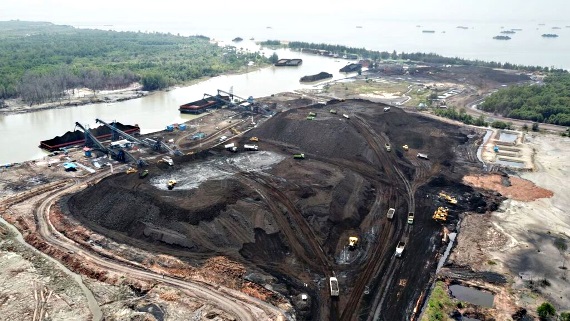 Geo Energy's deals come against a backdrop of continued strong demand for thermal coal, with the International Energy Agency forecasting annual global coal demand to remain around 8 billion tonnes through 2025. India, China, and EU are expected to be key users.

Geo Energy's equity stake in Golden Eagle Energy can rise to 75.00% subject to full acceptance of a Mandatory Tender Offer to be made to the latter's public shareholders.


Entity

Proven & Probable Reserves

Geo Energy

76 million tonnes

Golden Eagle Energy

317 million tonnes

Source: annual reports
The maximum cost of the Offer is US$43 million based on IDR1,255 per share, a small premium to the last traded price of Golden Eagle Energy.

(The remaining 25% of Golden Eagle Energy will be acquired by another party).

Geo Energy said its proposed acquisition of up to 75% of Golden Eagle Energy enlarges its total proven and probable reserves by more than 300 million tonnes.

Longer-term, Geo Energy's annual production could reach 25 million tonnes, or 2-3X recent historical output.

As for PT Marga Bara Jaya, Geo Energy said it has an option to purchase an additional 25.70% stake.



• Golden Eagle Energy has been producing and trading high-quality coal of favourable low sulphur and low ash content through its subsidiary, PT Triaryani.


PROFORMA EFFECTS ON GEO ENERGY

As at 31 December 2022

Immediately following Completion of the Acquisitions and the Offer

NTA per share

39.24 SG cts

26.47 SG cts

Diluted EPS per share

15.47 SG cts

16.92 SG cts

Source: Geo Energy
The low sulphur and low ash content coal reserves attract strong demand from domestic and international markets, particularly Asia, and commands a premium above market price.

• PT Marga Bara Jaya is in the business of developing and operating an integrated infrastructure (hauling road and jetty) for handling of coal logistics and transportation to the domestic and export markets.

The ready-for-development integrated infrastructure stretching 92km connects key logistical locations providing access for PT Triaryani mining concession and other neighbouring coal mines in the surrounding area (South Sumatra) to international markets.

The world-class hauling road and coal terminal at Lalan River has a targeted capacity of up to 50 million tonnes per year, with 25 million tonnes reserved for PT Triaryani coal per year.
Soon: Becoming a top coal player in Indonesia

Mr Charles Antonny Melati, Executive Chairman & CEO of Geo Energy, said:

"These major acquisitions will transform the Group to become one of the top coal players in Indonesia with long term sustainability of over 20 years mining life of reserves as well as strengthen our market presence globally. Furthermore, the new infrastructure will vertically integrate coal production with supply chain strength and unlock higher operational efficiency for the Group.

"With reserves of more than 300 million tonnes, the Group aims to expand its production to further fuel its strategic growth in the long term. Upon the completion of new infrastructure, the Group will be able to ramp up production to up to 25 million tonnes per year with lower costs and greater operational efficiency."


The transaction is subject to shareholders' approval at an Extraordinary General Meeting. A circular setting out the relevant information on the transaction, together with a notice of the Meeting to be convened, will be despatched to shareholders in due course.

Geo Energy intends to finance the deals with internal cash resources (net cash: US$205 million as at end-1Q2023) and external financing.

It has just secured up to US$220 million senior term loan facilities from PT Mandiri (Persero) Tbk., Singapore branch and/or its affiliates.