Excerpts from CGS-CIMB report

Analysts: Izabella Tan & Lim Siew Khee

Undervalued at c.0.3x CY23F P/BV

■ We think YZJFH's performance would hit trough in 2H22F due to real estate exposure. The liquidity pool scheme could give some uplift in 1H23F.


Yangzijiang Financial

Share price:
34 c

Target:
64 c
■ YZJFH has utilised S$99m (on c.6.6% of total shares) of its S$200m share buyback budget as at 31 Oct 2022.

■ Reiterate Add. We think the stock is deeply undervalued at c.0.3x CY23F P/BV. We lower our SOP-based TP to S$0.64.

Could hit trough in 2H22F with real estate headwinds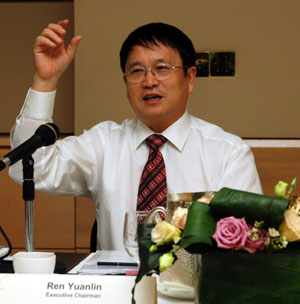 Executive Chairman Ren Yuanlin.
File photoWe think the persistent decline in China's real estate industry could be YZJFH's greatest headwind in 2H22F and 1H23F. Dwindling home sales had caused more developers to default in their interest payments. Real estate loans accounted for c.32% of YZJFH's debt portfolio as at end-1H22.

Gross NPL ratio spiked to 30.8% as at end-3Q22, more than double the 14.4% average over FY18-21. Although YZJFH has a 2.3x coverage ratio backed by land/building collaterals as at end-1H22, and had made a provision for loan losses of S$14.8m in 3Q22, we think sustained Covid-19-related lockdowns could prolong lacklustre home sales and further dampen property values in 1H23F.

We believe YZJFH has c.80% of its debt investments slated to mature by 1H23F, and hence NPL increases and mark-to-market losses could weigh on its 2H22F earnings. We estimate a 37.8% hoh net profit decline in 2H22F.

Liquidity pool scheme to expedite offshore investments
YZJFH secured from the People's Bank of China (PBOC) a liquidity scheme to facilitate cross-border fund transfers of up to Rmb10bn from China, equivalent to c.50% of its total asset under management (AUM) of c.Rmb22bn, in our estimates. It had targeted to transfer S$1bn to Singapore by end-FY22F.

We think c.S$610m has been transferred as at end3Q22 (including S$99m spent on share buybacks), and transfer of the remaining c.S$390m has been delayed to end-Jan 2023F. We believe the liquidity pool scheme increases the certainty of transferring funds to Singapore, spurring offshore investments, taking YZJFH's fund management business out of limbo.

However, we think YZJFH's cash drag situation could be extended as the volatile macroeconomic environment weighs on investment opportunities. Investments also take time to reap returns, and track records take time to build. We now ascribe a 30% discount to private equity (PE) peers in our SOP valuation.


Retain Add with a lower SOP-based TP of S$0.64
We roll forward our valuations to CY24F; our TP is now based on 0.6x CY24F P/BV (comparable to China banks) and 7x CY24F P/E (30% discount to PE peers).

Our previous TP was based on 0.6x CY23F P/BV (comparable to China banks) and 9x CY23F P/E (comparable to PE peers).

Key re-rating catalysts: faster-than-expected AUM growth and rapidly improving real estate industry in China.

Downside risks: exchange rate fluctuations negatively impacting its US$-dominated assets in Singapore, persistent deterioration of China's real estate industry affecting its NPL levels/interest income and further delays in transferring funds to Singapore.

Full report here