Investors are only too aware by now that the Covid lockdowns in China have been a key factor in the underperformance of stocks with exposure to China. For an insightful look into why China persists with the lockdowns and the predicament it is in, we took the liberty to reproduce Ho Ching's post today on Facebook:


I have been following the Covid situation in China. In the recent weeks, I was both worried and encouraged. Why the worry?

China remains the largest population that is still Covid naive, with inadequate vaccine protection for their seniors.

With the infectiousness of the Omicron, everyone is bound to meet the Omicron sooner or later.

Without vaccination, the Omicron is still more dangerous than flu for folks above 60 years old.

With vaccination, death risks from Covid are less than flu.
Data for Sg for the Delta wave in 2021, shows that for young people below 50 years old, the risk of death was practically zero per 10,000 person years, compared to 0.7 deaths per 10,000 person-years for flu.

So for kids, teens and younger adults, flu is more dangerous.

However, for the older folks, we see a distinctly higher risk the older the people.

For unvaccinated folks, or folks with just one shot of mRNA vaccine, the deaths per 10,000 person-year is 5.8 for those aged 50-64, and 71.4 for those aged 65 and older.

In comparison, flu deaths for these 2 older age cohorts would be 1.5 and 7.2 respectively.

This means for the 50-64 year olds, covid is 4-10 times more dangerous than flu. This masks the fact that for the older folks esp those in their 80s or older, covid is well over 10 times more dangerous.

In contrast, with 2 shots of mRNA vaccines (or 3 shots of inactivated virus vaccines), the corresponding death rates were 0.3 and 5.8 deaths per 10,000 person-year.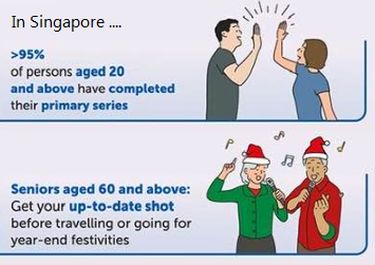 This means with adequate vaccination, the risk of covid death is 20% for flu death risk for the folks in their 50-64, and 80% of flu death risks for folks 65++ years old.

In other words, vaccination is a huge and effective way to live with covid with less risks than from flu.

In Sg, well over 95% of adult population from 20 years and older have had excellent primary vaccination with 2 shots of mRNA vaccines or 3 shots of Sinovac or SinoPharm inactivated virus vaccines.

The chart below shows orange bars of the primary vaccination coverage under the free National Vaccination Programme in Sg for the different age groups.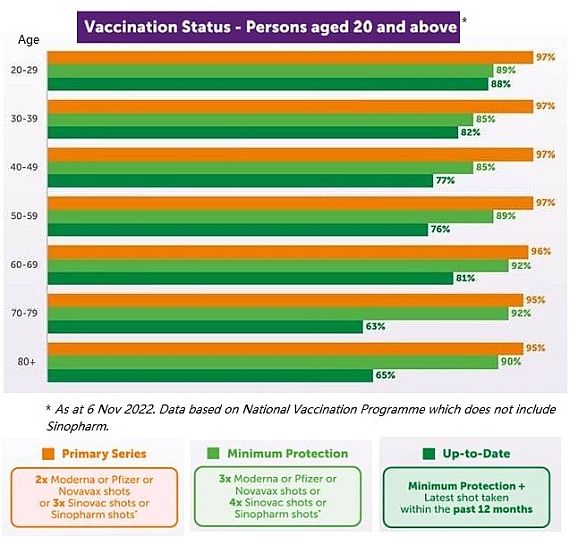 The NVP in Sg does not include the SinoPharm shots offered by GPs and private medical groups. The SinoPharm shot coverage would add 1+-2+% points more of coverage, similar to Sinovac in the NVP.

So all in, we have had excellent coverage of well over 95% for primary vaccination even for our most covid vulnerable of the older seniors.


Kudos to everyone for helping -
Neighbours, families and friends worked hard to persuade their old folks;
MOH teams from public hospitals as well as the SAF medical corps, and volunteers from the private GP clinics and former SAF medical corp folks came forward to
- help manned vaccination centres,
- operate mobile clinics that go into the local precincts to make it more accessible and visible for friends and neighbours to come down together for their shots, and
- go into homes for those wanted housecalls to do their vaccination at home for the bedridden, for the disabled and for special needs members of the households.
Each bit counted including vaccination differentiated safety measures to eat at hawker centres and restaurants, a high risk activity in terms of catching infection in close contact prolonged mask down activity. Such VDS in different parts of the world help to overcome vaccine inertia or hesitation by another 10-20% easily.
And the the booster shot coverage for the seniors were pretty good too, at 90-92% for the cohorts 60 and older.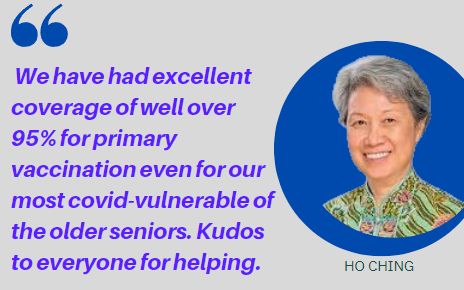 The light green bars in the chart show coverage under NVP, for 3 shots of mRNA, 4 shots of Sinovac, or 3 shots of Novavax. Again, if SinoPharm shots are included, that would add probably another 1-2% more.

Over 85% of Sg vaccination coverage is via the mRNA shots, probably 2/3 Pfizer-BioNTech and 1/3 Moderna. Moderna started deliveries much later, and Novavax started delivery long after most of the population have their mRNA shots already.

In contrast, the mass testing in China is both expensive and unattainable. Testing in and of itself does not better protect the population, not build up a soft kind of herd immunity to prepare for a Covid exit wave.


CDC China reported that as of August 2022, only 85% of their seniors 60++ years old have had their 2 doses, and 68% have had their 3rd dose of the inactivated virus shots.

The 3rd dose of the inactivated virus vaccine would be the equivalent of the primary series coverage in Sg.

Part of the challenge in China is similar to that of HK or Sg - we don't have a system or culture of taking annual flu vaccine shots, unlike the USA or UK, and so adult or senior vaccination is an alien concept unlike childhood vaccination.

Anecdotally, not much has changed since, and that vaccination coverage for those in their 80++ is even lower at 60-61% for 2-shot coverage.

If the 3-shot coverage for the 60++ is only 68%, say 70% by now, it is not unimaginable that the 3-shot coverage among the 80++ would be more like 30-40%.

Clearly, China is not prepared for the exit wave. So how should China prepare for their exit wave?

Ho Ching was CEO of Temasek Holdings for 17 years and is the spouse of Prime Minister Lee Hsien Loong. She posts frequently on her Facebook page here.