What will it take for ISDN Holdings to return to a growth path?

Answer: A cessation, or near cessation, of China's zero-Covid policy, which has been periodically introducing lockdowns in various parts of the country.

The disruptive impact on ISDN's business can be seen in the chart below: ISDN's stock has been declining

this year

, as has its financial results for its China market.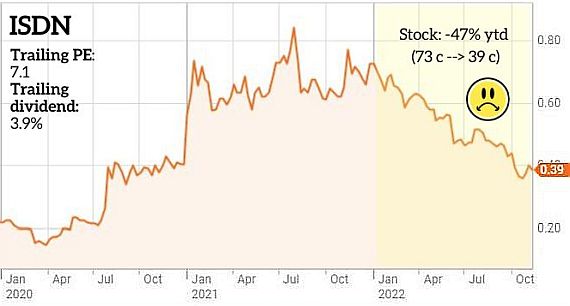 Still, thanks to the buoyant non-China market, ISDN has maintained its Group revenue stable: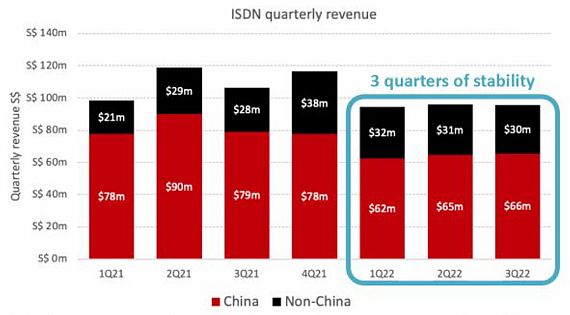 Takeaways from quarterly revenue chart:

• For ISDN, the Chinese market has declined y-o-y in each of the 3 quarters of 2022. But on an absolute basis, revenue has been stable at $62 m, $65 m, $66 m, because of ISDN's in-country diversification.

• Non-China market contribution has risen y-o-y in each of the 3 quarters, resulting in a 22% growth for 9M.

• In aggregate, ISDN's quarterly revenue has been stable at S$94 m, $96 m, $96 m.

Ditto the net profit attributable to shareholders: S$6.4m, S$4.7 m, S$4.5 m.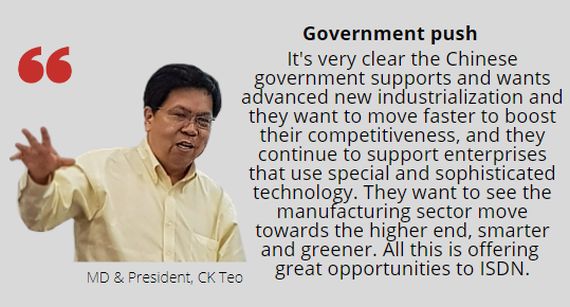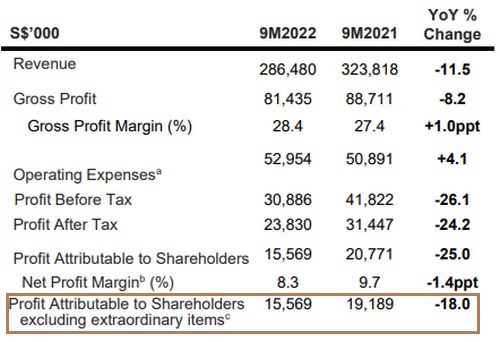 Diving deeper, ISDN said its 2022 decline in China year-to-date was almost entirely driven by 3 cyclical segments:
• machine tools,
• electronics & semiconductor, and
• general automation.

In these sectors, ISDN was affected by:

1. Inventory stock-ups by customers to offset supply chain shortages;
2. Supply- and production- disruptions in China caused by rolling COVID-19 regional shutdowns; and
3. Cyclical downturn in certain segments of the semiconductor industry, machine tools and industrial automation;
4. RMB currency depreciation against the Singapore dollar
These segments are long-term growth drivers for ISDN. They are sectors of national growth priority in China.

Thus ISDN expects that as economic activity resumes in China, these segments will return to solid growth.

Meanwhile, ISDN sees continued growth for its Asean business, serving an advanced manufacturing hub benefitting in part from MNCs relocating some of their manufacturing out of China.


ISDN's diversified growth drivers
ISDN says its diversified growth strategy, which is a core reason for its resilience through ups and downs in the macro environment, is executed in multiple arenas:


•

Growth industries
including advanced medical, semiconductors, precision manufacturing, digital infrastructure, shifting to Industry 4.0

• Growth technologies

from components to modules, systems, software and cloud

• Growth geographies

China, Singapore, Vietnam

• Growth customer base

Southern China (Large), Central China (Micro & SMEs), Northern China (Mix)

For more info, see ISDN's 9M update announcement here.