Investors who rode shipping stocks up during the pandemic would have noted declines, from this year, in shipping rates that portend lower profitability year-on-year for shipping companies.

As a result, the stock prices of Singapore-listed Samudera Shippng Line and Uni-Asia Group, which have done well during the pandemic, are stalling (see charts below).



Has investor sentiment swung too much from euphoria to excessive caution?



Chart: Reuters

Investors would have been puzzled by the frequent filings on the SGX website of buying of stock by insiders at Samudera and Uni-Asia in recent months (more on this later).

Do the insiders view that their stock valuations are at least reasonable, or even cheap, despite a possible drop in profitability in the near term?

According to Bloomberg, the trailing PE ratios are:

• Samudera: 1.54 PE
(market cap: S$566m, 1H2022 net profit: US$172 m).
• Uni-Asia: 2.20 PE
(market cap: S$85m, 1H2022 net profit: US$16.5 m).
In addition, check out an article published in The Straits Times today (8 Sept) featuring Samudera. When asked if the container shipping market had peaked, CEO Bani Mulia said that even if that was the case, this was a peak which would remain in place for a while.

Translated: He was saying shipping prices have risen and sort of plateaued, not dropped dramatically.

He explained: "There is a huge supply-demand imbalance which won't disappear over the next 12 months" (see graphic below), and in the small containership space that Samudera operates there is little threat of an influx of new vessels: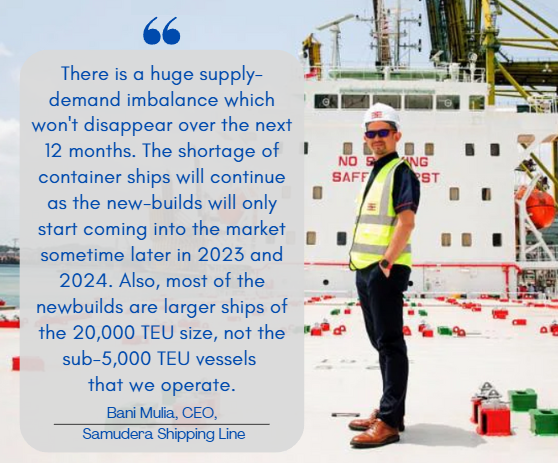 Photo: Company
CEO Bani Mulia has bought 152,700 shares of Samudera since end-May 2022, coughing up S$149,000 in aggregate (average 97.5 cents a share).

Over at Uni-Asia, the company has also been saying that in the small handysize space that it operates in, there is little threat of an oversupply of new vessels:
• The orderbooks for new dry bulk vessels have not jumped. There are several reasons for this. The current shipyards' orderbooks are taken up mainly by large containerships fuelled by the boom in the container market.


•

In addition, while the shipping community is making efforts to reduce shipping's carbon footprint, there is still uncertainty on the most commercially feasible technology to achieve decarbonisation.
With a lead time of 2 to 3 years from order to delivery, many dry bulk ship owners are hesitant to place new orders.

(For more, see:
UNI-ASIA: Record 1H2022 profit, fitting achievement in 15th year of listing)
S$1.03).

CEO Kenji Fukuyado bought 150,000 shares for S$161,936 (average price: S$1.08).

These purchases are entitled to an interim dividend of 6.5 cents/share (ex-dividend date is: 20 Sept).In this 3Q2022, Uni-Asia executive chairman Michio Tanamoto bought 500,000 shares of the company for S$515,000 (average price: