The video below strikes us as packing well-researched, comprehensive and balanced content on Nordic Group into 11 minutes.

Released on Friday (2 Sept), it is presented by Josh Tan, a senior adviser to financial advisory firm PromiseLand Investment.

The video, which has since chalked up 5,300 views and counting, comes under the TheAstuteParent channel on YouTube which he founded.

Watch it:

Upbeat overall, the video, among other things, highlights that management owns a very large chunk of the stock.

Taking from Nordic's 1H2022 presentation deck, it shows a slide of senior management's increased holdings since the company's IPO in 2010: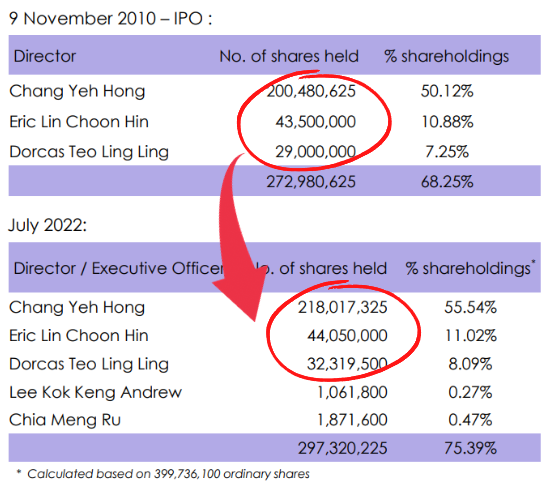 There's more to it.

We note there are additional insider stakes:

1. Chang Yeh Hong, the executive chairman, has bought 173,000 shares for $84,589 in aggregate, or 48.90 cents per share, which was close to a 3-year high.

The purchases were made end-August, which was nearly 2 weeks after the stock had gone ex-dividend (1H2022 dividend: 1.162 cents/share).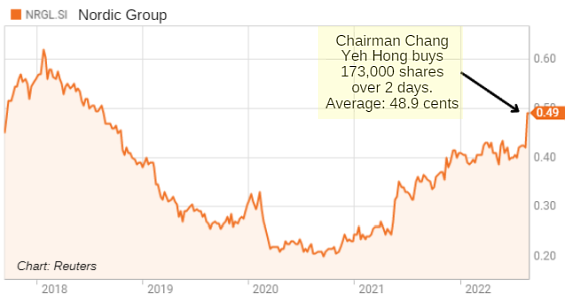 Nordic has a market cap of S$196 million based on 49-c stock price. Its PE is about 8.5X based on annualised 1H S$11.3 m net profit.

2. Aside from the above-named key figures of Nordic, there is a brother of Mr Chang who joined Nordic in Dec 2021 at which point he already owned 3,099,300 shares of Nordic.

Astro Chang Yeh Fung was appointed Group Head, Strategic Investments and Projects. He was subsequently appointed, in June 2022, CEO of Starburst Holdings, the newly-acquired subsidiary of Nordic.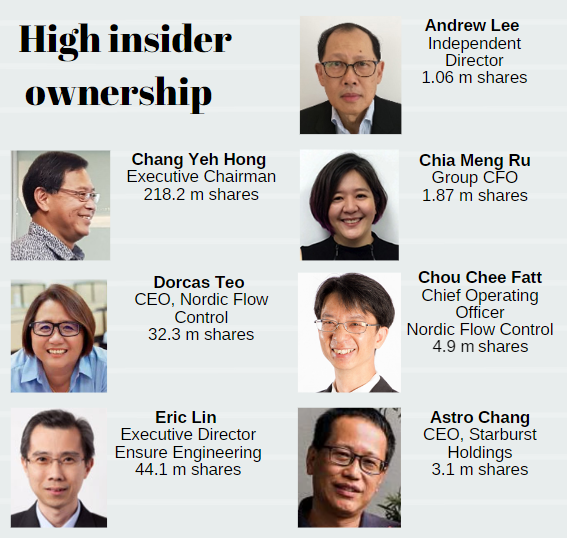 note: Nordic Flow Control, Ensure Engineering and Starburst are subsidiaries of Nordic Group.

3. Further reflecting the collective big holding of insiders, the FY2021 annual report of Nordic has CHOU CHEE FATT as its No. 6 top shareholder with 4,877,000 shares.

He is chief operating officer of Nordic Flow Control, a subsidiary, and a key executive even before the company's IPO 12 years ago when he held 5,800,000 shares.


One wonders how many next-level employees hold Nordic stock just like these bosses.



In any case, the collective high ownership by known insiders creates a strong alignment of management's interest with minority shareholders plus, presumably, a greater drive for business performance.



Among other things, notably Nordic has a high dividend payout policy of 40% of earnings, which is made possible by its positive operating cashflow businesses that doesn't require much capex.

The cashflow, in addition, supports Nordic's M&A deals that have typically been funded with debt instead of new-share placements that dilute shareholders.

Surprisingly, contrary to common practice, Nordic doesn't issue stock options to management nor any employee, which also means no minority shareholder dilution.

The stock is, however, relatively illiquid as a result of the high management ownership -- and the buy-and-hold approach of a pack of loyal and believing shareholders.

Its daily traded volume averaged only 115,000 shares over the past 30 days, according to Bloomberg.

Will a stock split or bonus issue against a backdrop of Nordic's recovering profit trend post-pandemic improve the liquidity?

For more on the business, see our recent story: NORDIC GROUP: 5 points about its 1H2022, on track for record year