Nordic Group is a diversified group of companies providing solutions in areas of automation and systems integration; maintenance, repair, overhaul and trading; precision engineering; scaffolding; insulation services; petrochemical and environmental engineering services; cleanroom, air and water engineering services and structural engineering and construction services.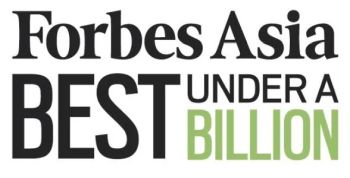 Nordic Group has made it to Forbes Asia's Best Under A Billion list for the second consecutive year.

The accolade featured 200 Asia-Pacific public companies with less than US$1 billion in sales and have consistently achieved top- and bottom-line growth.

In recent times, though, Singapore-listed Nordic has faced headwinds.

Among other things, these are higher foreign worker levies imposed by the government and higher dormitory costs charged by third-party providers for housing its 1,000+ workers.


That's why its topline grew 12% in 1H2023 but its net profit fell 13% to $10.1 million.

Notably, its topline was an all-time high at $89.4 million.

Still, like clockwork, shareholders will get their share of the profits as Nordic has declared an interim dividend.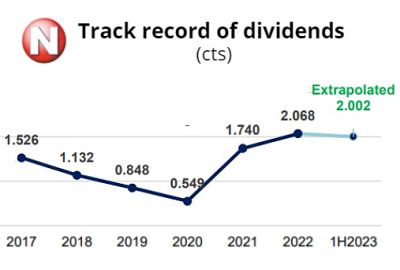 "Given the strong growth momentum and improving industrial prospects," the Board has declared an interim dividend of 1.001 Singapore cents per ordinary share.

That's a payout of 40% of earnings, a ratio it has stuck with through the years.

Some pointers for its near-term business:


• Orderbook: Nordic said it has an orderbook of S$202.4 million as at end-1H2023. This suggests its revenue outlook is stable and robust as was 2022.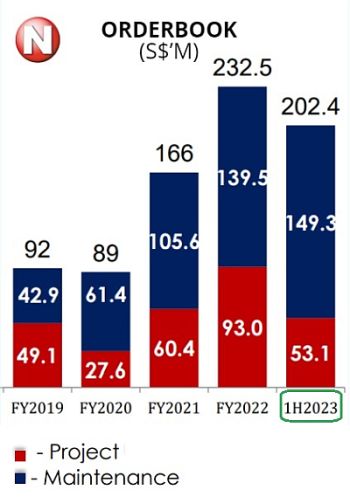 • Majority of orderbook comprises recurring maintenance services.
• Orderbook is broad-based in terms of industries.
On 26 Aug, Nordic announced recent contract wins totalling S$40.8 million.

The contracts are with repeat customers – comprising of multinational companies and companies in the marine, offshore oil and gas, petrochemical, semiconductor, infrastructure and security industries sectors.


Stock price

42 c

52-week range

40.5 – 58 c

PE (ttm)

8.4

Market cap

S$168 m

Shares outstanding

399.7 m

Dividend
yield (ttm)

4.5%

1-year change

-19%

Source: Yahoo!
• Profit margin: This will continue to be under pressure given that there is little or no wriggling room for Nordic to raise prices in its secured contracts of S$200 million to take into account new foreign worker levies and higher dormitory costs.

Only with its tenders for new contracts will Nordic factor in such new costs.

The worker levies are set for another round of increase in Jan 2024 as announced by the Manpower Ministry.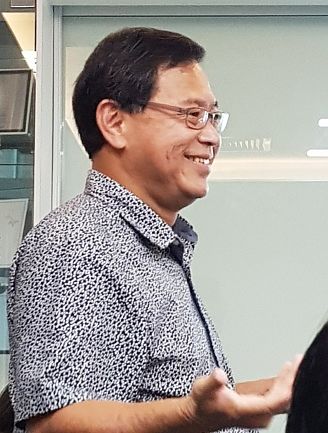 Executive Chairman Chang Yeh Hong owns 50.12% of Nordic. NextInsight file photoIn an investor briefing this week, Executive Chairman Chang Yeh Hong said that in the face of China's economic slowdown and negative China-US relations, Nordic's acquisition of Eratech in 2022 was timely.

Nordic is positioned to shift some of its precision engineering business from China to Singapore where Eratech is based.

Aside from the strategic value, Eratech has delivered in concrete financial terms: Nordic paid $10 m cash for 100% of Eratech, and since being acquired in Aug 2022 Eratech has had a cumulative EBITDA of $4.1 m as of end-June 2023.

Envipure, another good acquisition back in 2019, is why, by industry, semiconductor accounted for 37% of Nordic's 1H23 revenue, its largest contribution ever.

Starburst, which was acquired in 2022 also, has yet to make a big impact on revenue.
That's in part because of a delay in a project. It is also awaiting confirmation of the award of some contracts.


Nordic's 1H2023 Powerpoint deck is here.