ASMPT (fka ASM Pacific Technology) is a leading global provider of hardware and software solutions for the manufacture of semiconductors and electronics. Its customers span the breadth of the semiconductor and electronics manufacturing ecosystem. In Singapore, it operates two plants in Yishun, with a headcount of 1,400 approximately, representing over 9% of the total group headcount, including R&D teams.


In 1H2022, ASMPT's revenue grew 10.1% year-on-year, along with gross margin improvement.

Net profit of the Singapore-headquartered and HK-listed group rose 38% y-o-y to HK$1.7 billion.

This, despite persistent supply chain and logistics constraints. There were also other macro-economic uncertainties, including inflationary pressures, ongoing geopolitical conflicts, and COVID-19 control measures in China.


ASMPT continued to be buoyed by key developments in its diversified end-markets.

In particular, the automotive and industrial end-markets did well:

• Automotive revenue grew at a much faster pace (60% year-on-year) than the other end markets because of a global transition to electric vehicles.


•

Industrial achieved record first-half revenue.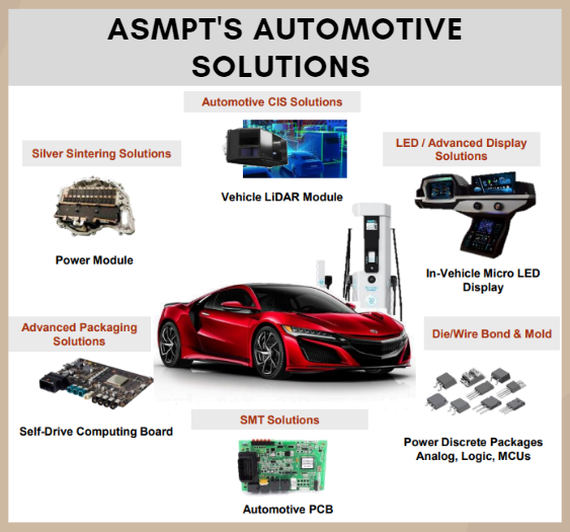 Geographically, while China (including Hong Kong) remained the largest overall market, its contribution to Group revenue moderated in 1H 2022.

However, Europe, Malaysia, the Americas and Taiwan registered a combined year-on-year increase of around 47%.


As for bookings, new customer investments grew from the second half of last year. The high growth sectors of Advanced Packaging and Automotive accounted for about 46% of 1H 2022 Group bookings.

ASMPT ended the first half with a high backlog (US$1.425 billion) and a book-to-bill ratio of 1.12.


Contribution to 1H2022 revenue

Automotive

20%

Advanced Packaging

18%
Aside from automotive, its other high growth sector, Advanced Packaging, did well, delivering 18% of ASMPT's 1H 2022 revenue.
(What is "advanced packaging"? Click here.)

"What's important to note is that customer capital expenditures in AP tend to be driven by longer term technology trends on top of shorter-term capacity needs. Thus, on a quarter-to-quarter basis, we may see lumpiness, but the longer-term growth trend remains intact," said CEO Robin Ng.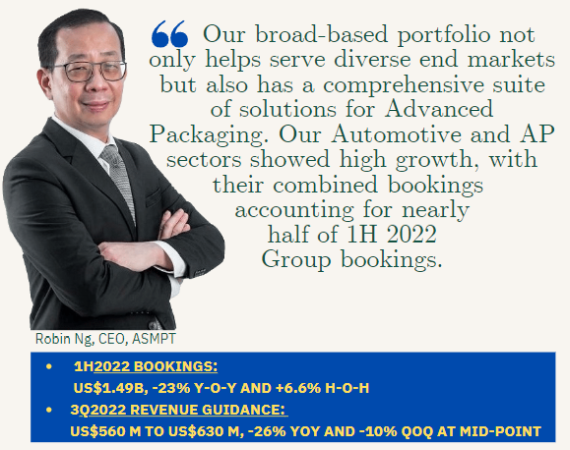 ASMPT's comprehensive AP solutions cater to a diverse group of customers across various industries:

"Together with the bullish capital spending plans of leading semiconductor companies, these strong foundations will enable us to expand our share of the AP addressable market, valued at 2.7 billion US dollars by 2026, with a 2021-2026 compounded annual growth rate of 11%."

Previous articles:
• ASM PACIFIC TECHNOLOGY: Strong 1Q2022 results after navigating supply chain challenges

• ASM PACIFIC TECHNOLOGY: "Strong industry tailwinds sweeping across economies" ...