Listed in HK and headquartered in Singapore, ASMPT is a well-known provider of hardware and software solutions for the manufacture of semiconductors and electronics. ASMPT's machines are utilized by semiconductor manufacturers, packaging companies, and electronics assembly houses to assemble and package semiconductor chips onto substrates, interposers, or other carrier materials. They play a crucial role in the backend semiconductor manufacturing processes, such as die bonding, wire bonding, flip chip bonding, and other advanced packaging techniques. In Singapore, ASMPT operates two plants in Yishun, with a headcount of 1,400 approximately, representing over 9% of the total group headcount, including R&D teams.



ASMPT's CEO said something curious towards the end of his presentation during the recent 2Q2023 earnings call.

Mr Robin Ng essentially said (ie, not his exact words), sorry, something material that we told you just five months ago no longer holds. A key part of our business is going to be much better.

He was referring to the company's annual update, announced during the 2022 results release, regarding the addressable market of its Advanced Packaging solutions.


What's Generative AI?
It describes algorithms (such as ChatGPT) that can be used to create new content, including audio, code, images, text, simulations, and videos. Generative AI can be incorporated into everyday devices such as phones and computers using customised chips.
The catalyst, quite unexpected, for an upturn in its outlook is Generative AI, which has quickly emerged as a big force in many areas of the tech world.

With that, ASMPT's addressable market for Advanced Packaging solutions has significantly expanded.

"We did not factor in the full potential for the Group coming from the strong growth in Generative AI and HPC (high performance computing)," said Mr Ng.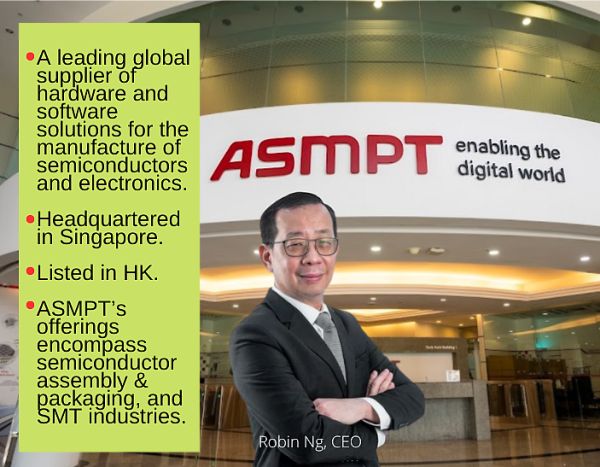 ASMPT's machines are used in various stages of semiconductor chip production and assembly. These machines play essential roles in processes such as die bonding, wire bonding, flip chip bonding, surface mount technology (SMT), and other advanced packaging and assembly techniques. In addition to semiconductor chips, ASMPT's machines are also utilized in the production of other electronic components and devices, such as integrated circuits (ICs), sensors, printed circuit boards (PCBs), microelectromechanical systems (MEMS), and more.

(What is "advanced packaging"? Click here.)

With Generative AI coming to the fore, Mr Ng devoted large swathes of his presentation to staking a claim that ASMPT would be able to meet the needs of Generative AI and high performance computing applications.

"Our Advanced Packaging solutions stand to benefit significantly from the strong growth that has been seen in Generative AI and High Performance Computing," he stated.

"We are engaged in deep collaboration with key customers to enable the strong growth in Generative AI to meet high-precision bonding requirements and stringent total cost of ownership criteria."


Stock price

HK$77.85

52-week range

HK$41.60 – 85.00

Market cap

HK$32.1 b

PE

12.2

Dividend yield

4.1%

52-week return

22 %

Shares outstanding

412.7 m

* Source: aastocks.com
Advanced Packaging solutions generated about US$195 million in revenue, or 19%, of Group revenue for the first half of 2023.

Thermo Compression Bonding or TCB made up the highest proportion of the Advanced Packaging revenue.

(In layman terms, Thermo Compression Bonding is a way to stick tiny computer chips onto their bases using heat and melted material, making our electronic devices smaller and more powerful).

ASMPT's TCB solutions are in a commanding position to address crucial logic and memory packaging bottlenecks in Generative AI, said Mr Ng.

"We see promising TCB order flow for logic from our foundry and OSAT (Outsourced Semiconductor Assembly and Test) customers. In particular, demand from our foundry customer base is growing due to the urgent need for expansion of their Advanced Packaging capacity."


WELL-POSITIONED
"We strongly believe that as Generative AI proliferates, customers will increasingly migrate to these advanced High-Bandwith Memory packages to meet ever-increasing storage and processing needs, and we are well positioned to capitalise on this trend."

-- Robin Ng, CEO, ASMPT
He added: "A popular question we have been getting from analysts and investors is our presence in high-bandwidth memory, or HBM. Simply put, our TCB solutions are able to fulfil the demanding packaging requirements of next-generation HBM.

"We strongly believe that as Generative AI proliferates, customers will increasingly migrate to these advanced HBM packages to meet ever-increasing storage and processing needs, and we are well positioned to capitalise on this trend.

"We have won repeat orders for HBM, and we continue our deep engagement with multiple memory players. Based on these opportunities, we are confident of more TCB order flow for both logic and memory in the second half of 2023."

Besides TCB, ASMPT'S "Mass Reflow High Precision Die-bonding" solutions are also benefitting from Generative AI, with continuous order flow from top tier global customers.

"For Hybrid Bonding, after securing our maiden order, we continue our engagement with key customers for qualification in various end-market applications, including memory." (Hybrid Bonding combines different chips into one module for better performance and smaller devices in advanced electronics.)

There are yet more tools in the ASMPT portfolio that will benefit from Generative AI, said Mr Ng:


• In Silicon Photonics, ASMPT has market leading solutions with high placement accuracy that are relevant for devices such as optical transceivers and photonic engines. Customer orders are likely to pick up.



•

Laser Singulation solutions and Panel Electrochemical Deposition tools: These support

increasingly complex chip architectures

.

ASMPT has preliminary engagements with global IDMs to help build the next generation of tools.

Rounding up his presentation on the Generative AI opportunity for ASMPT, Mr Ng noted that in terms of drivers, Generative AI packages will require an increasing number of logic chiplets and new generation high bandwidth memory.

These lead to a significant increase in the number of interconnects required to be bonded, especially for memory.

"We estimate that around 90% of interconnects in complex Generative AI and HPC packages will require TCB, and our TCB solutions are capable of handling a variety of interconnect types."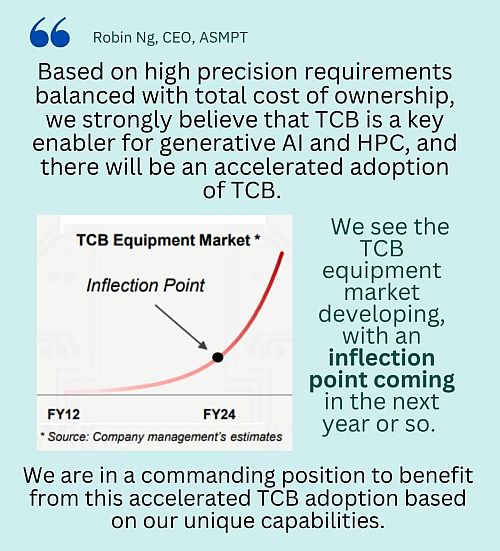 "With this anticipated market potential and our TCB capabilities, we are excited about growth prospects in this area," he said.

ASMPT's 2Q2023 results here.
We will try to get hold of analyst reports on ASMPT and share their views. Watch this space.