Investors peering hard into the future for an uptrend in the semiconductor cycle -- well, you have to wait a bit longer.

The macro-economy, which drives the cycle to a large degree, isn't helping.

"At the start of 2023, there was some optimism for recovery in the global economy and improvement in consumer confidence," noted

ASMPT's CEO Robin Ng at a 1Q2023 briefing last week

.

"However, escalating trade tensions and a persistent inflationary environment impacted consumer sentiment and resulted in a more cautious tone in the semiconductor industry overall."



Stock price

HK$61.45

52-week range

HK$41.60 – 82.60

Market cap

HK$25.4 b

PE*

9.7

Dividend yield*

5.2%

1-year return

-14.4 %

Shares outstanding

412.7 m

* Based on FY22 EPS $6.36 and HK$3.20 dividend.
ASMPT's diversified business model enabled it to deliver US$500 m revenue for 1Q2023, a decline of 9.5% q-o-q.

Be it a mobile device, camera, computer, a tablet or TV screen, a modern car or electric vehicle, or high-speed internet connections, chances are ASMPT's solutions have enabled their manufacture.

Revenue for both SEMI (semiconductor) and SMT (surface mount technology) segments declined on a q-o-q basis:

• SEMI's revenue decline (-18.1% q-o-q) was higher than that of SMT due to the ongoing semiconductor downcycle.



•

SMT's revenue (-2.9% q-o-q), on the other hand, was buoyed by ongoing strength in Automotive and Industrial end-market applications.

The latter was driven by the need for smarter factories, greener infrastructure, EV charging, and the expansion of power and green grids.

Said Mr Ng: "I must emphasize again that our unique broad-based portfolio provides much-needed resilience and competitive advantage. This was apparent during the quarter – while the SEMI segment was still impacted by the semiconductor downcycle, the SMT segment delivered its strongest ever first quarterly revenue performance."

The Group's gross margin was still a resilient 40.4%, despite a decrease of 98 basis points q-o-q.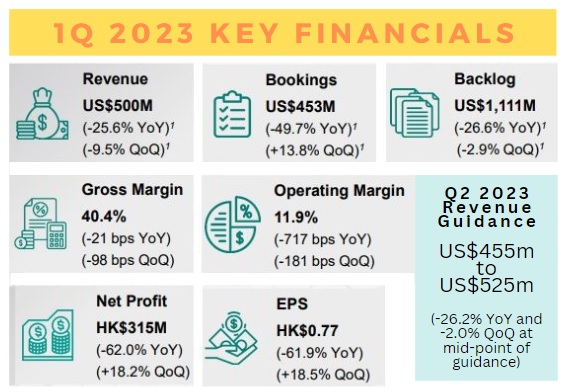 STRUCTURAL TRENDS

"Over the longer term we are optimistic about the Group's growth potential, which is supported by longer term structural trends of automotive electrification, smart factories, green infrastructure, 5G, IoT, and high-performance computing fuelled by generative AI growth."

-- Robin Ng,
Group CEO, ASMPT

Said Mr Ng: "Looking at the end-market applications that we serve, our Communication, Computers and Consumer end markets, or what we call the "Triple C" markets, continued to be weak. However, the Automotive end-market remained robust and continued to be the highest contributor to the Group's revenue for the first quarter of 2023.

"Looking closer, as silicon and electronics content per vehicle increased due to automotive electrification, our Automotive solutions gained traction and our strength in Automotive was also powered by our range of solutions servicing more EV players."



Gokul Hariharan, JP Morgan analyst: Robin, you have seen many cycles and you guys are in very constant touch with your customers. How do you see this cycle panning out? You've seen a bit of improvement in semiconductor solutions bookings recently in Q1. Do you feel like we're reaching a bottom in the semiconductor cycle and you start to see a little bit Improvement in bookings a little bit further out. What is the feedback you're getting in conversation with your customers?

Robin Ng: We sense our customer base is feeling a bit more cautious than before although some are still hopeful for some sort of a recovery in the second half of 2023. The semiconductor industry is closely tied to the general economy, so the economy has to pick up and this will drive consumer spending to help to boost demand in the Triple C markets -- consumer end-market, communication end-market and computer end-market.

The Triple C markets are really weak for a number of quarters and these markets are big compared to Automotive, Industrial so if these three markets don't recover, semiconductor can remain in a down cycle.

We can't see too far -- we are back-end equipment manufacturers. We also take reference from industry experts as well as research houses. Most of them have revised their 2023 outlook for the semiconductor market, so they are also taking a more cautious stance for 2023 versus 2022.

The 1Q2023 Powerpoint deck is here.