Excerpts from CGS-CIMB report

Analysts: LIM Siew Khee & Izabella TAN

■ YZJ's spin-off group is named YZJ Financial Holdings Ltd (YZJFH). EGM for the approval of the spin-off will be held on 18 Apr 2022 at 4pm.


Yangzijiang

Share price:
$1.58

Target:
$2.41
■ We expect YZJFH to be listed by end of April. S$1bn will be deployed in Singapore in investment and fund/wealth management.

■ YZJFH will focus on pre-IPO, clean/new energy, strategic investments in the shipping industry, new economy, student housing, data-centre, SPAC pipe.

■ Maintain Add and upgrade our TP to S$2.41, based on SOP valuations of pro-forma core shipbuilding business and YZJFH.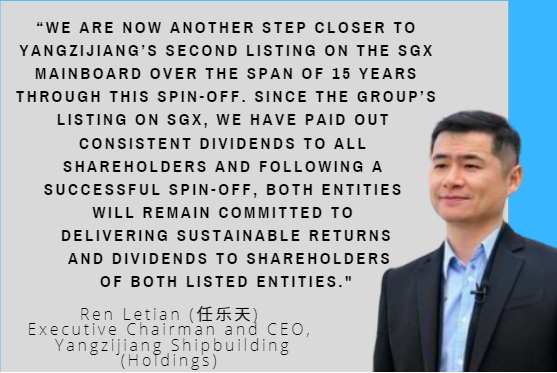 S$1bn to invest, identified funds and focus
Post-restructuring YZJFH will consist of two segments: Investment Management (IM) and Debt investment (DI). YZJFH intends to pare down its DI business and grow its IM business by entering the Fund/Wealth Management business.

S$1bn will be equally deployed to IM business and Find/Wealth Management. YZJFH will focus on pre-IPO, clean/new energy, strategic investments in shipping industry, new economy, student housing, data-centre, SPAC pipe.

AUM of c.Rmb4.6bn across 23 projects in China
As of 31 Dec 2021, its investment portfolio comprises twelve fund investments managed by 12 GPs in China, covering 23 projects with an aggregate invested amount of c. Rmb4.6bn. Seven of the 12 general partners (GPs) are independent third-party financial institutions in China.

YZJFH holds minor interests ranging between 10%-25% in the five remaining GPs. YZJFH is currently undergoing negotiations with third parties on six fund
management projects spanning private equity, fixed income, real estate, and PIPE/equity (Fig 2).

Its key investment policies are that each individual investment and exposure to an individual party shall not exceed 10% and 15%, respectively, of its total investment amount.

YZJFH to be helmed by experienced investment professionals
Industry veteran (more than 25 years of fund management experience), Mr. Toe Teow Heng, will be appointed its Executive Director, CEO, and CIO in Singapore, while Mr. Peng Xingkui will assume the CIO role in China.

Mr. Peng was previously the Director of the President's Office and Investment Director of Investment Management in Jiangsu Yangzijiang Shipbuilding.

He currently heads the Investment Management department in Jiangsu Yangzijiang Shipbuilding. Ms Liu Hua will assume CFO and COO role at YZJFH.

Mr Ding Jianwen, the current Deputy GM of YZJ, will take on the additional role of CFO.


Raise our TP to S$2.41, reiterate Add
Our SOP valuations are based on pro-forma 9x P/E FY23F shipbuilding/shipping profit, based on 1 s.d. of core shipbuilding historical valuations, assuming order momentum tapers relative to 2021.

For YZJFH, we peg it at 8x P/E of FY23 profit, discounted to larger fund management peers.

Catalysts: successful listing of YZJFH, successful negotiations for the six fund management projects.

Key risk: tightened regulations in China/Singapore.

Full report here.