Nordic Group is a SGX-Mainboard listed company that provides system integration solutions, repair and overhaul (MRO), precision engineering, scaffolding and insulation services, petrochemical and environmental engineering services and cleanroom, air and water engineering services. It serves mainly the marine, offshore oil and gas, petrochemical, pharmaceutical, semiconductor, infrastructure and public environment agencies.



Fresh after sealing its biggest acquisition ever, Nordic Group is now in a place which motivates investors to wonder how big a year 2022 will be for the group.

Its 100% acquired Starburst Holdings may potentially do a wondrous job of doubling what Nordic alone will earn.

As background:

• Singapore-listed Nordic had announced on 10 Nov 2021 its offer to acquire another listed company, Starburst,

for a total of S$62 million

.



•

On 3 March 2022, Nordic said it had crossed the 90% acceptance threshold, paving the way for it to compulsorily acquire all the remaining shareholdings.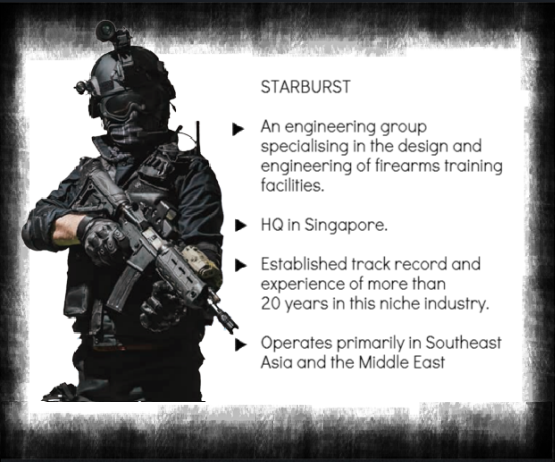 To see what Starburst will contribute to a big year for the group, investors can look back to its performance in 2021.

Then, to gauge the near-term prospects, they can consider the orderbook that Starburst carries, some key information of which was released courtesy of Nordic this week.

The first part: the look-back.

Starburst
(FY21)

Nordic
(FY21)

FY21 combined proforma

Revenue

$41.5 m

$103.5 m

$144.6 m

Net profit

$12.7 m

$13.9 m

$26.6 m

EPS

5.1 cents

3.6 cents

6.8 cents

PE ratio

4.7

11.3

6.0

Dividend Yield

2.5%

4.3%

6.8%*

*Net profit $26,576,000 x 40% = $10.6 million divided by 388 million ordinary shares. Share price is 40.5 cents.

Source: Nordic presentation

A key takeaway: If Nordic had acquired Starburst at the start of 2021, Nordic's PE ratio would be 6.0 based on FY2021 earnings, instead of 11.3.


"In 2021, Starburst's net margin (31%) was higher than our gross margin (27%)!"
-- Nordic CFO
Chia Meng Ru
(A PE of 6 is way below the double-digit PE ratios that Nordic has historically traded at.)

Similarly, the dividend yield would be stronger at 6.8%, instead of 4.3%.

Thus Starburst would have been a strongly accretive acquisition (with no additional shares issued by Nordic as consideration). For the impact on more metrics, see Nordic's presentation deck here.

What's important now is will this positive state of things continue this year and beyond? For an answer, consider Starburst's orderbook and the Nordic group's, the aggregate of which is shown below:


• The orderbook of Starburst as at 21 March 2022 stood at S$87.4 million.

While that's comfortably more than 2X the FY21 revenue of Startburst, the orderbook breakdown gives further insight into its potential FY22 revenue.

The Starburst orderbook comprises S$56.9 million and S$30.5 million for the project and maintenance segments, respectively.

Nordic's press release says: "The capital projects will mainly complete in 1Q2023 and the maintenance are for 1 to 11 years."

What this means is, the FY22 revenue of Starburst looks set to be approximately similar to FY21.



•

On Nordic's side (ie, excluding Starburst), the orderbook stood at a healthy S$175 million as at 21 March 2022.

This is about 2X the S$89 million that Nordic started 2021 with.

Excerpts from this week's Q&A session between analysts/investors and Nordic Group chairman Chang Yeh Hong.
Q: Is there any foreseeable capex either of Starburst or Nordic that will change the group's 40% dividend payout ratio?

A: Starburst is basically an engineering group working on projects and maintenance. It doesn't need to invest in a lot of capex and machinery. What Starburst really needs is working capital, loans, to fund their projects.

So I don't think that will affect our dividend payouts. In fact, if anything, with the margins that we are enjoying we should derive quite good cash flow from their projects and maintenance.


Q: What is Starburst's potential pipeline of projects? At what stage is it in bidding for these jobs?

A: We have a rather robust pipeline but the gestation period for some of this in a way takes a bit longer. Given time we should be able to close out some of the deals.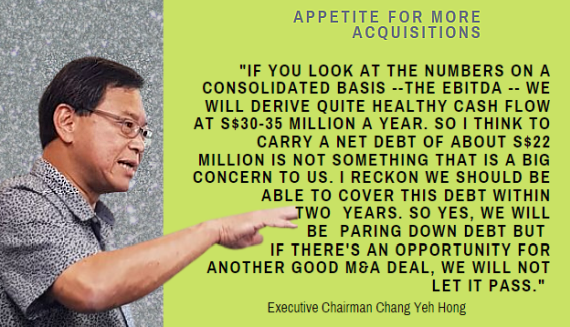 Q: After the Starburst deal, will your immediate focus be paring down debt ahead of more M&A?

A: If you look at the numbers on a consolidated basis --the EBITDA -- we will derive quite healthy cash flow at about S$30-35 million a year. So I think to carry a net debt of about S$22 million is not something that is a big concern to us. I reckon we should be able to cover this debt within two years. So yes, we will be paring down debt but if there's an opportunity for us for another good M&A deal, we will not let it pass.


Q: Regarding Nordic's new capital project in Malaysia with Intel at RM70 million to be completed in 18 months. What can we expect after that in terms of recurring revenues from maintenance for this new facility?

A: We do not have an idea right now because we are at the very start of this capital project. Usually for 12 months, we have to provide warranty and support so there probably won't be any maintenance income from that. After the 12-month warranty, the maintenance tender will come out.